HPU Holds Fall Graduation at Aloha Tower Marketplace
Category: News
December 14, 2021
HPU celebrated the achievements of its fall class of 2021 with a graduation ceremony on December 11, 2021, at Aloha Tower Marketplace (ATM).   
The ceremony was held in-person and each graduate was allotted five guest tickets. It was required that all graduates and their guests (12 years and older) have tickets and provide proof of full vaccination or a negative test within 48 hours to attend the ceremony.    
The University's Instructor of Hawaiian Language Tracie Lopes and the HPU Hula Ensemble opened the program with a Hawaiian chant and hula.  
 
HPU alumnus and Information Technology staff member Brodie Kinder sang the National Anthem and HPU International Vocal Ensemble student conductor Sage Hirasuna sang Hawai'i Ponoi. 
HPU President John Gotanda, J.D., delivered remarks and conferred degrees and HPU Senior Vice President and Provost Walsh, Ph.D., served as Master of Ceremonies.    
The valedictory speakers who spoke are Nicolle Anne Medak and Elsa Saskia van Hall.   
Medak is an international studies major and alumni relations officer for the United Nations Club. She has held internships with the Daniel K. Inouye Asia-Pacific Center for  Security  Studies,  and the Department of Homeland Security's Human Rights Violators and War Crimes Center. After graduation, Medak plans to obtain her master's degree at HPU in diplomacy and military studies.     
Van Hall is a marine science master's student who researched how climate change impacts  an ecologically and economically important Hawaiian surgeonfish (yellow tang). Her research paper  was completed  fall 2021 and is entitled, "Temperature  Preference and Aerobic Scope in  Zebrasoma Flavescens and the Response to Rising Sea Temperatures." Following graduation, Van Hall looks to teach as an adjunct faculty member and obtain a doctorate in marine science.    
 
HPU alumnus and the Alumni Council President Avery Fukeda led the University's newest alumni in the recitation of the HPU Alumni Pledge, signifying the official welcome of the members of the Fall Class of 2021 to the alumni community, a network of more than 45,000 individuals around the world.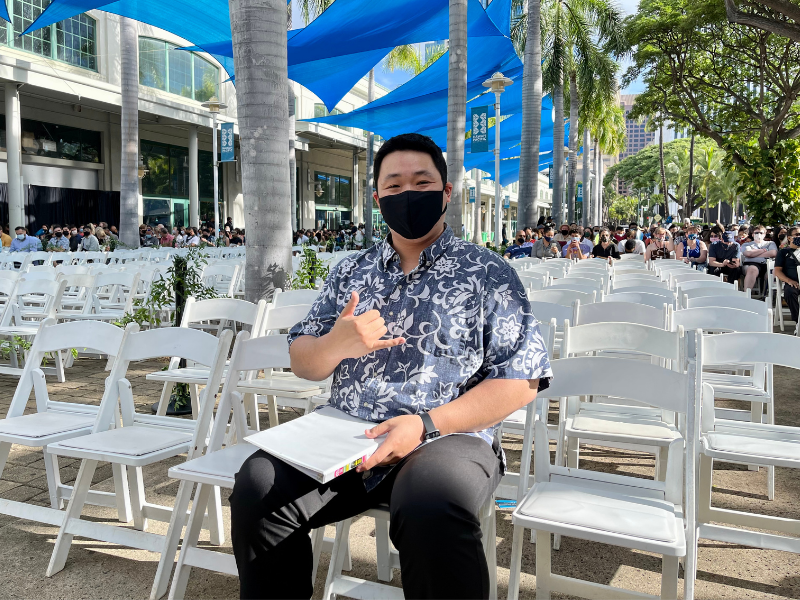 The ceremony was also livestreamed. For additional information see the HPU graduation webpage at:  www.hpu.edu/graduation.