HPU Presents its New Play "Eggs on Ice" with Large Student Cohort
Category: News
October 29, 2021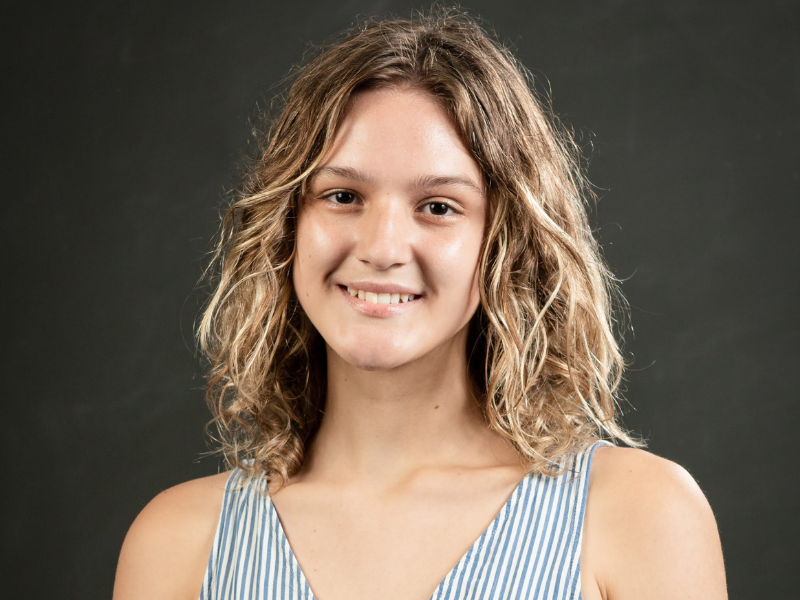 On November 4, 2021, HPU debuts its opening night presentation of "Eggs on Ice," a new play at the university and a return to in-person theatrical productions, following COVID health and safety protocols, after a year of online-based productions during the pandemic. The play features a strong cast of nearly all HPU students. HPU freshman Zoe Lehneman plays Denise in playwright Kristine M. Reyes' 2019 acclaimed "Eggs on Ice." Lehneman hails from Laconia, New Hampshire, and is a highly experienced actress. She is an English major with a minor in editing and publishing. 
"I am thrilled to be debuting as Denise in HPU's production of "Eggs on Ice," said Lehneman. "This show is one-of-a-kind and well worth the watch!"  
Lehneman has been a theatrical actress for the last six years, acting in 16 productions that include film and theatre. Her most recent film work was the Trish Sie movie, "The Sleepover," produced by Netflix. Lehneman has acted in theatrical productions that include, "The Importance of Being Earnest," "Elf Jr., The Musical," "Shrek, The Musical," and "Les Misérables." 
"My mother and step-father have had a huge influence on who I am," said Lehneman. "They are both artists and have supported me in my artistic endeavors and have always encouraged me to continue and pursue acting. I'm very fortunate to have such a supportive immediate and extended family. I cannot thank them enough." 
Lehneman chose HPU for a host of reasons, most importantly because she wanted to attend a university with strong academic programs, in the heart of Honolulu, with a tropical location.   
"HPU has extensive dorm layouts, personal and professional opportunities, and a wonderful community," said Lehneman. "I chose to pursue English at HPU because I have always loved writing and editing. The English program has a lot of opportunities for students, which was a deciding factor for me when choosing a college." 
HPU's editing and publishing minor is new at the university and is highly unique because it was designed as a classroom-to-career pathway for students interested in editing and publishing. The minor is the only one if its kind in Hawai'i and students have the opportunity to work on a variety of publications for course credit. 
"I encourage high school seniors interested in HPU to step outside of their comfort zones and choose the college with the best environment," said Lehneman. "Two of HPU's campuses are set right in downtown Honolulu, and there are tons of places within walking distance. Combined with the sunny beaches here, HPU's location on the island makes it a wonderful place to live. Where you go to school matters, and I recommend choosing HPU." 
A small, vaccinated, live audience is invited to attend "Eggs on Ice," and additional information is available here. Patrons may also livestream the performance. 
Showtimes:  
Nov. 4, 5, 6, 13 at 7:30 pm HST

 

Nov. 7 and 14 at 2:00 pm HST

 
Performed in the Paul & Vi Loo Theatre, Hawaii Loa Campus.