HPU Lands Federal Grant to Boost Native Hawaiian Student Representation in STEM Majors
Category: News
October 11, 2021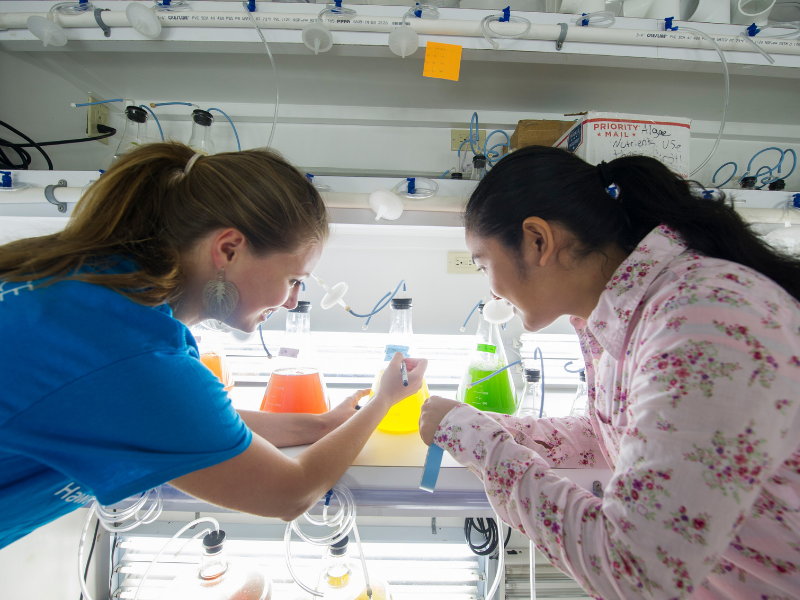 Oceanic Institute (OI) of Hawai'i Pacific University has received a 5-year, $549,430 grant from the U.S. Department of Education to foster the number of Native Hawaiian students majoring in science, technology, engineering, and mathematics (STEM) at the university. HPU is a Native Hawaiian serving institution.   
"The goal of this project is to increase the enrollment and graduation rates of Native Hawaiian students in STEM majors at HPU," said OI Executive Director Shaun Moss, Ph.D., principal investigator of the grant. "Aquaculture represents a unique, transdisciplinary platform for STEM education because it integrates biology, chemistry, engineering, and business in a holistic manner."
Aquaculture has a long and significant history in Hawai'i, beginning around 1200 A.D. when Hawaiians built fishponds as part of a larger, sustainable, integrated food production system based on watershed management. These traditional socioeconomic subdivisions of land are referred to in Hawaiian as ahupua'a. 
"We are excited for this grant award," says HPU Dean of the College of Natural and Computational Sciences Brenda Jensen, Ph.D., co-principal investigator of the grant,   "because it enables us to implement the latest technology and innovative elements of distance education to make our exciting, cutting-edge marine science programs truly accessible not only to the most diverse audience yet, but also to key stakeholders for the problem solving that we need here in the islands.
"Experiential science education is not always easily accessible to underrepresented groups and non-traditional students. As we look to significantly increasing our delivery of marine science undergraduate programming from HPU's Makapu'u Campus in fall 2023, we maintain our commitment to accessibility and diversity. The unanticipated silver lining to the COVID pandemic is that we did learn a great deal about how to creatively use technology to enhance education even in disciplines that are not traditionally considered compatible with distance education."
Today, HPU offers students the chance to get in touch with the past while learning how to apply modern aquaculture techniques in their own lifetimes. "Hands-on learning opportunities will be provided to Native Hawaiians students through participation in applied aquaculture research at OI," says Moss, "where students will work side-by-side with OI scientists on ongoing projects related to algae production and fish and shrimp aquaculture."
The U.S. Department of Education's funding of this inspirational project at HPU is crucial because it will help solve the technical challenges of today and tomorrow and help educate Native Hawaiian graduates who will play increasingly important leadership roles in helping solve the complex and transdisciplinary challenges facing island communities in the future, including food insecurity, global climate change, and job diversification.
To learn more about OI of HPU click here.