HPU Kupuna in Residence Receives Two Community Honors
Category: News
September 28, 2021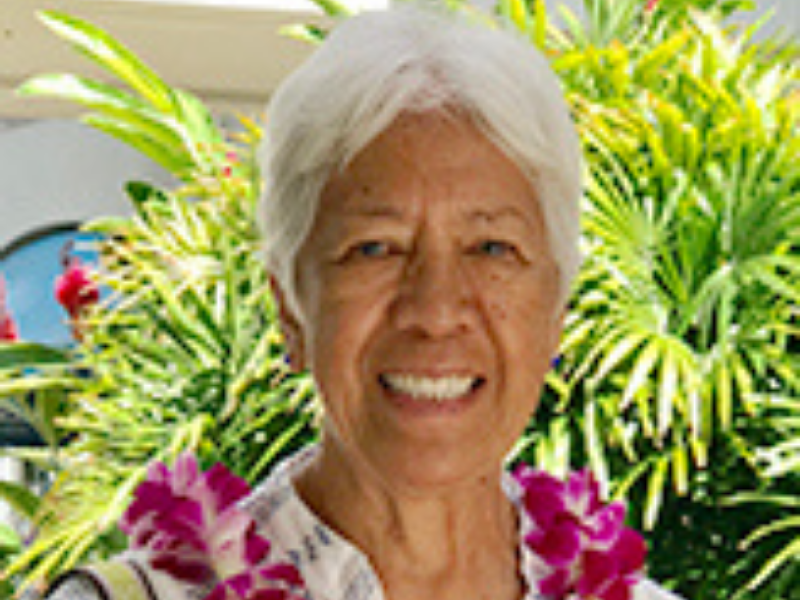 This summer, Lynette Cruz, Ph.D., Hawai'i Pacific University Kupuna in Residence and retired cultural anthropology professor, and HPU alumna received honors from the Historic Hawai'i Foundation (HHF) and at the annual Lā Ho'iho'i Ea celebration. 
HHF named Cruz an individual achievement honoree of its 2021 Preservation Honor Awards program. HHF started this awards program in 1975, and it "offers the local community an opportunity to share, recognize and applaud excellence in historic preservation in the Hawaiian Islands."

The Lā Ho'iho'i Ea website notes Cruz as a "revered Kanaka Maoli leader, teacher, activist, organizer, and cultural practitioner. From education to activism, to organizing, to storytelling, Aunty Lynette remains an example of the resilience, intelligence, and strength that our ancestors embody every day." Cruz is one of only two 2021 honorees. 
Throughout the years at HPU, Cruz has influenced the education of a countless number of HPU students.
"I remember as an undergraduate her classes always filled up first, and I did not have the opportunity to take a course," HPU alumna and the University's Assistant Director of Student Activities Chez Neilson said. "Years later, I was able to connect with her, and she helped me to create continuity to the Hawai'i Spotlight program. She continues to be someone I can turn to, and it's such an honor to have her in my life."  
Assistant Professor of Political Science Ngoc Phan, Ph.D., and three Native Hawaiian undergraduate research assistants Leilani DeLude (2020), La'akea Dedrick (2021), and Catherine Jara (2022), worked with Cruz from August to December 2019, surveying Native Hawaiians across Hawai'i. The team's research objective was to understand Hawaiian identity and community concerns, hearing from Hawaiians in their own words. To date, the 2019 Native Hawaiian Survey is the largest survey on Native Hawaiian public opinion, with over 1,000 respondents. 
"Dr. Lynette Cruz is the embodiment of aloha, pono, and kuleana," Phan said. "She is an exceptional teacher, scholar, and advocate for the Native Hawaiian community. I am honored that I was able to learn from and work with her on the survey. I often hear from students at HPU that Dr. Cruz's classes and service-learning activities have taught them the importance of aloha aina and how to live with aloha every day."