Opening Doors with a Degree in English
Category: Spotlights
September 2, 2021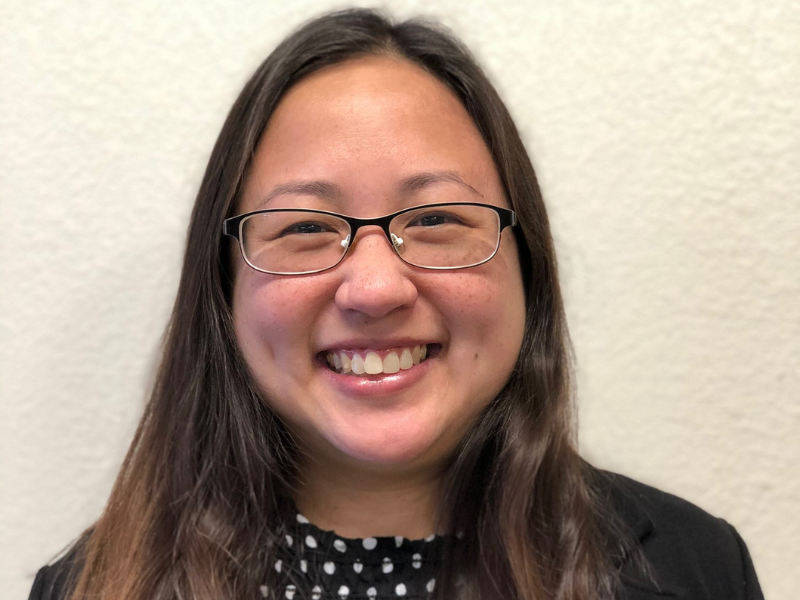 When Jovi Nazareno graduated from Mililani High School on Oahu, she knew that she wanted to study in Hawai'i for college. She wanted to attend a university that offered small class sizes, personable and knowledgeable professors, scholarships, and a strong campus community. HPU was the perfect fit.
"HPU provided me with a firm foundation," said Nazareno. "It was a great experience, from the classes to the professors, it was fantastic. I loved it. The scholarships that HPU offered were a huge factor for me. It was also nice to stay with family and not be on my own."
HPU was the first private institution that Nazareno attended. She knew early on that she was interested in double-majoring in English and psychology. The courses at HPU inspired her to begin connecting psychology, English, and education – specifically how psychological factors could help or hinder the development of writing skills.
"Psychology courses, such as adolescent psychology and personality psychology are related to English composition courses," said Nazareno. "I had the opportunity to tutor students on their writing skills, and that closely related to my studies as a psychology major. Having real, practical classroom experience as an English tutor was very helpful." 
The confidence and skills Nazareno gained at HPU – through tutoring, magazine editing, and taking part in a psychology practicum – made her a strong candidate in the job market. Nazareno graduated from HPU in 2005 and entered the workforce almost immediately. She was offered a job as an editor at an engineering firm in Honolulu. Her goal was to apply what she had learned from earning her degrees at HPU to her career. "I worked with scientists, engineers, and management professionals," said Nazareno. "It really helped that I had a strong English and science background." 
Nazareno's curiosity into earning an advanced academic degree continued well into her career as a professional editor and writer. At one point, she was interested in earning her MFA in creative writing, and at another time, she was interested in earning a graduate degree in psychology. Nazareno wanted to understand how to continue supporting people in learning skills, such as writing, but there were many different paths she could take to achieve this goal. 
"I always felt that I had to choose between degrees, and I had such a hard time choosing which degree to pursue," Nazareno said, with a chuckle. But when she took a course called the "Neuroscience of Learning: An Introduction to Mind, Brain, and Education" a lightbulb clicked. The course was part of Harvard Extension School's liberal arts graduate program.
As a full-time working professional, Nazareno was drawn to this graduate program because of its hybrid set-up where students are required to spend some time in-person, on campus, but most time online, with the option to take courses on a part-time basis. "It felt like a low-risk, high-reward opportunity," said Nazareno. "I took a class to see how it would go and soon realized that I could apply my extension graduate coursework towards my future work."
Nazareno applied to the Mind, Brain, and Education program at the Harvard Graduate School of Education, where she ultimately earned a Master's in Education in 2021. Her graduate studies at Harvard took about three years to complete. The Mind, Brain, and Education program is a transdisciplinary approach to thinking about education, and Nazareno credits HPU for the foundational knowledge that enabled her to explore connections across different disciplines.
"I felt like I had the background and knowledge to build upon my education," said Nazareno. "I'm taking some time to think about what to study next. I'm totally fascinated by how the brain functions and how we learn, so I am strongly looking into pursuing a cognitive science or neuroscience program at the Ph.D. level." 
To learn more about the English program at HPU click here.