It's a Plant-Based Paradise
Category: Spotlights
July 21, 2021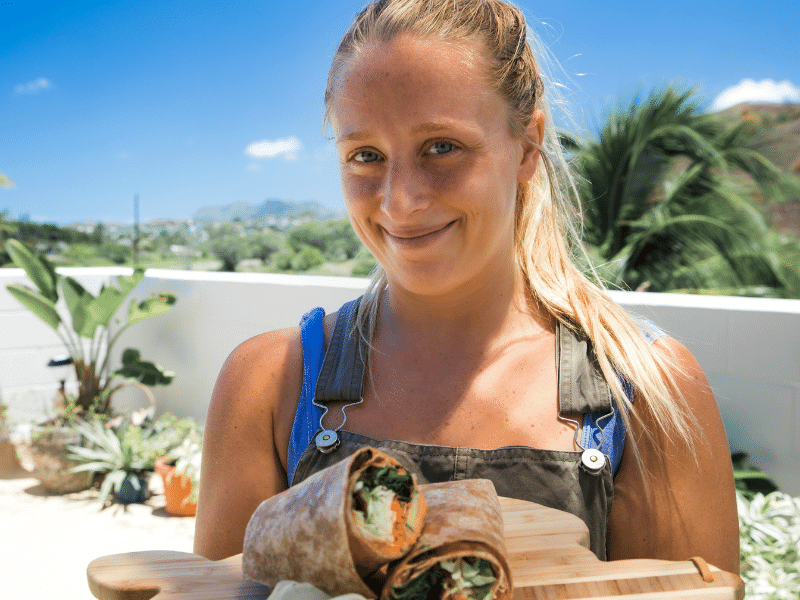 When Sarena Celseti graduated from the University of Rhode Island with a B.S. in business the one thing she knew was that she didn't want to be an accountant. Celseti saw a plethora of opportunities on what she could do next. She thought of the Pacific Ocean. She took a trip to Hawai'i and knew that Oahu would become her new home. 
"HPU was my dream school ever since I was 14," said Celseti. "In high school, I was assigned a project where I researched three universities that interested me. When I saw HPU and all the opportunities the University presented I knew this was the place for me." 
After receiving her B.S. in 2019, Celseti checked out the HPU website and submitted her application for the MBA program. In 2021, Celseti completed her MBA, immediately applying her business knowledge and expertise into owning and operating a café in Kailua called Plant Based Paradise.  
"Plant Based Paradise is a small café and we have help from interns," said Celseti. "We create healthy made-to-order meals and snacks, and we also have grab-and-go options for people on the run. We're happy to offer HPU students a 10% discount.  
"HPU helped me a lot in learning how to lead others and manage a business. Most of the classes in the MBA program were leadership focused. Those classes helped me work with others in the workplace and develop important communication skills."  
Celseti also works part-time as a community advisor (CA) at HPU. She works closely with parents and students who are interested in the University and wish to pursue student housing. "Being a CA has helped me develop as a leader," said Celseti. "It's helped me get my priorities in order, and become a more confident and organized person." 
It can be difficult to find your passion in life. There may be obstacles in the way, but it's important to remember to listen to your intuition to find your true calling.  
"Don't go to a school just because someone else is going there or just because your parents told you to go to a specific school," said Celseti. "Choose the school that you are being pulled towards because the community probably needs you as much as you need that community." 
When thinking back on her experience at HPU and recommending a favorite professor, Celseti had one name in mind almost immediately. "Professor Brad Harrison," said Celseti. "He was my first and final professor at HPU and helped me in marketing and finalizing my MBA. I am very grateful for his bright spirit and enthusiasm that always made class enjoyable. 
"To me, life is not defined by what society calls success. A mortgage and a 9-to-5 job. It's following dreams and taking chances, even when there is a chance of failure. Perfect happiness involves time spent outside, in the ocean, and in nature. Finally, it is a life that is full of good moments, good people, and of course, good food." 
To learn more about the MBA program at HPU click here.  
For additional information on Planted Based Paradise in Kailua click here.