History Professor Organizes a Visiting Study Program
Category: News
July 27, 2021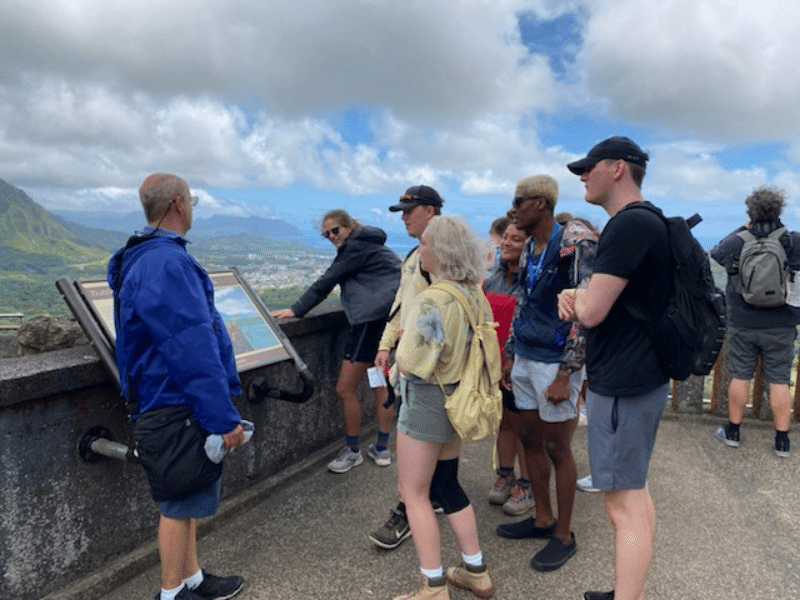 On a cool, blustery, and wet Saturday morning, July 17, Russell Hart, Ph.D., Professor of History and Director of the Diplomacy and Military Studies program, conducted a joint battlefield tour of the 1795 Battle of Nu'uanu for students and faculty from the USM's visiting summer program and HPU students.
Hart provided a ninety-minute tour at the Nu'uanu Pali Lookout to the assembled group, including USM Professors Andy Wiest and Kevin Greene and visiting USM history majors. Hart began with a background overview of the War of Succession and the War of Unification that laid the stage for the climatic decisive 1795 struggle that led to King Kamehameha's ultimate unification of the Hawaiian islands. First describing the landings in Waikiki and the initial clash at Punchbowl, he then overviewed the myriad fierce battles fought astride the Nu'uanu Valley to the climactic final stand allied Army of Oahu at the lip of the Nu'uanu Pali Lookout, where its rearguard was forced off the cliff and smashed to death on the steep walls of the Ko'olau Mountains, giving the battle its Hawaiian name – the Battle of the "Plunging Mullets!"

The USM group stayed at the Waterfront Lofts at Aloha Tower Marketplace, and the program started on Friday, July 9, and ended on Monday, July 26. In addition to the July 17 battlefield tour, the USM group joined HPU faculty and students on a Chinatown walking tour, a Manoa Falls hike, and a Makapu'u Lighthouse and Point walking tour. Additionally, a visit to Punchbowl National Cemetery included USM History students giving short presentations on Medal of Honor recipients.