Communications and Marketing Recognized As Ke Kaukahi Award Winner
Category: News
May 25, 2021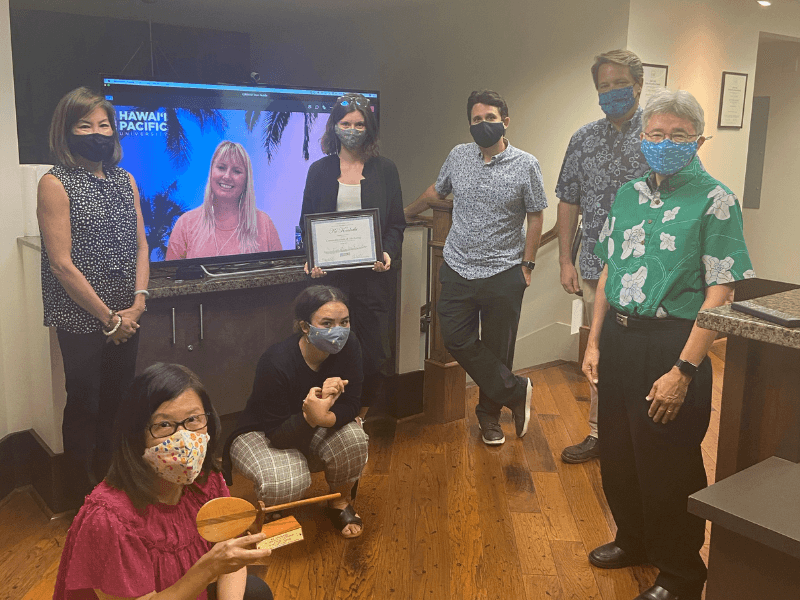 The Special Events and Recognition Committee, on behalf of the Staff Council, presented the Spring 2021 Ke Kaukahi Recognition of Excellence award to the Communications and Marketing department.
When the global pandemic forced HPU to think differently and out of the box, the Communications and Marketing team - led by Stephen Ward - sprung into action to create the virtual Accepted Student Receptions targeted to specific geographic regions across the country. Communications and Marketing collaborated with other departments, such as the Office of the President and Provost, Enrollment Management, and Information Technology, to produce, direct, edit, record, and promote these engaging "live" videos posted on the university website. 
The Communications and Marketing department has the vital responsibility to uphold and maintain HPU's brand - which are the materials and components that convey the university's identity. The team goes above and beyond, always keeping the university's best interests as its biggest priority. 
The department has received awards that reflect HPU's high quality of strategic communications and marketing content, including CASE (Council for the Advancement and Support of Education), 2020 Gold in Circle of Excellence Awards (international), CASE 2021 Awards of Excellence in the West Region (District VII) Public Relations Society of America, Hawai'i Chapter, 2020 Awards, Higher Ed Marketing Report Educational Advertising Awards, and a Communicator Award (international). 
Pictured from left to right, back: Cathy Chong, Diane Skyland, Jess Walth, Greg Fischbach, Stephen Ward, President Gotanda; kneeling: Lianne Yamamura, Taylor Shown.