HPU Chemistry Professor and Students Publish Research
Category: News
May 31, 2021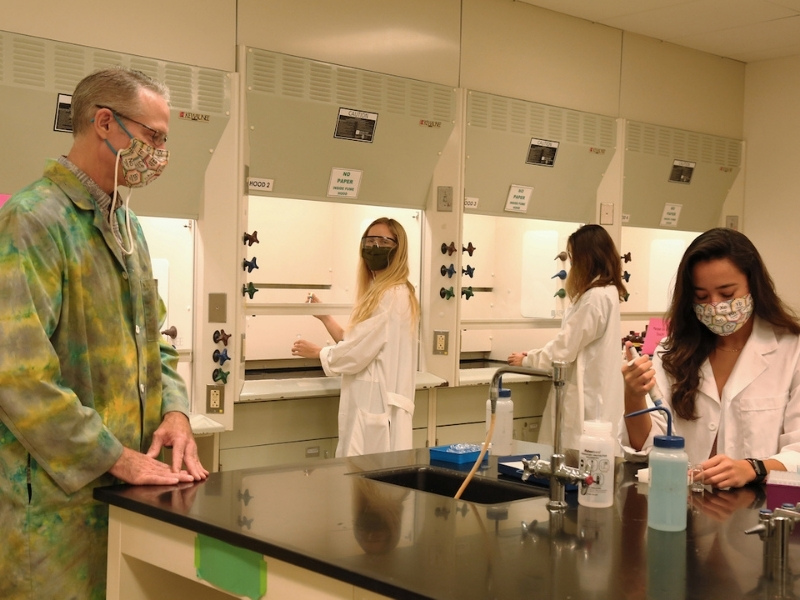 Professor of Chemistry David Horgen, Ph.D., and three INBRE (IDeA Network of Biomedical Research) student team members co-authored the paper "Upregulated ethanolamine phospholipid synthesis via selenoprotein I is required for effective metabolic reprogramming during T cell activation" published in the journal Molecular Metabolism. The HPU INBRE team worked with a research team led by Professor Peter Hoffmann, Ph.D., from the University of Hawai'i at Manoa John A. Burns School of Medicine (JABSOM).
Horgen, along with Melodie Aduja-Williams (BS in Biochemistry '21), also a member of the HPU Undergraduate Infrastructure Student Research Center, Katie Page (BS in Marine Biology '17), and Ellis Akana, currently a staff research technician at HPU, investigated the role of a selenium-dependent enzyme, selenoprotein I, in the activation white blood cells. The white blood cells, specifically T-cells, can attach to cancer and pathogens, such as bacteria and viruses, helping to defend the body from disease. Conducting research in the University's Shared Instrumentation Facilities, the Horgen lab group analyzed the cell membranes of T-cells from mice to define the specific effects on the cells when the selenoprotein I was shut down.
The collaborative research of the HPU and UH JABSOM labs determined that critical components of the cell membranes were affected when selenoprotein I was blocked and the energy pathways of the cells were disrupted, which adversely affected the growth and disease-fighting ability of the T-cells. This study has helped define the role of selenoprotein I in the body and reinforces the importance of selenium in the diet to maintain optimal immune response to cancer and pathogens.
The INBRE Program's overarching goal is to create pathways for students to learn about, prepare for, and pursue careers in biomedical research. The program supports the research infrastructure and instrumentation needed to conduct high-level biomedical research while also connecting students with faculty researchers.
"Characteristic of an HPU education, our students have the opportunity to collaborate with university and community partners and gain hands-on research opportunities even as undergraduates," Horgen said. "Within the last year, the INBRE Program has linked with HPU's Undergraduate Infrastructure Student Research Center, which creates a support structure for students of all majors who want to pursue biomedical research."
Since 2002, more than 150 HPU students have participated in the INBRE program, and at least 70% of these students decided to pursue advanced degree programs, medical-related or in various science specialties.
For more information on the University's Shared Instrumentation Facilities, click here, and on the HPU Undergraduate Infrastructure Student Research Center, click here.
Pictured left to right, front Professor Horgen, Melodie Aduja-Williams; back Katie Page, Ellis Akana.