Safe Zone Training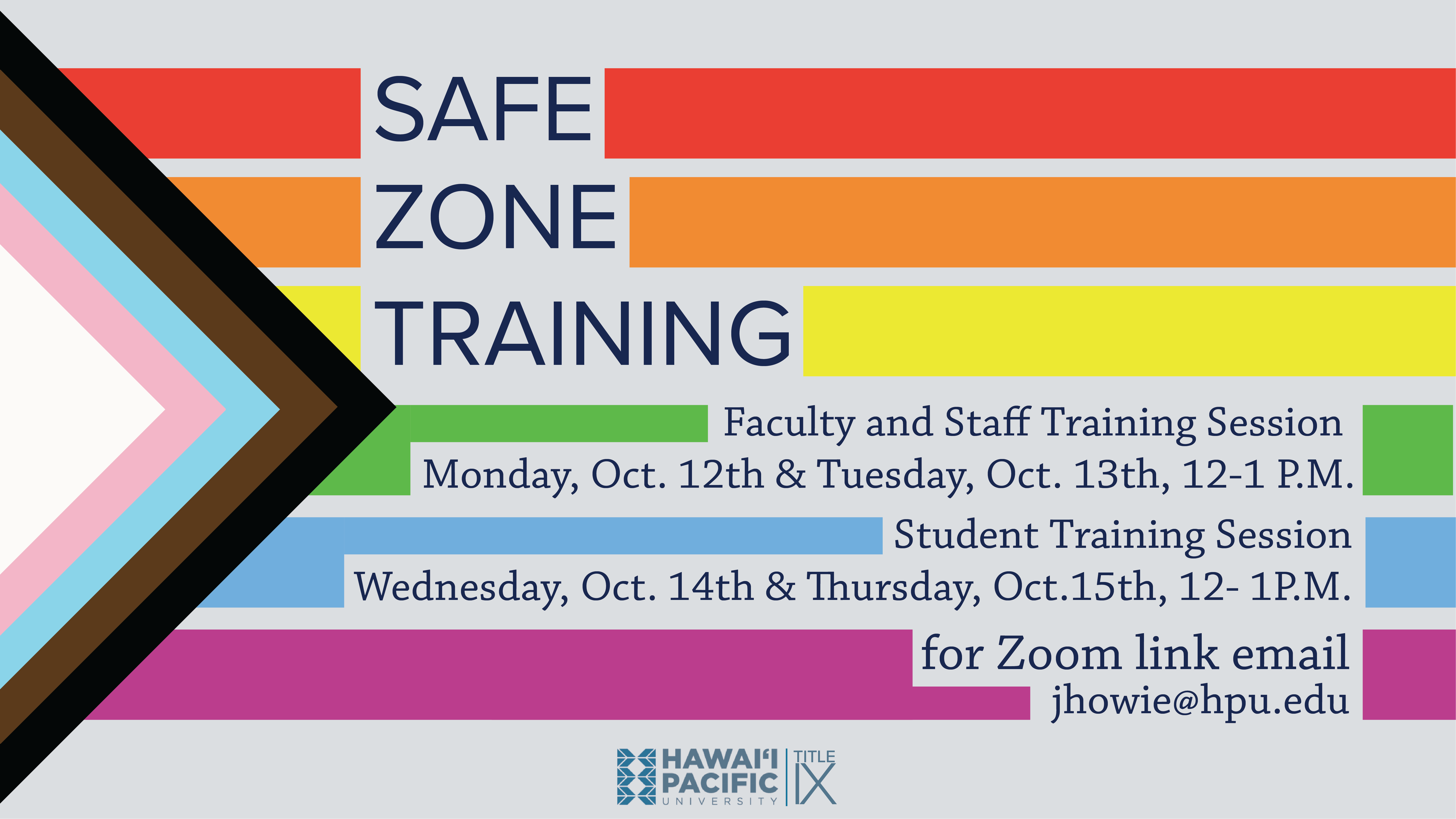 October 12, 2020 - October 15, 2020

12:00 PM - 01:00 PM

Zoom

Jason Howie, 808-544-0276, https://www.hpu.edu/titleix/index.html, jhowie@hpu.edu




Aloha Sharks!

As part of LGBTQ+ Month and HPU's PRIDE Celebration, Title IX Office invites you to participate in our Safe Zone/Ally Training. The training provides the skills, knowledge, and resources necessary to create a safer, more welcoming, and inclusive campus environment. The opportunity to engage in dialogue will strengthen our community and encourage a supportive network of students, faculty, and staff for those in the LGBTQ+ community.

Participants will:

• Learn about issues that face the LGBTQ+ community

• Understand ways in which we overtly and subtly perpetuate noninclusive spaces

• Gain the skills necessary to show up as an authentically and create inclusive spaces


There will be two separate sessions:

• One for Faculty/Staff

• One for Students


Each session is broken up over two lunch hours:

• Faculty and Staff Training Session

o Monday, October 12th from 12-1 P.M. (Part 1)

o Tuesday, October 13th from 12-1 P.M. (Part 2)

• Student Training Session

o Wednesday, October 14th from 12-1 P.M. (Part 1)

o Thursday, October 15th o from 12-1 P.M. (Part 2)


Please use the following Zoom Meeting Link to join us:
https://us02web.zoom.us/j/81898323411?pwd=dVByL3UvMHk2QjdiMFpGc3phNER2UT09

During the training we will observe some community rules and guidelines for participation:

• Vegas Rule: What's said here stays here and what's learned here can be shared out

• Listen respectfully, share air time, and encourage others to participate

• Challenge ideas, not people

• Make I statements

• Challenge by choice

• Push yourself outside of your comfort zone – most learning happens when we are uncomfortable

• It's ok for us all to be at different places with the things we discuss during the training

• Show Aloha/Respect for one another's beliefs, values, experiences, and being

• Please mute your mic and don't talk over or cut anyone off

• If you have a question, share them via the chat so we can pose them to the group


Additional events occurring during HPU's PRIDE Celebration (Oct. 11th – Oct. 16th) :

• Sunday, October 11th

o National Coming Out Day (All Day)

o PRIDE Illumination of the Aloha Tower (All Night)

o PRIDE Photobooth and Celebration presented by Community Advisors (HLC)

• Monday, October 11th – 16th

o Diversity Wall at the Student Life office (ATM)

 Check out our diversity wall featuring LGBTQ+ advocates, entertainers, and artists to name a few.

 Grab a can of juice to enjoy during your visit (9 am-4 pm daily)

• Tuesday, October 12th

o Speak Out Panel (4 – 5:30 pm)

 Coming out narratives featuring faculty, staff, and alumni

o Let's Discuss… PRIDE Celebration presented by Student Government Association @5:30pm

 Opportunity to continue the discussion to share your thoughts and feelings with fellow students regarding the Speak Out Panel

• Friday, October 16th

o Life is a Drag presented by Student Activities (4 – 5:30 pm)

 Performers share their journey in Drag, the history and tips/tricks all learned through their personal experience (virtual presentation)


If you have any questions, please feel free to reach out to Jason Howie, Title IX Coordinator, at jhowie@hpu.edu or 808-544-0276. Thank you and I look forward to having you join us in creating a more tolerant and inclusive HPU community. Mahalo!
Return to Event Calendar