Q&A with HPU Legend Benny Agbayani
Category: Spotlights
January 19, 2022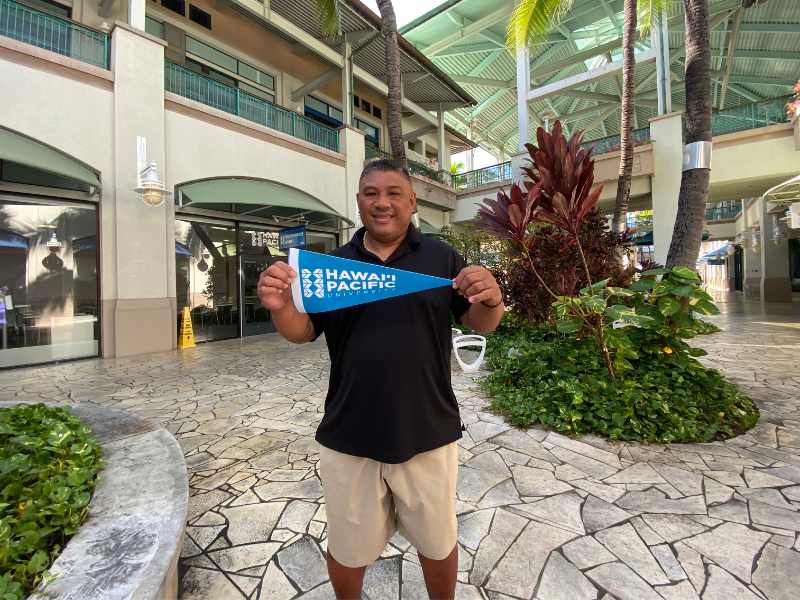 Benny Agbayani, Jr., is a retired professional baseball player, HPU alumnus, and member of the HPU Athletics Hall of Fame. He played for the New York Mets, Colorado Rockies, Boston Red Sox, and in Japan in Nippon Professional Baseball. 
Agbayani ranks sixth in average, third in homeruns, fourth in runs, and ninth in hits in the HPU record book. He was drafted by the New York Mets in 1993 and played Triple-A with the Norfolk Tides before making his major league debut for the Mets in 1998. He is the only HPU Shark to make it into the major leagues.  
In 2000, "Benny and the Mets" played the New York Yankees in the first-ever "Subway Series" in New York City. Benny drove in the winning run in game three at Shea Stadium.  
Agbayani currently works for Hawaiian Airlines and is the softball head coach at 'Iolani School where he coached his two daughters Aleia and Ailana. He spoke to the 'Ohana in November 2021.  
The 'Ohana: Please tell me about your background, growing up in Hawai'i? 
Benny Agbayani: I grew up in Aiea. That's where it all started for me. Playing soccer, baseball, football. I went to Saint Louis High School. It was a great experience there. It's called the brotherhood. Saint Louis forever. Our graduating class is very close.  
How about your family?   
My dad is Benny Senior. My mom is Faith. My dad worked for the Federal government. My mom worked at Hawaiian Telephone Company. My older brother is Lanny, and my younger brother is Brendyn. Everyone's in Hawai'i. 
Who taught you to play baseball?  
I was self-taught. There was a coach that came by the house one day and he asked me to play baseball. I was about five years old. He stopped by and talked to my mom and dad. At that time, I was playing soccer, but the coach had seen me outside throwing a ball and I ended up playing baseball.  
Just like that. 
Yes. I played little leagues, played senior minors, senior majors. I did everything. I just started playing and didn't really think much about it at the time. I watched the Atlanta Braves on TBS and thought maybe one day that would be me. I just kept watching baseball on TV. You always kinda think about the idea of playing professionally. But it wasn't until high school that I started to think about it more. 
Was it in high school that you excelled? 
Not really. There was a lot of great players. I just kept working. When I started, there was not a lot of resources. I would hit old mangos in the yard, coconuts. We didn't have camps or resources, showcases, like they have today. We just learned day-by-day. I would see someone on TV and then go outside and work on what I saw from other ballplayers. 
How did you know HPU was the right fit for you?  
At first, I went to Oregon Tech. I played football because I came out of Saint Louis. Coach Ron Lee was going to Oregon Tech as their offensive coordinator. The plays there were similar, just under different names. I was wide receiver at Oregon Tech. I really enjoyed the game, but I looked myself in the mirror one day and I decided to play baseball.  
So, I came back to Hawai'i in 1990 and went to HPU, where I should have gone all along. My wife was attending UH and was playing softball, so it was an easy choice for me to come back to Hawai'i and play baseball at HPU. You look at it: baseball versus football? The future of my career; I knew baseball was the right choice for me.  
How did playing baseball with HPU help your career as a major league player?  
In the early-90s, we didn't have much. David "Boy" Eldredge got what we needed. We had just enough. We had uniforms, hats. We had to maintain the fields. It was like the minor leagues where we were grinding it out. Traveling for a month or more. Riding in vans, sleeping in hotels, like it was in the minor leagues. They took care of us at HPU.  
We practiced at Ke'ehi  Lagoon. We raked the field, pulled the weeds, maintained the field ourselves. We played games at Ala Wai and Ke'ehi  Lagoon. It was a grind. We all really enjoyed ourselves. The team got very close; we are still close to this very day. Most of the guys that played on the HPU team were from Saint Louis. We were a good team for what we had then. 
Why is HPU a good fit for high school seniors looking to apply to colleges today? 
The resources HPU has now are amazing. It's growing so much. The nursing program. I know nurses that have graduated from HPU and it's a terrific program. The school has grown so much. Just look around downtown; HPU's presence is everywhere. When I went to HPU, it was just Fort Street Mall. Now, it's so impressive to see the growth of the university. From Aloha Tower, downtown, to Makapu'u, to Waterfront Plaza. Wow.    
Of the many experiences you have had as a professional, what sticks out the most? 
The first day I was called up into the majors. It was a unique call-up because I was getting married at the time and I had made the Triple-A all-star team. The owner of the Norfolk Tides told me that they were going to take care of everything. They flew my family in, and I ended up getting married on the field at Norfolk, Virginia. ESPN showed up and it was a big thing, because after that we went to Montreal for my first game as a professional athlete with the Mets. It was a great moment.  
What was the most challenging aspect of playing in the major leagues? 
Trying to improve yourself and staying there. Playing in New York is rough because they are always trying to sign the high-profile players. Being a younger player, you have to do your part and stay there. Being on the Mets, you had to always improve and make a name for yourself.  
There is incredible attention on the Mets and Yankees. 
True. It's like a seesaw. Whatever the Yankees did the Mets had to do. The Mets had to counter it. The Yankees had a lot of money, so the Mets always went out and got players to match big name players. The Mets and Yankees were the two best teams in the league. We met in the World Series. 
Any memorable stories about being in the "Subway Series" with the Mets and Yankees? 
The stadiums were rocking. It was family members that all came together and watched the games. Everybody embraced it. It was the first time that it happened. It was a dream come true for fans, the players. There was every famous person we could think of at the games. It was something we would never forget.  
What is an underrated attribute in being a successful professional athlete and collegiate athlete? 
Knowing when it's your time. Being at the right place at the right time is key. It's all about timing, and you have to grind it out until it's your chance. You have to make that moment count. You may only get one shot and you have to make that moment count. Someone got hurt and I ran with the chance that I got. That's the name of the game when you play professional sports.  
What was it like coaching your daughters at 'Iolani? 
They are really good! You train them when they are little and you get these high expectations, but as I tell my three kids, you can't live up to what I did. You have to have your own dreams, and that's exactly what they have done. You have got to make your own shoes. That's what I tell them, you have to make your own shoes. My wife and I guide them. We ask them to listen, to stand on their own two feet. We give them everything that they need. They all have the tools and talent to succeed.  
After my career, I just wanted to ensure that I didn't have any health problems or issues. I wanted to be sure that I was there for them. Education is very important. Being a student-athlete is important. I was fortunate that I did not get hurt when I was in the major leagues. You never know what's going to happen, so education is key. You just never know what will happen and you need to have an education. You need to know how to be independent.  
What is your idea of perfect happiness? 
Family. Just being around them. Sharing every moment with them.