HPU Alumna Receives Grant to Research Deadly Bacterium
Category: News
September 20, 2021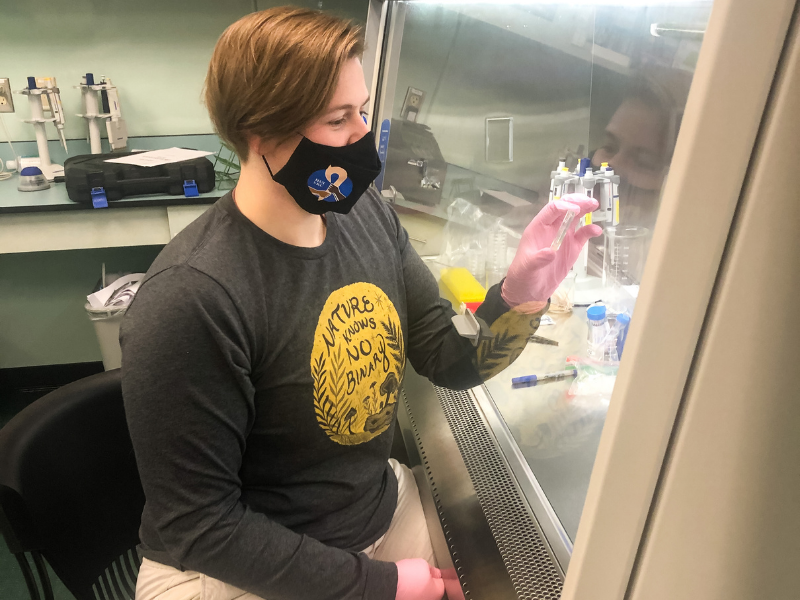 Hawai'i Pacific University (HPU) alumna and nurse Isabelle Yazel Eiser '21 has been awarded a grant to conduct novel research on the bacteria Vibrio vulnificus in Hawai'i. Yazel Eiser was born and raised in Indiana, and holds a Bachelor of Science in biochemistry and specializes in caring for patients battling COVID-19. The grant will help fund research into the pathogenic bacteria V. vulnificus and its widespread growth in Hawai'i.  
"V. vulnificus is a deadly pathogenic bacterium that is in the same genus as the bacteria that causes cholera infections," said Yazel Eiser. "This bacterium is naturally present in Hawaiian waters, although abundances can become high with increased freshwater input, like after a heavy rain."  
V. vulnificus grows in brackish water, where salt water and fresh water meet, and is often found in the Ala Wai Canal in Waikiki. Yazel Eiser will be researching V. vulnificus and its presence at numerous locations on Oahu, particularly on the Windward side. 
"For this research, I have sampled water with a salinity this bacterium would thrive in," said Yazel Eiser. "I am currently testing the bacteria that was isolated from these water samples to see if it is V. vulnificus. Some strains of V. vulnificus are more likely to make people sick than others. Dr. Olivia Nigro and I will then characterize the strains and compare the bacteria by conducting full genomic sequencing on the V. vulnificus isolated from different locations." 
"Isabelle is inspirational," said HPU Assistant Professor of Biology Olivia Nigro, Ph.D. "She works tirelessly at the hospital with COVID-19 patients, and then spends her days off in the lab, working to understand a different infectious agent. Her life's focus is improving health outcomes for our community."  
The research project should take approximately one year, with genomic data ready for review at the start of 2022. When the research is complete Yazel Eiser plans to be able to create a phylogenomic tree of the bacteria.
Yazel Eiser was chosen for the $3,000 research grant by the HPU Undergraduate Infrastructure Student Research Center (HUI SRC). The HUI SRC was established in 2020 at HPU, and Yazel Eiser was among just two scholars to receive the grant for student research. 
"Dr. Nigro initially asked our general biology class if anyone wanted to join her lab," said Yazel Eiser. "It was a great opportunity to join Dr. Nigro and begin my research at HPU. All of my professors have been accommodating and they understand students' needs very well." 
Yazel Eiser is conducting her research at HPU's Makapu'u Campus. She plans to have at least one significant part of her research complete by January 2022 and is actively applying to graduate schools in Hawai'i and on the mainland. Yazel Eiser intends to pursue a career in infectious disease research.   
"I enjoy learning about infectious diseases, so this period of time is very interesting from an infectious disease standpoint," said Yazel Eiser.