2020-21 Golden Apple Awards Presented
Category: News
August 31, 2021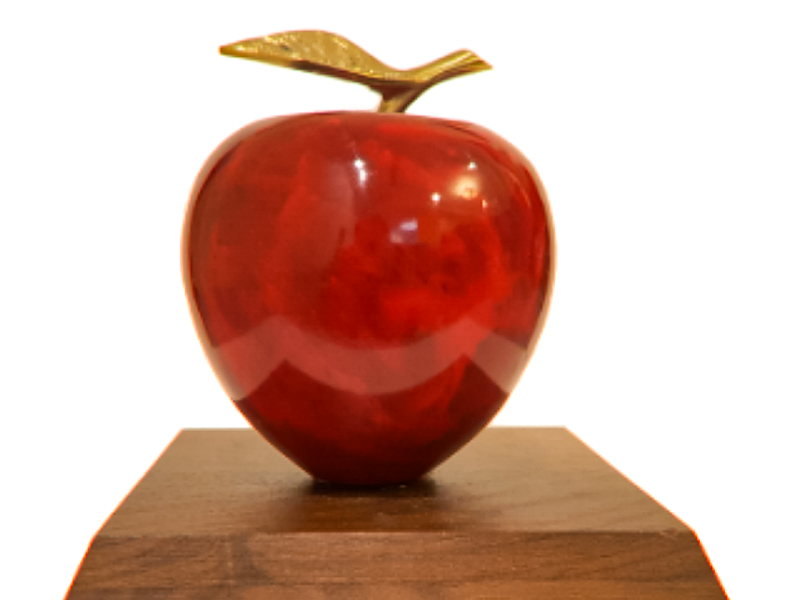 The Scholarship and Learning Resources Committee of the Faculty Assembly presented the 2020-21 Golden Apple Awards at the Monday, Aug. 16 Faculty Assembly meeting. The awards recognize and commend colleagues' contributions toward advancing teaching, scholarship, and service to the University.  
Distinguished Undergraduate Teaching by a Full Time Faculty Member
Sterling Higa 
Higa's nomination included comments provided by students. They said: "One of the best instructors I've had at HPU! (He) truly cares about his students. Also, very knowledgeable in the subject matter. Created a positive and judgment-free class environment." His departmental colleagues have heard similar comments. "Students love him and are vocally generous with unprompted praise of Sterling's teaching style. I often overhear students talking about some of the engaging discussions that happen in his classes. Students identify with him." 
Distinguished Graduate Teaching by a Full Time Faculty Member
Ghazwan Hassna, Ph.D.
Hassna designed, created, and organized his course materials to support students' learning and to accommodate their different learning styles. For example, he introduced the pedagogical mind maps for all of his courses to help students organize knowledge processing in their studies as creative and logical methods of mental note-taking. One of his graduate students wrote: "Professor Hassna's strength lies in him being a subject matter expert in his field. He does not stop sharpening his mind to keep up with the ever-changing technology."
Distinguished Teaching by an Adjunct Faculty Member
Dorothy Douthit, Ph.D. 
Douthit joined HPU in 2004 as an adjunct and was an Assistant Professor of Education in 2006 to 2010. She continues as an adjunct to teach courses in the School of Education across all four of its programs. Douthit is described as a necessary tough critic who provides valuable feedback to the student teachers to help them improve their teaching and managing of the classroom and students. Her students love working with her, and faculty turn to her for guidance and support. She consistently goes above and beyond for HPU by working around the clock to support faculty and students.
Excellence in Scholarship
Scott Okamoto, Ph.D.
Okamoto is currently the lead investigator on two R34 grants, one for The Implementation, Adoption, and Sustainability of Ho'ouna Pono, and a second for a Diversity Supplement grant. He is also a co-investigator on four other grants, including the Pacific Island Partnership for Cancer Health Equity (PIPCHE). Okamoto is an extraordinary scholar who has effectively weaved his passion for and expertise in scholarship and research into advancing student success, faculty development, and meeting community needs. He was instrumental in HPU's most recent NIH grant for the HPU Undergraduate Infrastructure Student Research Center (HUI SRC). 
Excellence in Mentoring
Serge Marek, Ph.D.
Marek's students said of his impact on their HPU experience: "I see him as an extraordinary educator and person. He is my faculty advisor, and one of the reasons that I think coming to HPU was a good choice. He is very caring of all his students and provides valuable suggestions. Some UN Club members and the Model UN started with little to no experience with public speaking. With Dr. Marek's guidance, these students succeeded. (By) having this space to practice and improve made a difference in these students' lives. I believe Dr. Marek is someone who gives hope to his students. The students always know that he responds to emails and will be at office hours despite his incredibly busy schedule for the duties he held as Faculty Senate Chair." 
Exceptional Service to the University by a Staff Member
Melissa Matsubara
This last year, Matsubara has made tremendous efforts to enhance the student academic advising experience as well as improving the service and experience that faculty advisors and professional advisors provide. She excels in bringing together stakeholders, listening attentively to their concerns and challenges, and then working together collaboratively to identify and actualize real solutions to these issues. A faculty member commented: "She is not only brilliant at her job but also a super collaborator and incredibly hard worker. She manages to stay positive regardless of the situation and never fails to help anyone who requests." 
Exceptional Service to the University by a Faculty Member:
Catharine Critz, Ph.D.
A former student and now faculty colleague of Critz said: "My classmates and I experienced Dr. Critz as kind and warm, with a sharp wit and unfailing good humor. Since our first introduction to Dr. Critz as a professor, and in the years since my admiration for her has only grown as I have the privilege to work with her as current faculty. She has provided guidance on nursing and college levels and has provided steady leadership. She served as the NFA chair, ensuring HPU's faculty is focused on the priorities and keeping all of us on track. Her professionalism transfers to her dedication and teaching of our HPU students."
Reflective Use of Technology
Brenden Bliss
Field trips can be great for experiencing the subject matter in person, but when that was no longer possible, Bliss gave students in his Military History of Hawai'i course the next-best thing: using virtual tours to deliver core material. Each week of the course had a new tour which was a blend of PowerPoint presentations, documentary videos, eye-witness interviews, map and website analysis with walking tours of the site created by him. For example, instead of simply showing the route of Kamehameha's invasion and conquest of O'ahu on a map in his lecture, he narrated the route on a map then cut to videos of the sites which he personally filmed and narrated. 
Lifetime Commitment in Teaching
Jerome Feldman, Ph.D.
Feldman has aided in several important exhibitions, including The Eloquent Dead at the Fowler Museum at UCLA, Nias Tribal Treasures at the Volkenkundig Museum Nusantara in Delft, and Beyond the Java Sea, a Smithsonian sponsored traveling exhibition. He has also written books and articles and lectured extensively on Tribal Southeast Asian, Micronesian and Polynesian art and architecture. In fall 2004, he was the Slade Visiting Professor at Cambridge University, England.
In 2015 one of Feldman's colleagues evaluated his teaching of the course Art of the Human Body and said: "I have attended over half a dozen three-hour sessions of the course, not one of which was ever boring. Indeed, Dr. Feldman is engaged and funny. He even physically impersonates some of the figures and artists for students, who in turn are engaged and ready to laugh. It is a different kind of learning than we attempt in courses which focus on texts."