The Story of Aloha Tower
Category: Campus News
August 20, 2021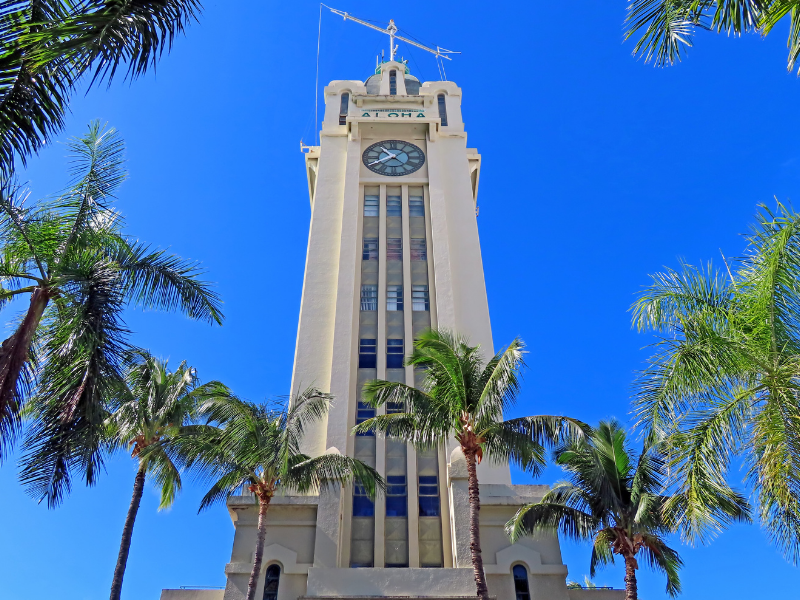 Aloha Tower is a historic icon and a landmark for our campus. Completed in 1926 and standing at 184-feet tall, Aloha Tower was at one time the tallest building in Hawai'i. It was constructed to house various government departments, including the Harbor Master's office.
At the top level on the 10th floor, an observation deck was included as well as a lookout for harbor pilots. At the height of the observation deck, the word "ALOHA" was etched on all four sides of the structure to greet visitors. The tower was seen as a symbol of welcome to ship passengers who arrived on O'ahu in the days before mass air travel. 
After the Japanese attack on Pearl Harbor in December 1941, Aloha Tower was placed under the control of the United States Navy. Public access to the Tower was restricted, and the building was under constant military guard. The once white building was painted camouflage.
A high level of security was implemented because Aloha Tower had become a control center for American military convoys in the Pacific. Even after the War, Aloha Tower remained under military jurisdiction. Finally, in 1947, the building was returned to civilian control, and the camouflage paint was removed.
Photo and story by HPU history professor Douglas Askman, Ph.D.