HPU Student Spotlight: Raleigh Aiden Johnson
Category: News
June 28, 2021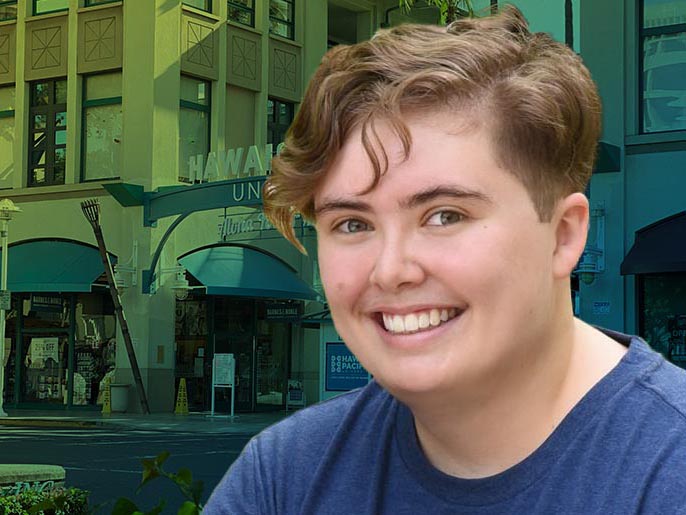 Raleigh Aiden Johnson was always drawn to the ocean and its vast aquatic life. He found the study of marine animals endlessly fascinating, dreaming of the day when he would live and study by the sea. Raleigh was born and raised in Minnetonka, Minnesota, so the only way he could experience the sea as a child was on family vacations in Florida. 
"My family would vacation in Florida once a year," said Johnson. "The rest of the time, all I had were freshwater lakes. I grew up with my parents and older brother, Casey. My mom was a theatre major in college, and my dad was a science major.  So, I'm a mix of both my parents because I have a passion for the sciences and music."
Johnson's parents were incredibly supportive on any decision he decided to make after graduating from high school. He was not entirely convinced on attending college at first, but after speaking with a high school guidance counselor at Hopkins High School in Minnetonka everything changed.
"My guidance counselor encouraged me to consider schools with really strong marine science programs," says Johnson, "so once I started to receive acceptance letters from schools, I knew that it was very feasible for me to attend college. I was so excited to attend HPU. With scholarships offered from HPU I could attend school in Hawai'i for the same price as going to a state school in Minnesota."
Johnson is a senior and is following his passion by majoring in marine science. He lives and studies at the scenic Hawaii Loa campus at HPU, and is also a member of the HPU International Vocal Ensemble and is a percussionist in the HPU Symphony Orchestra.
"My favorite professors at HPU? That's a four-way tie!" said Johnson. "It's between Dr. DeCarlo, who encouraged and provided resources for me to apply for internships for summer 2021. Dr. Martin, who was super kind and helped me succeed as my physics professor, and finally, Dr. Schumacker and Dr. McCreary who have provided me with a social and artistic venue."
When asked about his idea of perfect happiness an immediate smile came to his face when thinking about an answer. "Working a job I love, living with people I care about, and having access to the arts. Oh, and lots of pets!"