Sigmund Sumulong Honored As Ke Kaukahi Award Winner
Category: News
May 25, 2021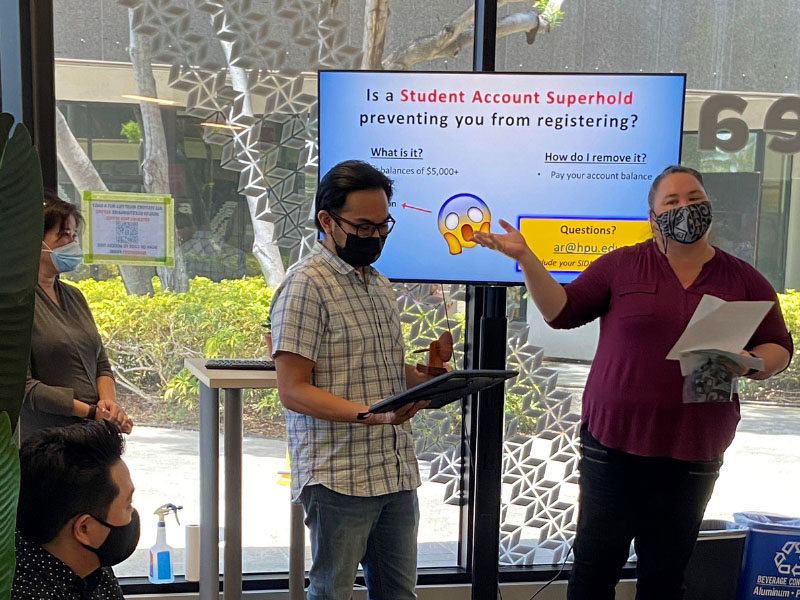 The Special Events and Recognition Committee, on behalf of the Staff Council, presented the Spring 2021 Ke Kaukahi Recognition of Excellence award to Sigmund Sumulong, Registration Coordinator. 
Sigmund will take a request to update a course or program and look to see how it will impact students, how it will connect to other majors or other programs, and how that change will look one, five, and ten years from now. This extra care and attention upfront mean fewer students will face negative or confusing results on their DegreeWorks. Changes that we make now will last term after term, providing the right foundation to build upon as future changes surface. 
He has been praised for being easy to work with, a real problem-solver, someone who "gets it," and someone who will keep digging and exploring to find the best solution to the problem." Sigmund is described as "the unsung hero behind the scenes." 
Award nominees included the following individuals, and excerpts from their nominations follow: 
David Barrowclough, Registrar, "has made the processing of our forms more efficient and effective. Students who come in requesting to speak with someone higher up always come out with a smile on their face after speaking with him." 
Kathryn Conlon, Assistant Dean of Students, "was a key figure and leader with HPU managing COVID, enforcing the rules that made, and is continuing to make, our students, faculty, staff, and administration safe. She led the unseen and often forgotten, front-line battle to make our university as safe as it has been and so that we can be a learning community."
Ana Pesaleli, Lead Security Officer, "has consistently shown her value almost daily with her attention to detail and professional attitude and demeanor. She exemplifies our core value of quality and competent customer service with a genuine smile and pleasant attitude."
Scott Williams, Associate Athletic Director, "is always implementing new ideas to facilitate processes, making the jobs of those around him easier and making sure the student-athletes come first. Scott is consistently going above and beyond his job expectations." 
Pictured Sigmund Sumulong and Carey Foote, Committee Chair