HPU eyes record first-time student enrollment
Category: News
May 4, 2021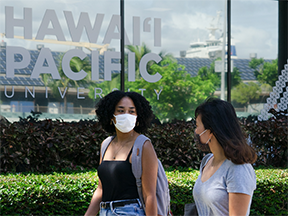 High school seniors across the U.S. are setting their sights on college in Hawai'i—specifically Hawai'i Pacific University, at a record-setting pace, even as nationwide college enrollment is notably declining this year compared with 2020. 
Hawai'i Pacific today announced that its new-student commitments to attend this coming fall have jumped a whopping 71 percent over last year. This stands in sharp contrast to last week's report from the National Student Clearinghouse indicating that enrollment on campuses across the country is down an average six percent this spring compared with last year. 
HPU President John Gotanda credits the growth in Honolulu to factors like the strength of academic programs, a wide variety of hands-on learning opportunities, the ability to study among the cultural diversity and beauty of the Pacific crossroads, and also the way the state and the university have made it through the COVID-19 pandemic. 
"Across the nation so many universities struggled with online classes, campus COVID-19 outbreaks, and compliance with protocols," Gotanda noted.  "Hawai'i Pacific University is about to cross the finish line of a year where we were able to offer in-person, as well as hybrid online classes, and activities on our successfully modified and socially distanced urban campus. Our infection rate remained among the lowest in the U.S., there were no spreader-events or clusters on campus all year, no cases of an infection occurring from a student to faculty member or among students in a classroom setting, and no cases among residential students since January," he added.   
This year, Hawai'i has been among the very safest states in the country, with low per-capita COVID rates. Hawai'i Pacific University stayed open throughout this academic year, with only a few weeks of all-online instruction due to brief state and city mandates. 
"Our students made it very clear last spring that they wanted this year to be in-person, so we prepared our midsize campus with all the right protocols and rigorous testing, tracing and quarantine programs," Gotanda said. 
Hawai'i Pacific will continue to admit qualified students throughout this summer and, to prepare for its new-student boom, the university is expanding its dorm space by leasing several floors of a hotel on Waikiki Beach. Twenty-four hour university staffing, a meal plan, campus shuttle, and regular planned activities will all be added to the special housing experience.