Where Words Once Were: HPU's Spring Theatre Production
Category: News
April 20, 2021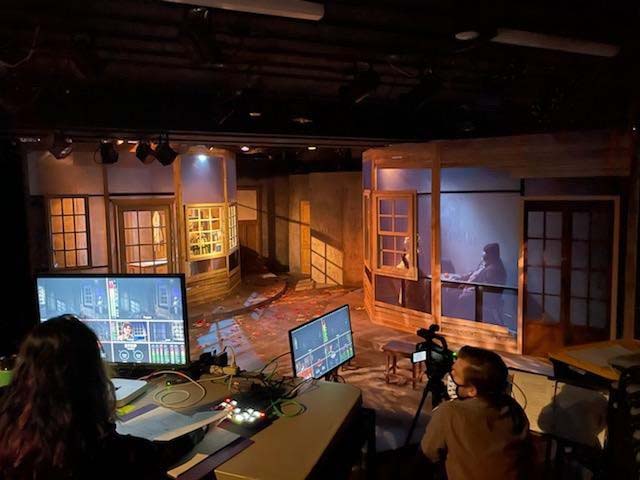 Hawai'i Pacific University's theatrical production of Finegan Kruckemeyer's play Where Words Once Were is heading into its finale this weekend. With only two performances left in HPU's spring production, the upcoming livestream events are receiving widespread recognition on campus and in the local community.   
"This play is extra special because we meant to produce it last year, but it was cancelled due to the COVID-19 pandemic," said Alex Munro, director of Where Words Once Were. "We chose this play because it's family-friendly, while still exploring themes that resonate with all ages: The power and beauty of language and how it connects us with one another." 
The synopsis of the play is rooted in the strength of language, exploring themes of personal expression, being silenced, and living in a dystopian world still filled with hope and warmth. The story centers on a young boy named Orhan who lives in The City. Language has been limited to 1,000 words. Choose to speak a word not part of the 1,000 words? You will be silenced, no longer allowed to speak or write. When Orhan meets a young girl who has been silenced he finds himself in the midst of a journey to restore language. This captivating play is meant to enthrall audiences, sparking conversation around the power of words and expression. 
"We were thrilled when we were given the opportunity to resume the show this spring as a livestream event," says Munro, "and decided to honor our original design idea of layering, erasing, and writing over by filming some scenes ahead of time and playing them alongside the live-streamed performance. It took an incredible amount of time, planning, and energy to pull off this balance of live and pre-recorded materials." 
Tickets can be purchased at the HPU theatre website. The price of a ticket is donation-based and the funds are given directly to the HPU theatre department. A patron may choose their donation price when selecting a ticket. Showtimes are Saturday, April 24 at 7:30pm and Sunday, April 25 at 4:00pm.