Music of Hope & Humanity: A Free Virtual Concert
Category: News
April 16, 2021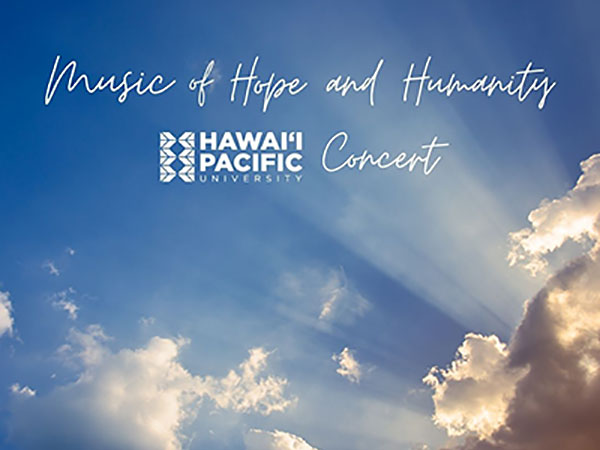 During these challenging times of the COVID-19 pandemic many of us in Hawai'i are searching for inspiration through hope and humanity. Luckily for us, the search just got a lot easier. The Hawai'i Pacific University Orchestra and International Vocal Ensemble will be broadcasting a live concert with special tributes to women and composers of color. The concert entitled Music of Hope & Humanity will stream on Facebook Live, April 23 at 7:30pm from the Aloha Tower Marketplace. 
"In this concert, we aim to remind folks of perhaps things they've forgotten but would like to remember," said HPU Associate Professor of Music Teresa McCreary. "The beauty of music and poetry, the triumph of love over hate, the blessings of human diversity, and the hope for a better future."
Fifty student musicians from across North America and Hawai'i will perform in small ensembles, including a featured solo performance by vocal ensemble member Julianie Gonzalez who hails from Puerto Rico. Other ensembles feature strings, percussion, and piano; jazz combo; flute duo; and brass ensemble. Musical selections composed by women and composers of color include Duke Ellington's, "It Don't Mean A Thing If It Ain't Got That Swing." The HPU vocal ensemble, symphony, and orchestra are comprised of talented musicians and singers who are recruited and auditioned for select spots in each ensemble. Students receive scholarships for their talent and experience.
Music of Hope & Humanity is directed by HPU Assistant Professor of Music Dr. Alec Schumacker and HPU Associate Professor of Music Dr. Teresa McCreary. Schumacker is the Director of Choral Activities at HPU and McCreary is the Director of Performing Arts at HPU. HPU's previous live concert, United Through Music! was also directed by Schumacker and McCreary. The concert was highly acclaimed, reaching nearly two thousand people online. To view the concert in its entirety visit  The Arts at HPU's Facebook page.
Physical distancing, mask guidelines, and all other requirements by the state of Hawai'i will be observed in this virtual concert.