Information and Forms
The Office of Sponsored Projects [aka - OSP] is an integral part of the Office of Academic Affairs (OAA) here at HPU. Over the last three years, we have attracted nearly $15,000,000 in extramural funding from sources that include the Department of Education, NSF, NOAA, and the State of Hawaii. Below is a collection of forms and explanations of the various processes that OSP goes through to secure your awards. If you have a question - please email Mark Yabui directly.
HPU Domestic-Oriented Proposals
The grant proposal writing process is one of "learning the steps" and "practicing the steps." When you are developing a funding opportunity proposal, you are asking the receiver/reviewer to make a choice [award the funding!] and act. Your proposal will have a few important goals to accomplish before you see a successful outcome down the road so keep these goals in the front of every conversation you have on your proposal!
You must communicate to the receiver/reviewer that "you understand the audience's problem/ situation." Using facts and figures, coupled with known solutions from other areas can help formulate this "proposal strategy." After that is accomplished, you then must set out and "map" each of your tasks/solutions to that problem/situation. The following is a flow diagram to guide you through the HPU proposal development/writing process.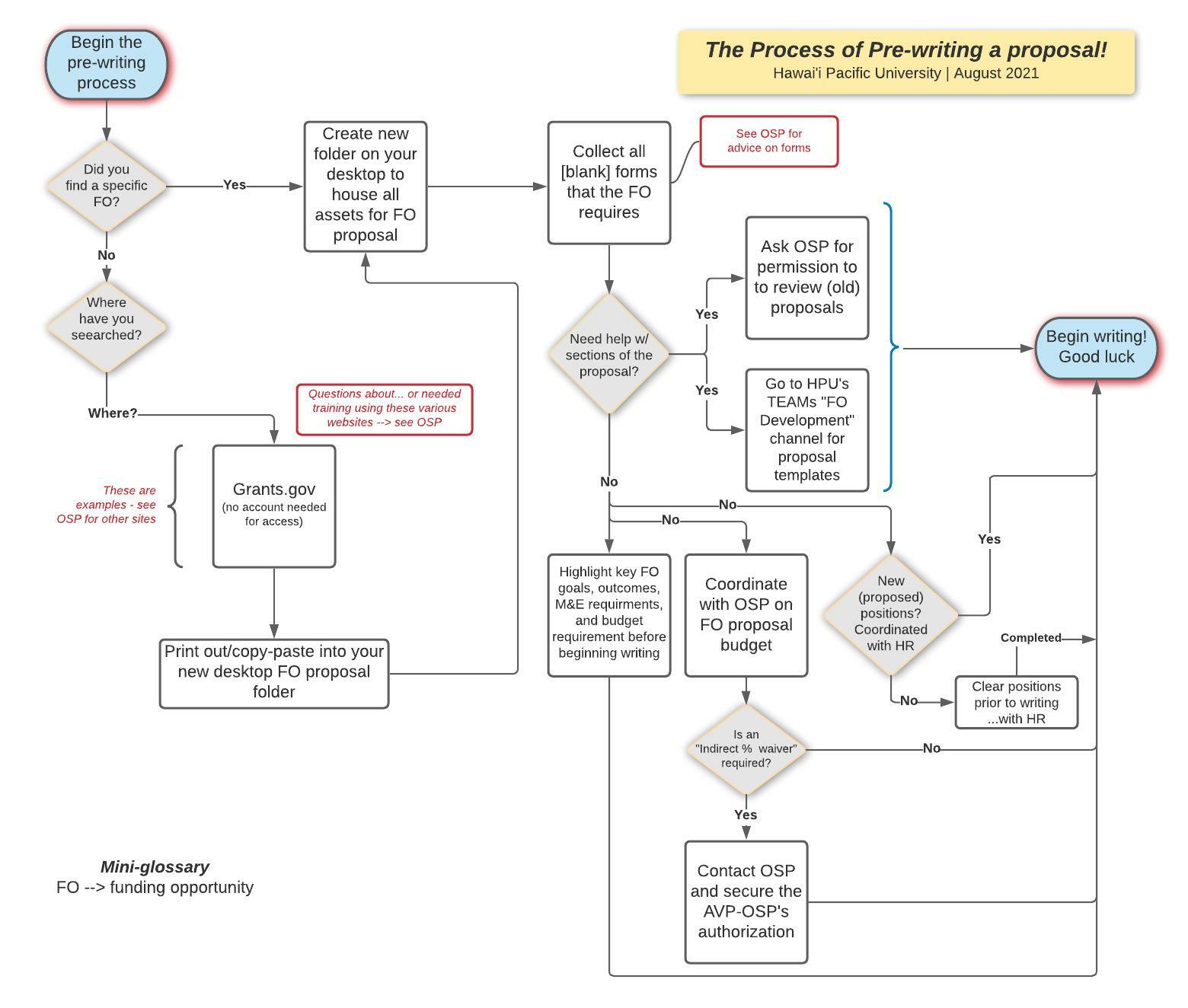 You can download the flow chart here.
Once you begin to write... you should review this flow diagram to make sure that you are hitting all of the proper steps before you attempt to submit something to an agency.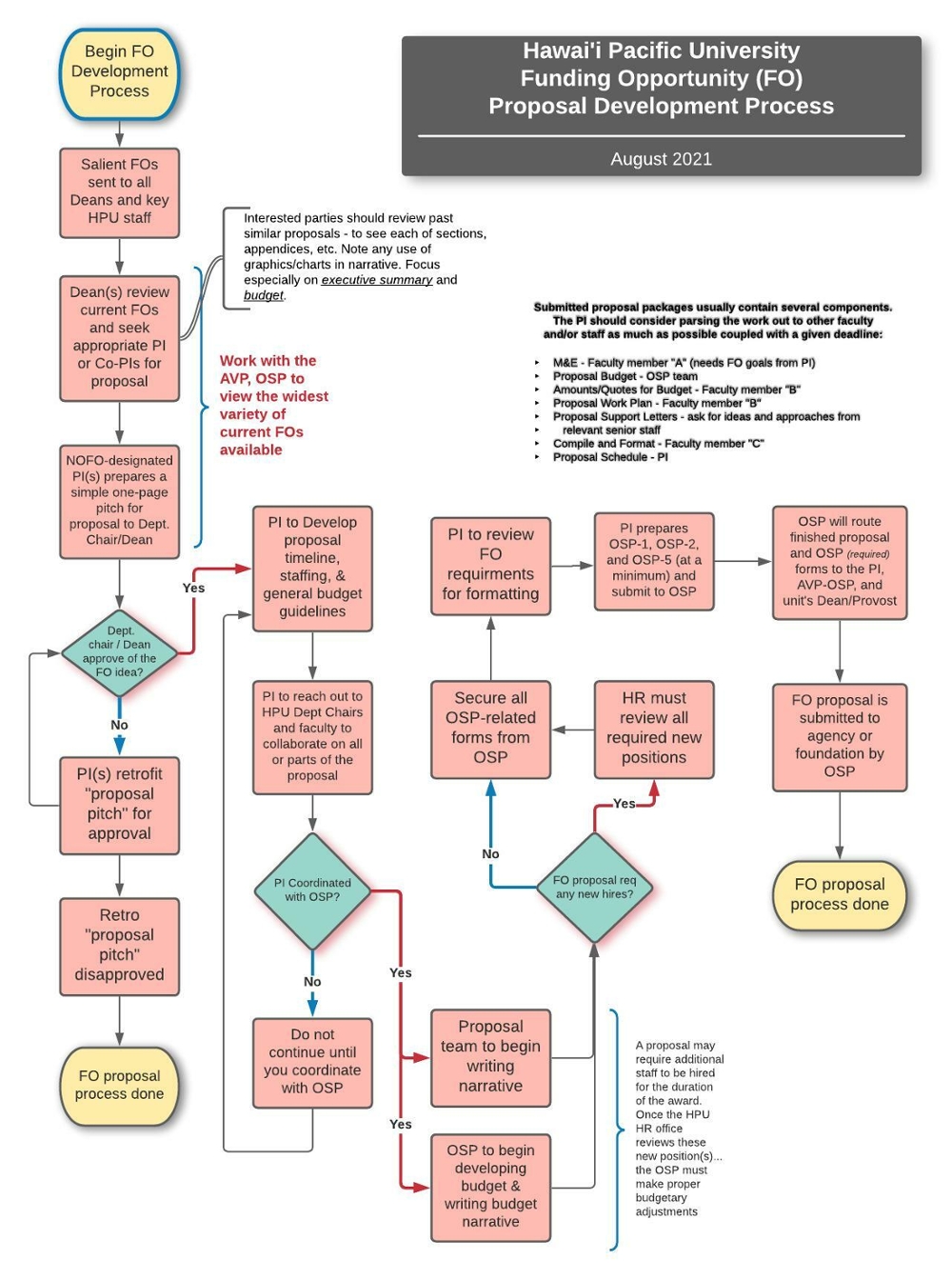 You can download the flow chart here.
This section defines the current guidelines governing reimbursement of expenses incurred by employees of Hawaii Pacific University (HPU). The guidelines are intended to be thorough, though not exhaustive, and are intended to be general guidelines. Any specific questions regarding the university's expense procedures should be directed to the HPU Controller.
Overall expense principle – "The Sunshine Rule" – expenses submitted for reimbursement should be able to withstand full and open scrutiny from peers, subordinates, superiors, auditors, donors, and trustees. Every effort should be made to arrange for the lowest possible cost for all business-related expenses. HPU recognizes that travel places considerable demands on our employees and it is the university's policy that employees should not suffer any financial burden or increased risk to personal safety or experience unreasonable inconvenience in favor of the bottom line. We acknowledge that professional discretion and good judgment should prevail when making travel and expense decisions. The full "Travel and Expense Policy" document can be downloaded here.
The average proposal writer in today's environment has an average annual success rate of 35% for all their submissions. Do not feel bad if your average is below this… keep submitting! Here are a few tips and tricks that can add real value to your grant proposal [aka --> Funding Opportunity or "FO"]… none of this guarantees an award but these tips can help a bit.
Work backward… what? If you really like a particular NOFO that you want to tackle… then look at the "due date." Develop a quick calendar that includes all the major milestones in completing this proposal (e.g., M&E plan, budget, HR: position descriptions, tasks needed to execute).
Connect with your fiscal officer immediately and let them know about the details of the FO so that the grants manager can begin putting the proposal budget together for you.
If the FO is generated from a US government agency, then assume that the "indirect rate" to be charged against the salary & wages portion of the budget is 55%. This rate will change each year. If the agency restricts the 'indirect charge" to [example] 10%, make sure that OSP knows this new amount immediately.
HPU uses a flat 23% rate for faculty benefits and a flat 29% for HPU staff. You will always use the aforementioned "benefit rate" for existing HPU employees.
Always assume that the proposal is required to fit into a 1" margin all the way around, use 12 pt. or 11 pt. fonts, allows you to use 10 pt. font for any charts or figures, and is completed in black ink. Some foundations allow the use of color ink and some organizations allow smaller margins. But if the FO instructions do NOT describe the layout requirements… use the above.
Collect all the blank forms, etc. right at the beginning of the writing process. A missing form can cause your proposal to be disqualified… even if everyone agrees that it will solve world peace.
FREQUENTLY ASKED QUESTIONS - GRANT APPLICATIONS
When proposal application requests...                           The answer is...
Submitting Organization

Hawai`i Pacific University

(Do not list department name in this section)

General Business Address & Address for

Official Correspondence

Hawai`i Pacific University

Office of Sponsored Projects

500 Ala Moana Blvd. Suite 6-401

Honolulu, HI  96813-4925

Phone: 808-544-9338

Type of Organization

Private Institution of Higher Education, Nonprofit Organization

Congressional District

HI-001

Official Authorized to Sign Proposals

President, HPU

Sr. Vice President and Provost, HPU

Financial Contact and "Sponsored Project" Payment Address

Hawai`i Pacific University

Office of Sponsored Projects

500 Ala Moana Blvd. Suite 6-401

Honolulu, HI  96813-4925

Phone: 808-544-9338

Federal Cognizant Audit Agency

DHHS Office of Assistant Secretary for Administration and Management

90 7th Street

San Francisco, CA 94103-67059

Phone: 415-437-7820    Fax: 415-437-7823

Point of contact: Wallace Chan

Institutional Assurance Numbers

IRB FWA: FWA00010478

Principal Investigator, Project Director, or Technical Contact

Faculty member's full name

Campus Address

Department's Address

Employer Federal ID Number/IRS Number

99-0113930

SAM - UEI #

QKESSLC5LFR4

CAGE Code (Commercial and Government Entity Code)

495Z3

NAICS Code (North American Industry Classification System Code)

(Formerly SIC - Standard Industrial Code)

611310

 

NIH Institutional Profile Number

2021601

NSF Institution Code

00-7279-3000

FICE Code (Federal Interagency Committee on Education Code)

7279

Date of Indirect Cost Agreement

June 4, 2013 (Updated & unchanged June 2021)

Standard F&A Rates for Research – calculated as a percentage of Direct Salary and Wages only

55% On-campus, All programs

 

Fringe Benefits

Budgeted at 23% of the salary for full-time faculty and budgeted at 29% for HPU staff.

Sponsors also may request very detailed tax, employer, and facilities & administrative cost rate information.

Contact OSP for assistance.

AVP-OSP

808-544-9338 / office
Download this chart of information here.
OSP FORMS
OSP uses a variety of forms for various parts of the grant application.  The most common OSP forms can be downloaded right here and they include:
GLOSSARY
Proposal writing has its own special vocabulary. Note that all these definitions are specific to NGOs like HPU in writing FO proposals. Many of these words and phrases will have alternative meanings outside of this glossary which is not included here.
Baseline Study —> a collection of data about the situation before the project starts; a detailed description of the status quo.
Budget —> a document that specifies how the money will be allocated to implement the activities described in the proposal; a description of the project in numbers.
Capacity Building --> the skills and ability of an NGO to run programs successfully and continue its success in the long term.
Concept Note —> the shortest expression of a project idea given on paper to a donor; a document generally used in the first instance when pitching a project to a donor.
Due Diligence Analysis —> before a donor invests in an NGO in the form of a grant, they want to know if the NGO is a healthy organization with stable finances and a reliable work history. The aim of the due diligence process is mainly to find out if your NGO is a good and reliable partner.
Gantt Chart —> a chart that summarizes the schedule or timeline of project activities proposed. Like a work plan, timetable, or schedule.
Impact —> long-term result of a project; the long-lasting effect of activities undertaken by a project.
Letter of Inquiry —> a short letter sent to a prospective donor to determine the donor's interest in evaluating a full grant proposal.
Logical Framework —> a tool for effective planning and implementation of developmental projects; framework with clear, concise, and systematic information about a project.
Milestone —> a set point along a project's timeline in which a specific and predefined activity will take place or should have taken place; a check for if a project is on track.
Monitoring and Evaluation (M&E) —> an approach developed to measure and assess the success and performance of projects, programs, or entire organizations.
NOFO --> Notice of Funding Opportunity. A term used predominantly by the US Government
Project Design --> is the first phase of the project cycle. It identifies key elements by outlining the answers to the 4 Ws of the project: What - Where - When - Who.
Project Goal --> very general, high-level, and long-term vision for the project.
RFP --> Request for proposal
Scalability --> a project idea can be adapted to a bigger scale than just the local context. It also means ideas and concepts that you propose can be used in a different context again.
Scope of Work --> an agreement on the work that should be done specifics about what needs to be done by when, and by whom
Stakeholder --> someone who has a stake in the endeavor you are proposing. This does not only mean you're beneficiaries but everybody that would be affected or touched by your project.
SWOT --> Strengths, Weaknesses, Opportunities, and Threats; a tool used for discussing the pros and cons of the organization that could impact the project. Many organizations have tacked on... "Trends" to allow for "future speak." So, you may see SWOTT.
Timeline --> chronological order of events that you plan to do in your project.
Work plan (WP) --> a description of the sequence of the project activities in time. It is much more detailed than a timeline. Your WP will include notes at each milestone and should have language that discusses risks along the path as well expenditure rates at each milestone.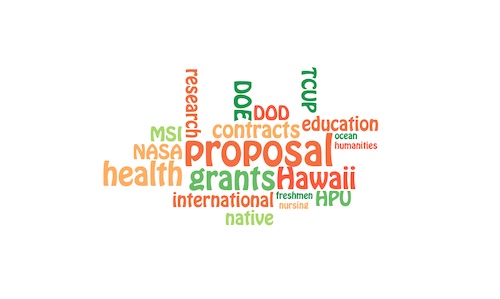 There are a variety of websites that can give proposal writing tips and actual leads on (new) FOs. The following list is not exhaustive but rather should give the reader a sense of what's out there. This document is updated regularly, and this list will be updated as well.
Purpose
Costs charged to federally sponsored programs must be reasonable, allocable, and allowable charges under applicable federal standards, and they must be permitted under the terms of the specific award and charged consistently. Costing guidance in the OMB circulars does not generally apply to non-federal sponsored awards. Non-federal sponsors occasionally have expenditure policies of their own (or they ask award recipients to adhere to federal regulations and guidelines). 
Most federal and non-federal sponsoring agencies or organizations issue their own policy guidelines and directives defining acceptable costs for purposes of their program(s). Despite a great deal of commonality as to the content, there are sufficient variations in policies to make it impractical to issue and maintain a policy compendium. Individual agency or organizational directives must be consulted for authoritative guidance.
This guidance outlines the allowability and importance of the proper treatment of costs on federally funded projects and provides guidance for determining allowable costs on federally sponsored awards and ensure compliance with the Uniform Guidance.
The complete Expenditure Guidelines can be downloaded here.
As a recipient of federal funding, Hawai'i Pacific University (HPU) is required to comply with the Office of Management and Budget Circular Uniform Administrative Requirements, Cost Principles, and Audit Requirements for Federal Awards ("Uniform Guidance") as well as other federal requirements for certifying effort expended on sponsored awards.  HPU requires all individuals who receive federal sponsored funding to comply with University policies and sponsoring agency regulations regarding the proposing, charging and reporting of effort on those awards.
University faculty and staff are expected to charge their time to sponsored awards commensurate with the committed effort expended on all activities they perform.  Payroll charges to sponsored awards, and cost-sharing recorded for faculty and staff, serve as the initial data points for the University's effort reporting system.
Click here to download a complete copy of the "HPU Effort Reporting" document
Many people who tackle a funding opportunity proposal run into items/required sections that they have never seen before.  OSP receives queries like, "Do you know what a Logic Model looks like? (example)". So the OSP team has assembled a series of usable "Proposal templates" that can show you what a ______ looks like!  We will be adding additional proposal templates as they become available.
National Science Foundation (NSF)
We are also excited to announce enhanced NSF
Funding Opportunity
Search functionality
 and revamped program pages on
nsf.gov
and
beta.nsf.gov
, the new version of the NSF website. As NSF builds its new nsf.gov website in small, iterative pieces using the
beta.nsf.gov
platform, we are not simply moving existing content from nsf.gov to the new site. Rather, the new website will improve how information is presented for use by various audiences including prospective proposers, grantees, and the general public. 
Research.gov Proposal Submission System Enhancements
Research.gov proposal features continue to expand to support the transition of all proposal preparation and submission functionality from FastLane to Research.gov by a target date of December 31, 2022. Many NSF funding opportunities are supported in Research.gov and clearly specify whether submission via Research.gov is available or required.

Effective August 30, 2021, Conference and Ideas Lab proposal types, renewal and accomplishment-based renewal submission types, and preliminary proposals for Ideas Lab solicitations are all now available for submission in Research.gov. FastLane must be used to submit preliminary proposals for proposal types other than Ideas Lab until that functionality is available in Research.gov.

The proposal preparation landing page has been revised, and Principal Investigators will now first select the proposal submission type from the drop-down options and then will follow the proposal setup wizard to initiate a new proposal. In progress and submitted proposals are accessible from the tiles on the revised proposal preparation landing page, after first selecting the submission type from the drop-down options. 

New automated compliance checks and associated error and warning messages for the enabled proposal and submission types were also implemented. Error messages will prohibit proposal submission to NSF, whereas warning messages still permit proposal submission.

New Frequently Asked Questions (FAQs) were added to the Research.gov

About Proposal Preparation and Submission

page, and the

Proposal Submission Capabilities

page has been updated to reflect the latest development updates. 

All supported proposal and submission types as well as associated compliance checks are also enabled in the Research.gov Proposal Preparation Demo Site. 
NSF-approved Biographical Sketch and Current and Pending Support Format Updates
Current and Pending Support Fillable PDF Updates
Based on feedback from the research community and NSF Program Officers, NSF has incorporated functionality as of August 30, 2021, in FastLane and Grants.gov to remove any pages which do not contain data entered by users (i.e., blank pages) from the NSF-approved current and pending support fillable PDF. This trimming functionality will be integrated into Research.gov on October 4, 2021, in coordination with the implementation of the revised PAPPG (

NSF 22-1

) for proposals submitted in Research.gov and project reports submitted in the Research.gov Project Reporting System. 

The trimming service only applies to the NSF-approved current and pending support fillable PDF and not to any other uploaded PDFs. Current and pending support PDFs generated in SciENcv do not include blank pages. 

The current and pending support fillable PDF document is paginated, and the PDF page numbers will not be updated during the trimming process. This means that it is possible for the trimmed PDF to have skipped page numbers corresponding to the blank pages removed from the fillable PDF. NSF Program Officers are aware of this potential occurrence in proposals submitted to NSF. 

Proposers with in-progress proposals as of August 30, 2021, can delete previously uploaded current and pending support fillable PDFs from their FastLane or Grants.gov proposals and then re-upload them to trigger the trimming service.
Updated Biographical Sketch and Current and Pending Support SciENcv and Fillable PDF Formats
The updated NSF-approved biographical sketch and current and pending support formats will be available in September 2021 to preview before they are required on October 4th. The updated fillable PDF formats will be available for download from the NSF

biographical sketch

and

current and pending support

websites by September 3rd. Updated SciENcv formats will be available on the SciENcv Create a New Document screen by September 17th. 

Biographical sketch format updates include increasing the page limit from two to three pages.

Current and pending support format updates include the addition of new sections for information on objectives and overlap with other projects to help NSF and reviewers assess overlap/duplication. 

Although submission of the updated NSF-approved formats is not permitted (i.e., Research.gov, FastLane, and Grants.gov will not allow the 22-1 forms to be uploaded) until the implementation of the revised PAPPG (

NSF 22-1

) on October 4, 2021, NSF is encouraging proposers and grantees to begin familiarizing themselves with the updated NSF-approved formats when they are available.
Enhanced Funding Opportunity Search Functionality and Revamped Program Pages
Based on extensive research with external and internal stakeholders, NSF has made significant improvements to the NSF

Funding Opportunity Search

functionality to help researchers and prospective researchers quickly and easily find relevant programs and NSF-funded projects in specified disciplines. Funding Search results now include short program descriptions, programs incorporated in core program solicitations with links to the relevant guidelines, and Dear Colleague Letters.

The revamped program pages include significant content and navigation improvements including information previously only viewable in solicitations.

For more information about NSF's beta site, please visit

https://beta.nsf.gov/about-beta

. NSF will continue to enhance the site, and ongoing feedback from external and internal stakeholders is vital to the process. Feedback on the updated Funding Search and program page enhancements or any other aspect of the site may be directed to

beta-nsf-feedback@nsf.gov

. 
Questions? If you have IT system-related questions, please contact the NSF Help Desk at 1-800-381-1532 (7:00 AM - 9:00 PM ET; Monday - Friday except for federal holidays) or to rgov@nsf.gov. Policy-related questions should be directed to policy@nsf.gov.
National Institutes of Health (NIH)
Before getting started, learn how NIH is structured (and why that is important), our approach to grant funding, the types of organizations and people eligible to apply, what we look for in a research project, and the types of grant programs we offer. 
Plan ahead and prepare to get an edge in this highly competitive process. Figure out the early issues, such as picking the right grant type, determining if you need prior approval from NIH to apply, planning within your organization, considering implications if you are a new investigator or are from a foreign institution, and more.  Follow this chart from the NIH to guide you on your research path.
GRAPHIC here
You can download the PDF version of this chart here.
The NIH Guide for Grants and Contracts is NIH's official publication of notices of grant policies, guidelines, and funding opportunity announcements (FOAs). NIH publishes daily and they issue a table of contents weekly. You can learn more about the NIH Guide and subscribe to receive updates today [NIH website].
All of your questions and interests can be addressed at the NIH home page for grants and contracts.
To find current funding opportunities in the NIH you can go to their grants and funding web page.  This is updated daily so please bookmark this page.
HPU International-Oriented Proposals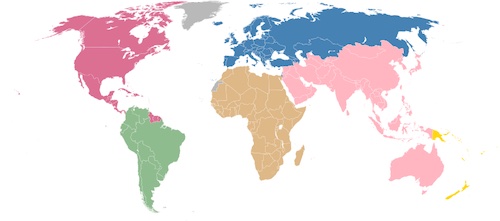 HPU is located in a very desirable location.  Yes... yes... we live on beautiful islands that everyone else is envious of, but we also are close enough to regularly engage our colleagues from Asia and the Pacific Island nations.  International proposals present an interesting set of "rules" that you need to pay attention to and take care of in a timely manner.  The material found on this website can assist you in the development of an internationally-oriented FO proposal... and get you ready to execute the award.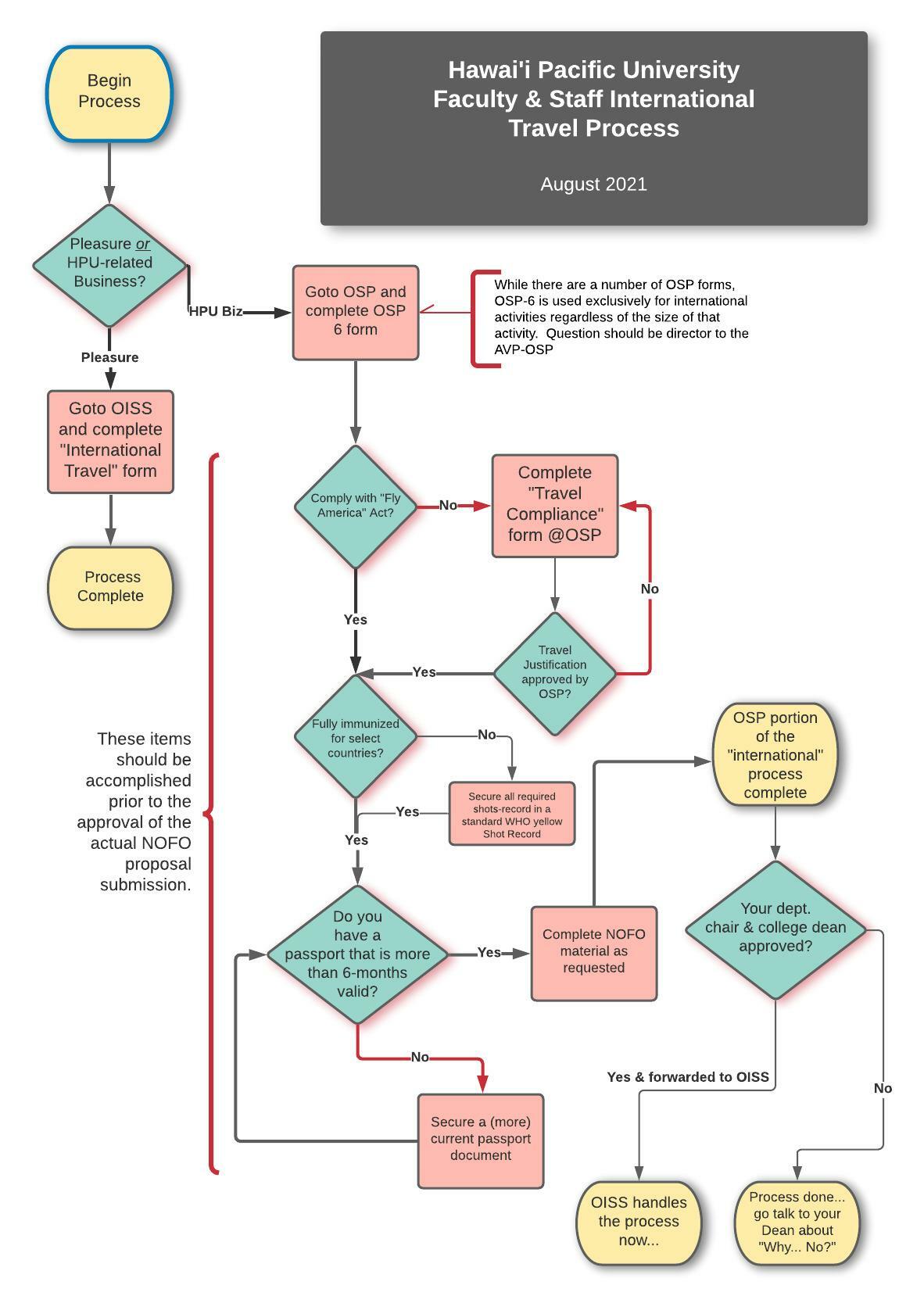 Download the international proposal flow chart here.
The COVID pandemic has shown all of us that vaccines are an important part of "moving around safely."  There are currently no mandates to have certain types of vaccinations inside the United States, but there are many vaccination requirements for traveling overseas.  Follow the flow diagram to determine when and where to get appropriate vaccinations while you are on an award.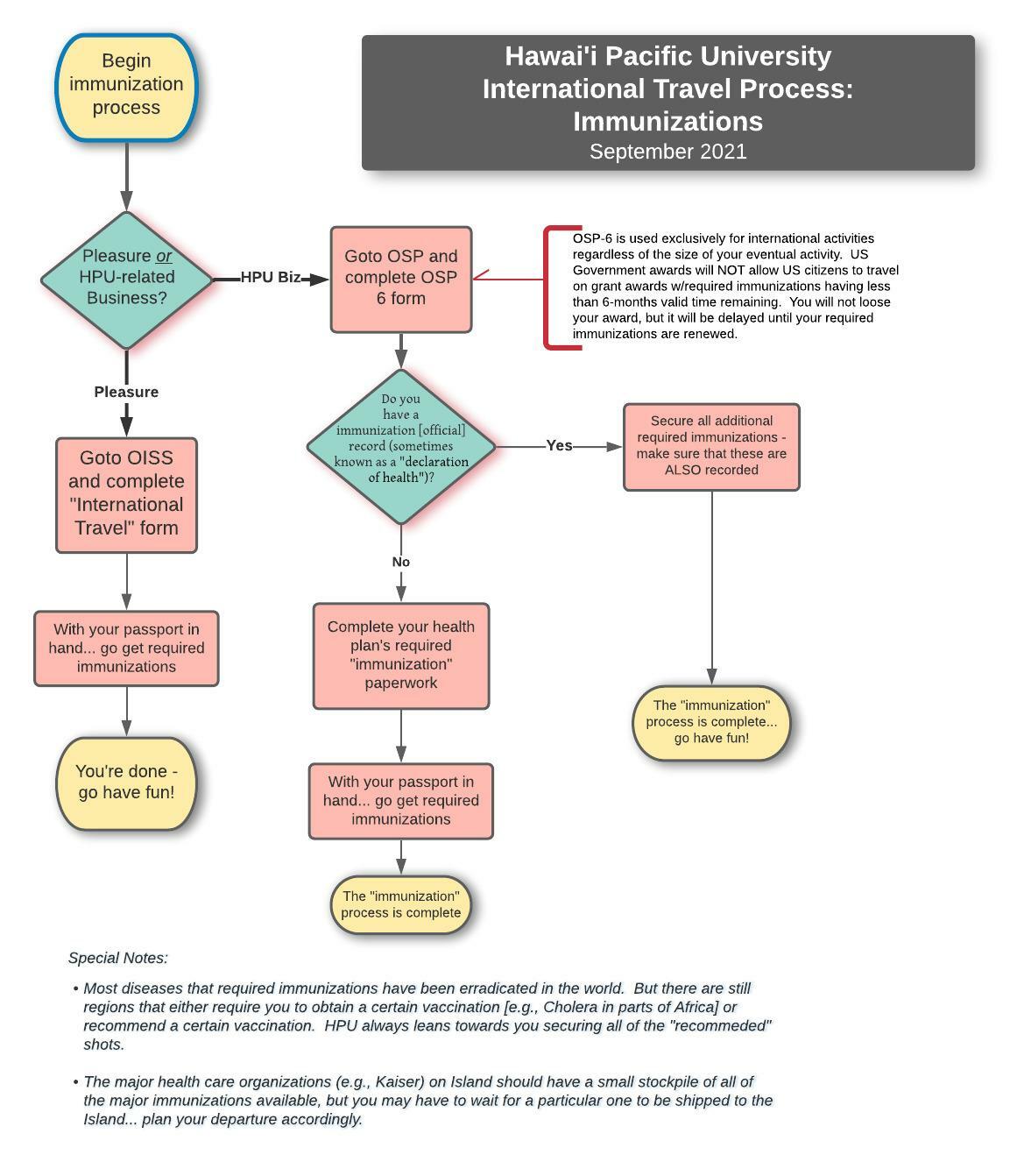 For current State and Federal immunization requirements please goto --> Center for Disease Control Immunization Information page
For current international immunization requirements please goto --> US Department of State-Health Abroad page
Any HPU staff or faculty member, and/or HPU student traveling overseas must have a valid passport.  Please review the following flowchart to determine which "path" you will need to take to secure a passport for the first time or get your current passport renewed.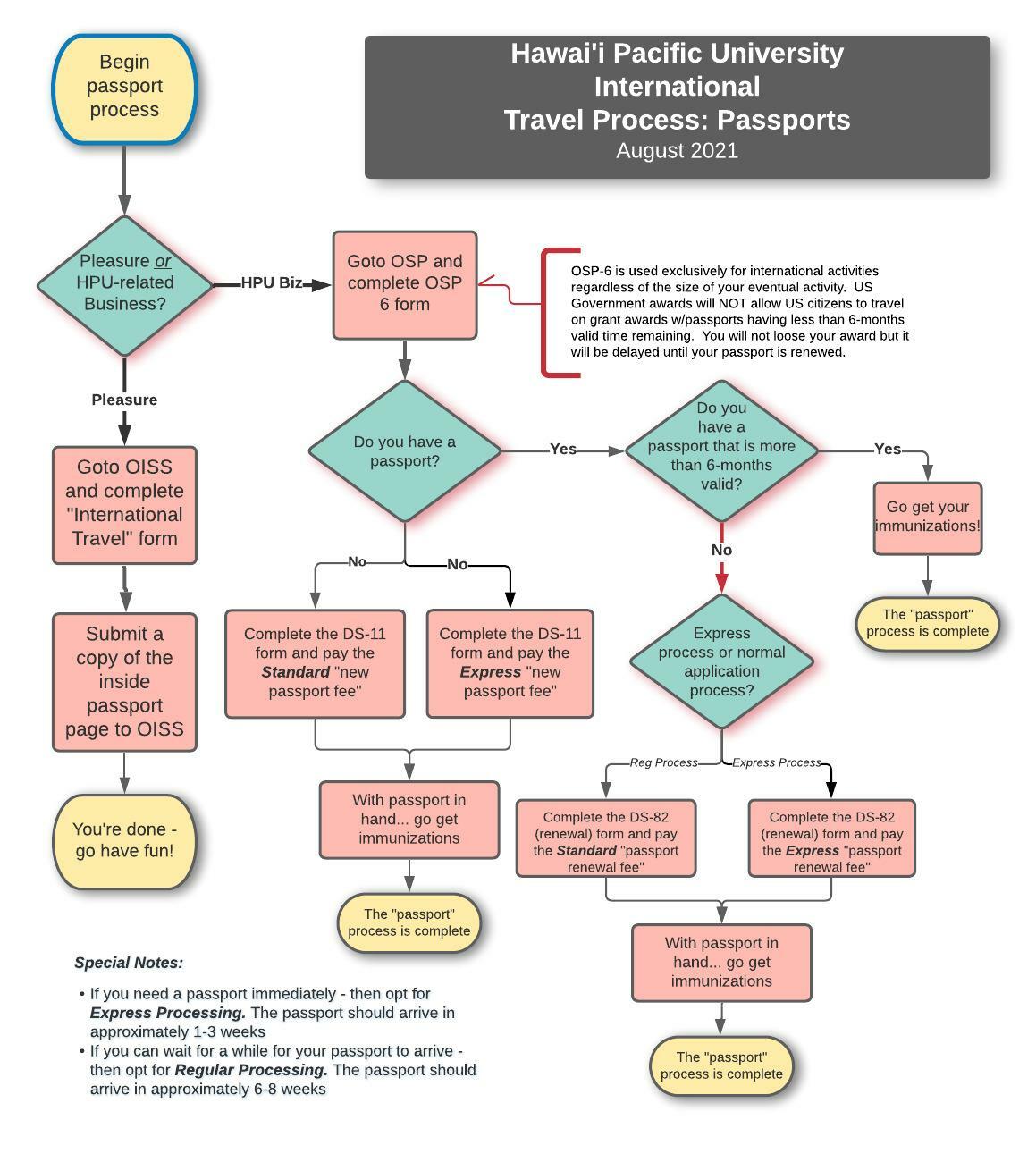 You may download the chart here!
HPU prides itself in submitting clean, clear, concise funding opportunity proposals. But the international-oriented proposal presents a slight twist when it comes to "ethics and compliance."  Not bad or good but rather (possibly) the wording of a host country's ethics and compliance documentation might have to be reviewed by HPU's legal team first.  The issues are many but usually minor in nature.
For those of you involved in international education programs, exchanges, affiliations, or international technical services agreements, you are accustomed to performing certain diligence prior to engaging with an international university (or entity).  In particular, you will need to ensure that they are not a prohibited entity under existing export control laws. 
For anyone new to this area:  The US government (through the Depts of State, Defense, Commerce and others) has imposed on-going restrictions on agreements between US entities and certain international-based universities and entities that have been identified as potentially adverse to US national security or foreign policy interest.  These restrictions extend to cooperative MOUs, educational affiliation agreements, etc.
Of particular note, there are a large number of universities and learning institutes based in the People's Republic of China that have been determined to be under control of the People's Liberation Army of China.  Certain other foreign universities are also restricted and must be cleared prior to contracting; however, Chinese universities have been a target of increased enforcement and remain a subject of federal attention.
For reference, see below a summary of the latest list of China-based universities. Please note:  this list is not exhaustive and remains subject to ongoing changes and updates.  Prior to entering into an agreement with any international entity, the requesting department must review the applicable lists of restricted entities, including OFAC, BIS, DOD lists, depending upon the type of transaction.   OUC and OSP can assist you in performing this review.  Please loop us in prior to commencing negotiations with any foreign entity that may be on one of the restricted lists.  This review forms a critical part of the University's compliance and export control process.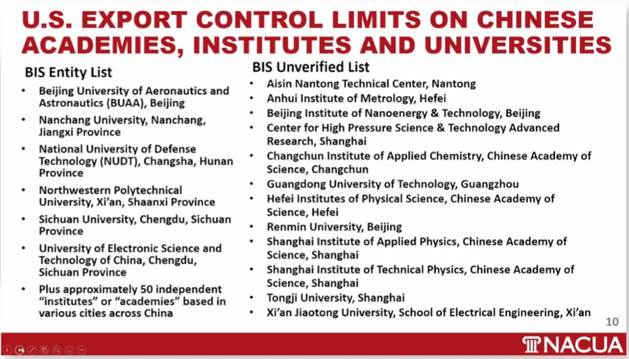 The complete list can be found:
https://www.ecfr.gov/current/title-15/subtitle-B/chapter-VII/subchapter-C/part-744 
Other Stuff of Interest
To remain in compliance with both Federal and private organizational daily expenditure policies, HPU has adopted the following Per Diem requirments. Questions should be directed to OSP at --> 808-544-9338.  The full policy can be downloaded here.