School of Nursing News
HPU in Partnership with Papa Ola Lokahi Awards Inaugural Mana Wahine Fellowships
Congratulations to HPU students awarded the inaugural Mana Wahine Fellowships:
Hi'ipoi Ho - Master of Social Work
Aovai Cole - Master of Public Health
Leila Chang - Master of Public Health
Christina Hafoka - Bachelor of Science in Nursing
Raena Anderson - Bachelor of Science in Nursing
Catherine Jara - Bachelor of Social Work
These outstanding HPU Women will each receive $10,000 in scholarships and year-long mentoring from Dr. Kayla Black, DPT Director of Student Affairs and Dr. Halaevalu Vakalahi, CHS Dean.
The HPU Mana Wahine Fellowship program is sponsored by Papa Ola Lokahi, a prominent advocate and supporter of Native Hawaiian and Pacific Islander communities.  This program is an example of Papa Ola Lokahi's endless commitment to higher education as a mechanism for supporting this generation of Native Hawaiian and Pacific Islanders in theri quest to create and sustain healthy communities.
Utilizing the Experiential Simulation Center to Teach, Learn, and Research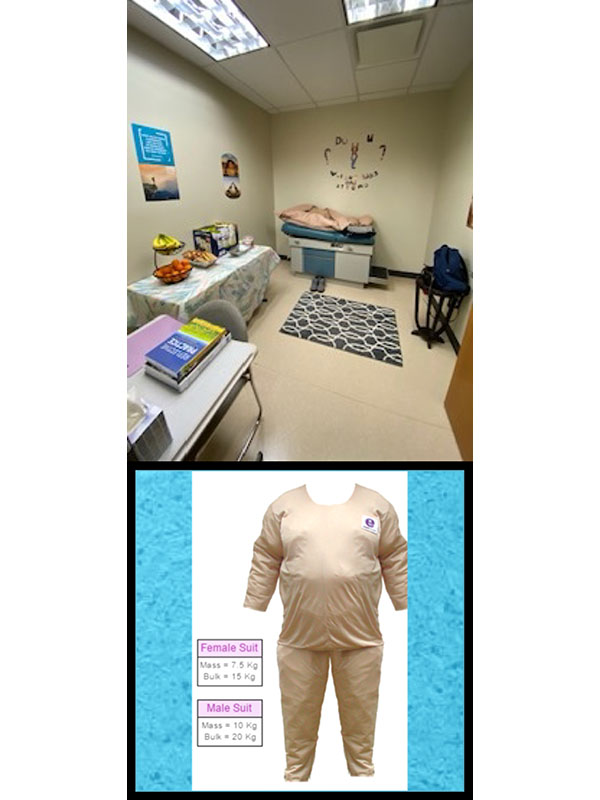 Integrating Simulation into a Research Study, Focusing on Obesity Bias and Stigma
Linda Nosaka, DNP, APRN-Rx, AGACNP-BC, is the first HPU Doctor of Nursing Practice student to perform a research activity utilizing simulation modalities in the CHS Experiential Simulation Center. Through her research, Nosaka found that health care provider bias and stigma are influencers of health care planning, and this drives cultural prejudice, affecting health outcomes.
Students Take Part in Global Simulation Healthcare Education Week Event
To stimulate interest and awareness of the CHS Simulation Program, nursing, public health, and social work students took part in a virtual event last fall. In celebration of Global Simulation Healthcare Education Week, Fall semester CHS Federal Work Study assistant Mya Frye led the event coordination, providing students a virtual tour of the Simulation Center followed by two games that tested students' knowledge. Congratulations to students Brooke Ancheta and Richael Lyn Diza Ramos, the two SIM game winners!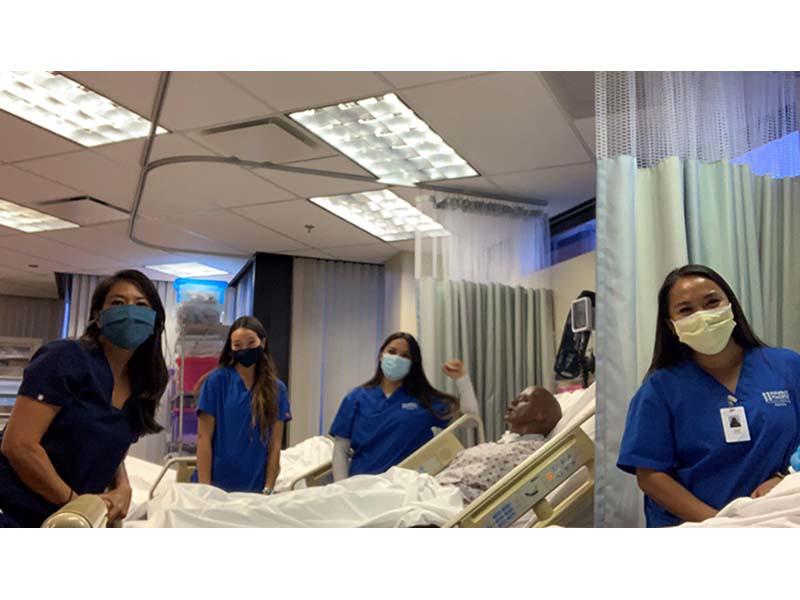 DAISY Award Recipient Unpacks the Gratifying Field of Nursing
Linda Nosaka, DNP, APRN-Rx, AGACNP-BC, is the first HPU Doctor of Nursing Practice student to perform a research activity utilizing simulation modalities in the CHS Experiential Simulation Center. Through her research, Nosaka found that health care provider bias and stigma are influencers of health care planning, and this drives cultural prejudice, affecting health outcomes.
 

Congratulations to Associate Professor of Nursing, Dr. Hazel Downing, for being named 2020 Teacher of the Year! For 19 years, Downing has taught at HPU, specializing in Comprehensive Nursing at the undergraduate level and Advanced Pathophysiology at the graduate level. In addition to teaching at HPU, Downing is a Clinical Nurse Specialist for Critical & Emergency Care at Kuakini Medical Center.
CONGRATULATIONS TO THE FALL 2020 DOCTOR OF NURSING PRACTICE GRADUATES! 
Ramani Ravi Aneesh, DNP
DNP Project: Importance of End of Life Education to Hospice CNAs to Improve the Delivery of Care
Jennifer Baumstark, DNP
DNP Project: Improving Healthcare for People in Possession of Transformative Gender Identity (PIPOTGI): Impact of Education on Nurses' Knowledge and Awareness
Paul Okada-Coelho, DNP
DNP Project: Improving Access to Pre-Exposure Prophylaxis for HIV (PrEP): Impact of an Urgent Care Protocol and Provider Education on PrEP Recommendations
Seiichi Nakamura, DNP
DNP Project: Improving Detection of Depression in Japanese Christian Elderly in Oahu Island: A Comparison Study of Geriatric Depression Scale Shorter Version (GDS-15) and Patient Health Questionnaire-9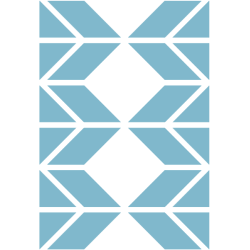 Linda Nosaka, DNP
DNP Project: Obesity Simulation Education for Health Service Students: To Increase Awareness of Weight Bias and Stigma
Dr. Kelly Collins of the HPU Nursing Department was invited to present her doctoral research at the International Healthcare Summit 2020: "Advanced in Healthcare, Innovation & Management." 
Dr. Hazel Downing of the Nursing Department presented at the Nursing World Conference. The title of her presentation was "Impact of nurse obesity on safe healthcare delivery."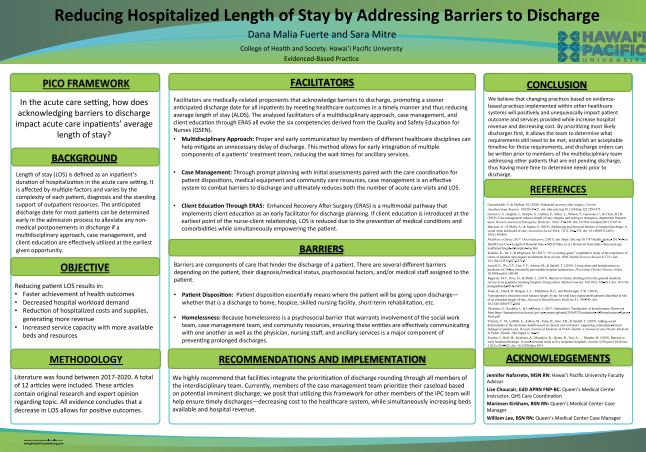 BSN alumni Dana Malia Fuerte and Sara Mitre were featured in the Hawai'i American Nurses Association August newsletter for their evidenced-based practice project titled "Reducing Hospitalized Length of Stay by Addressing Barriers to Discharge." This project analyzes cost efficient methods for reducing an inpatient's hospitalization in the acute care setting. The full write-up can be found here.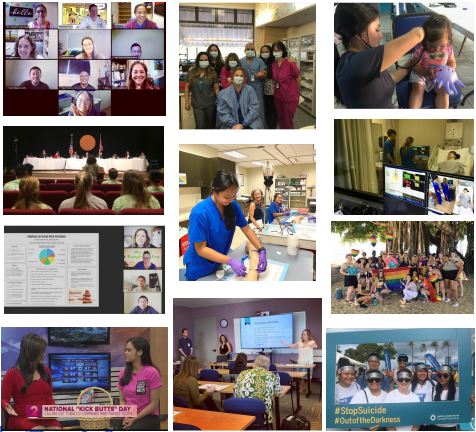 HPU practices multi-dimensional teaching methods to create a hands-on learning experience. Platforms include virtual, hybrid, and face-to-face. HPU offers didactic classroom experience; state-of-the-art simulation labs; clinical, internship, and practicum field experience; service learning and community engagement; and contributes to continuing education and professional development for faculty and students. 
To help address a need for nurses in local hospitals to care for COVID patients, the Hawai`i State Center for Nursing and Healthcare Association of Hawai`i are launching a new emergency recruitment program targeting newly graduated nursing majors. KHON reached out to nursing industry leaders, including HPU's Chief Nurse Administrator and Nursing Department Chair Dr. Pamela Smith. Smith said "Our students are ready. They've prepared for this moment." KHON broadcast interview is posted here. 
On Friday, August 14th, CHS hosted a DNP zoom presentation event. Five DNP candidates: Linda Nosaka, Jennifer Baumstark, Paul Okada-Coelho, Seiichi Nakamura, and Aneesh Ramani Ravi, presented their theses. 
Jayne Smitten, PhD, Director of HPU's Simulation Center, is among 13 individuals -- and the first simulation educator and administrator from Hawai`i -- selected for the Class of 2020 Fellows of the Society for Simulation in Healthcare (SSH) Academy! Additionally, she is one of only 73 honored globally with the SSH Academy Fellow distinction. "It is truly an honor to be recognized in this distinguished company of fellows who have contributed and continue to impact this exciting, growing, and innovative field of healthcare simulation," Smitten said.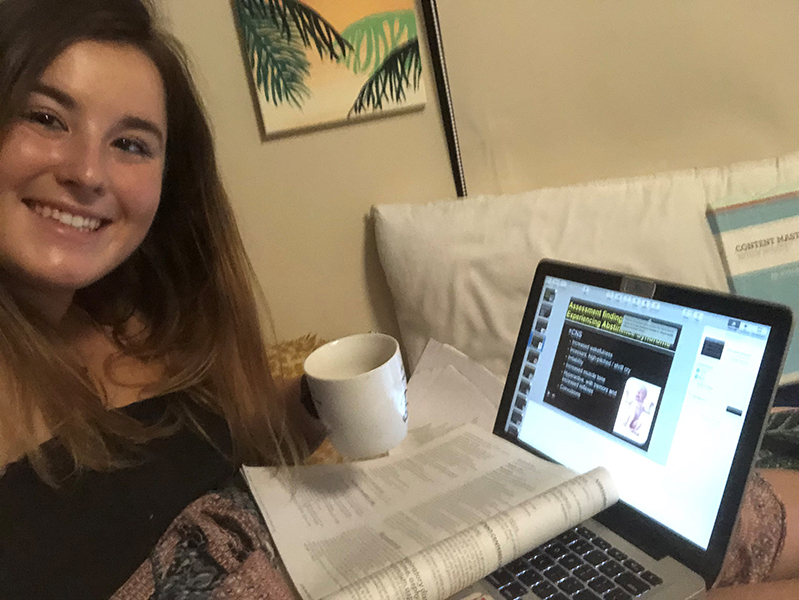 Continuing in Unity and Caring About Our Community: A Q&A with a Nursing Major
In this Q & A with Brielle Hudik, she shares what she is up to with her courses, extracurricular activities, and work. Hudik, who is very involved in campus life, is Student Body Vice President and a Community Advisor at the Waterfront Lofts. This month, through online activities, Hudik and Student  Body President Elana Boise are committed to raising awareness about Sexual Assault Awareness Month.     
HPU Nursing faculty and Social Work faculty and alumni assist with COVID-19 testing around the island. HPU faculty pictured here include Jessica Garlock, Lori Daniels, Michelle Higgins-Mahe, Becky Yoza, Cate Critz and Jo Wakayama. 
Saturday, December 14th was a historical day for both HPU and its Doctor of Nursing Practice graduate program! The first doctoral students graduated with their Doctor of Nursing Practice degrees. The students are Kendra Spaulding and Sandra Kakiuchi (pictured here).  
Christine Tamayo, graduating with a BSN, will serve as the Fall 2019 Commencement undergraduate valedictory speaker. During her time at HPU, she was an active member of the Student Nurses' Association and fundraised and volunteered with local organizations, including Hawai'i Pacific Health the Blood Bank of Hawai'i.
Professors of Nursing Cate Critz, PhD, and Hobie Etta Feagai, EdD (pictured left and right, respectively), presented their research findings, entitled "Presenteeism Among Nursing Students in Three Countries," at the Madridge 5th International Nursing Conference. The conference took was held October 23-25, 2019 in Rome, Italy. The orignal research also included HPU faculty April Akeo, PhD, Assistant Professor of Nursing, and Michael Erickson, PhD, Associate Professor of Psychology. 
HPU students, faculty, and staff organized a campus "Wear It Pink Day" on Wednesday, Oct. 16, to support and spread awareness of breast cancer, which according to statistics, will impact one in eight women. The HPU 'ohana, wearing pink shirts, shorts, skirts, hats, scarves, etc., took part in a walk, starting in front of Waterfront Plaza, as part of the awareness campaign. 
Kendra Spaulding, DNP, APRN, ACNP-BC, who recently graduated with her doctoral degree from HPU, won first place poster presentation at the National Conference for Nurse Practitioners in Acute Care 2019 conference held in Baltimore, Maryland, October 2-6. Spaulding's research focused on smoking cessation interventions in low socioeconomic adult populations. More information on the DNP program here.
Drs. Cate Critz and Hobie Etta Feagai led Nursing students from HPU on a medical mission trip to Guatemala. 
Jennifer Nafarette (right),  was awarded Registered Student Organization (RSO) Faculty Advisor of the Year for 2019 for her involvement in HPU's Student Nursing Assocation (SNA). The Student Nursing Association also won RSO of the Year and Most Distinguished RSO. Congratulations Jen and SNA! 
HPU students representing Nursing, Public Health, and Social Work traveled to Japan and Viet Nam during winter break, participating in the inaugural HPU Interprofessional Education Cultural Exchange trip. CHS faculty Patricia Burrell and Paul Tran led the trip. The group engaged with faculty and students from Osaka Prefecture University in Japan and Da Nang University and Hue University in Viet Nam, learning through lectures and presentations, social service visits, sightseeing and spending time with host families. Throughout their travels, the students spread aloha and shared the culture of Hawai'i, dancing and teaching hula, playing the ukulele and singing. 
Through the trip, the students had the opportunity to gain a better understanding of different beliefs and viewpoints to solve social issues in the world.