Dan Flood Ph.D.
College of Professional Studies - Department of Public Service
Assistant Professor and Program Chair for Public Administration
EDUCATION
Ph.D., 1999, Management, Union Institute Graduate School
M.B.A., 1979, Business Administration, Pepperdine University
B.A., 1971, English, University of Hawaii
Dan Flood has been teaching courses in public administration, management and marketing in Hawaii universities since 1984, taught a non-credit course – "Starting a Business in Hawaii" – at the University of Hawaii for ten years during the 80s and 90s, and has been a full-time Assistant Professor in those disciplines for Hawaii Pacific University since 1993.  In addition, Dr. Flood owned and operated a management-consulting firm – the Small Business Advocate – for 20 years during that same time period.  The Small Business Advocate provided counseling for Hawaii's small businesses in business plan development, marketing strategy, and strategic planning.  He was a volunteer for SCORE ("Counselors to America's Small Businesses" for the U.S. Small Business Administration) and did small business counseling in the area of business planning.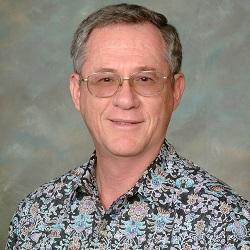 Assistant Professor
Ph.D.
  Send email
  n/a
  UB 911