Varis Grundmanis PH.D.
College of Natural and Computational Sciences - Department of Natural Science
Associate Professor of Oceanography
Education:
Ph.D., Chemical Oceanography, University of Washington
M.S., Analytical Chemistry, University of Wisconsin-Milwaukee
B.S., Chemistry, University of Wisconsin-Milwaukee
Courses Taught:
CHEM 2051 General Chemistry I Laboratory
CHEM 2053 General Chemistry II Laboratory
CHEM 3040 Quantitative Analysis
CHEM 4054 Aquatic Chemistry
MARS 3000 General Oceanography I
MARS 3001 General Oceanography I Laboratory
MARS 3002 General Oceanography II
MARS 3003 General Oceanography II Laboratory
MARS 3060 Geological Oceanography
MARS 3061 Geological Oceanography Laboratory
MARS 3070 Chemical Oceanography
MARS 3071 Chemical Oceanography Laboratory
MARS 3080 Physical Oceanography
MARS 3081 Physical Oceanography Laboratory
---
Teaching Interests/Research:
Photographic documentation of marine life in Oahu Marine Life Conservation Districts.
Physical/chemical oceanography of Kaneohe Bay, Oahu, Hawaii.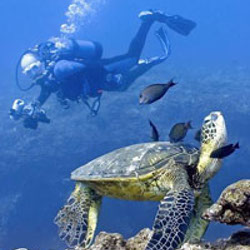 Associate Professor
PH.D.
  Send email
  (808) 236-5840
  Hawaii Loa Campus, AC 249