Samuel E. Kahng PH.D.
College of Natural and Computational Sciences - Department of Natural Science
Associate Professor of Oceanography
Education:
Ph.D. Oceanography, University of Hawaii
B.A. Physics, Carleton College
Courses Taught:
BIOL 2050 General Biology I
BIOL 2051 General Biology I Lab
BIOL 2053 General Biology II Lab
BIOL 3081 Ecology Lab
MARS 4090 Biological Oceanography
MARS 4910 Seminar: Marine Biology
MARS 4920 Seminar: Oceanography
MARS 6002 Marine Systems II
MARS 6020 Marine Science Field Methods
MARS 6090 Biological Oceanography
MARS 6120 Coral Reef Ecology
MARS 6910 Current Topics in Marine Science – Biological Oceanography
MARS 6910 Current Topics in Marine Science – Fisheries Management
NSCI 3950 Natural Sciences Practicum
NSCI 4800 Field Experience in Natural Sciences – Deep Water Coral Reef Exploration
NSCI 6112 Graduate Seminar I
NSCI 6900 Master's Research
NSCI 7000 Master's Thesis
---
Teaching Interests/Research:
My research interests are in coral reef ecology. For my dissertation, I researched the biology and ecology of an invasive octocoral species and analyzed it in the context of invasion ecology to explain its ecological success in Hawaii. In general, I am interested in how life history traits (especially reproductive systems) relate to the ecological strategies of dominant benthic organisms. I am also interested in the environmental limits of dominant organisms and the mechanisms underlying those limits. Gaining insight into these issues will enable better forecasting of ecosystem response to global climate change (e.g., ocean acidification, warming, disturbance regime, etc.). I am currently investigating the ecological and physiological mechanisms that enable deep-water, photosynthetic corals to thrive where the dominant, shallow-water reef building corals become light limited. The ecology of this "twilight zone" where skiophilous (shade loving) fauna readily compete for space with photosynthetic organisms is poorly understood despite the large amount of nearshore habitat within this depth range. In Hawaii, vast beds of zooxanthellate scleractinian corals (Leptoseris spp.) form deep reefs and bioherms which provide habitat for an abundance of reef fish and invertebrates. In collaboration with the Waikiki Aquarium, we have initiated the world's first culture of deep-water Leptoseris spp. collected 70-110 m and are in the process of studying the photobiology of these exceptional organisms.
For prospective MSMS graduate students who are interested in future enrollment, I have the following ongoing and potential projects: ocean acidification & coastal ocean carbonate chemistry; fisheries management & quantitative modeling; mesophotic coral eco-physiology; and deep-water precious coral ecology. Prospective HPU MSMS graduate students who are interested in joining my lab are encouraged to contact me via email. Please include a CV/resume, unofficial copy of transcript, and short statement of research & career interests.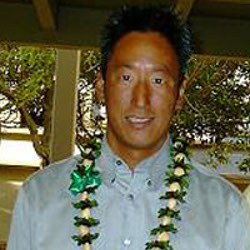 Associate Professor
PH.D.
  Send email
  (808) 236-3562
  OI HPU Marine Science Program Office