Naomi Hughes M.A.
College of Natural and Computational Sciences - Department of Natural Science
Instructor of Marine Sciences
 
EDUCATION:
M.A. Sustainability, Hawaii Pacific University, Honolulu, HI
M.A. Certificate Organizational Development & Change, Hawaii Pacific University, Honolulu HI
M.A. Certificate Global Leadership Sustainable Development, Hawaii Pacific University, Honolulu HI
B.S. Marine Biology, Hawaii Pacific University, Honolulu HI
PROFESSIONAL INTERESTS:
Experiential education and leadership development in higher education STEM programs.
TEACHING INTERESTS:
As teaching faculty at Hawaii Pacific University, I primarily instruct the undergraduate course Introduction to Oceanographic Field Techniques (MARS1020) wherein I utilize various modes of learning to expose students to a higher education environment that extends beyond the conceptual and taps into practical hands-on application. MARS1020 is structured with three components: lectures, shore labs, and boat labs. I incorporate technical and quantitative skill development relating to oceanographic instrumentation and scientific procedures while encouraging students to develop soft skills such as interpersonal communication, collaborative leadership, and self-awareness through an experiential education model. Other instructional duties consist of facilitating labs onboard the HPU research vessel (RV) KAHOLO for environmental science 2000-3000 series, & oceanography 3000 series.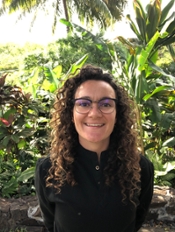 Instructor
M.A.
  Send email
  (808) 236-5828
  Hawaii Loa, AC