Martine Bissonnette M.Sc.
College of Natural and Computational Sciences - Department of Natural Science
Adjunct Faculty in Chemistry
Education:
Advanced Diploma in Environmental Management, Nationally Accredited, Australia
M.Sc. in Chemistry, University of Ottawa, Ontario, Canada
B.S. in Chemistry, Université de Montréal, Québec, Canada
Courses:
CHEM 2050 - General Chemistry
CHEM 2051 - General Chemistry I Lab
CHEM 3031 - Organic Chemistry I Lab
CHEM 3033 - Organic Chemistry II Lab
Professional Interests:
Mrs. Bissonnette believes that Hawaii Pacific University is a great community of students and educators and is dedicated to help students have a positive experience during their studies. She loves teaching chemistry and believes that if you can understand chemistry, you have a better understanding of the world around you.
Personal Interests/Biography:
Surfing, sewing, cooking
Teaching Interests/Research:
Mrs. Bissonnette completed her Honors BSC in Chemistry at the Université de Montréal, in Canada. During her undergraduate years, she had the opportunity to work in research labs operating mass spectrometer.  She was the recipient of an FCAR graduate school scholarship which allowed her to complete a Masters in physical chemistry while using mass spectrometric analysis.
She has held several positions in Canada, Australia and the US which included:  mass spectrometry lab manager, environmental emergencies responder, chemical spill advisor, environmental consultant, and environmental health and safety manager.  Mrs. Bissonnette became a certified trainer and assessor and started teaching workshops and classes for both private industry and educational institutions.  She enjoys sharing her knowledge and has been teaching in-person and virtually for the last 10 years.
Mrs. Bissonnette moved to Hawaii in 2008 and took up surfing.  She has taught many chemistry classes within the UH community college system since 2016 and joined the HPU College of Natural and Computational Sciences as an Adjunct Professor of Chemistry in 2020.  She is currently a full-time instructor at HPU and enjoys being able to teach face-to-face while continuing private consulting in the area of fate and behavior of chemicals in the environment.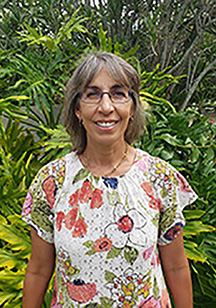 Adjunct
M.Sc.
  Send email
  (808) 356-5855
  Hawaii Loa Campus, AC 244