Eric Vetter PH.D.
College of Natural and Computational Sciences - Department of Natural Science
Professor of Marine Biology
Education:
Post-Doctoral Fellow, Scripps Institution of Oceanography
Ph.D. Oceanography, Scripps Institution of Oceanography
B.S. Marine Biology, San Francisco State University
Courses Taught:
BIOL 3080 Ecology
BIOL 3081 Ecology Laboratory
MARS 1500 Marine Biology and the Global Ocean
MARS 2063 Marine Biology Laboratory
MARS 4050 Marine Ecology
MARS 4051 Marine Ecology Laboratory
MARS 6050 Marine Ecology
MARS 6920 Special Topics in Marine Sciene
MARS 7000 Master's Thesis
Professional Interests:
Submarine canyon ecology, Deep-sea benthic community ecology, systematics of leptostracan crustaceans, elevated carbon dioxide and deep-sea biota
Personal Interests/Biography:
Hiking, diving, snorkeling, biking, stand-up paddleboarding, history, reading, etc.
---
Teaching Interests/Research:
Much of my research has focused on how natural organic enrichment in certain regions of the seafloor influences community structure and secondary production.  This interest was stimulated by my discovery of detrital patches at the heads of Southern California submarine canyons that hosted crustaceans and other organisms at densities reaching millions of individuals beneath a square meter of detritus.  Further work revealed that this system supported the highest benthic secondary production ever reported.  My early work focused on the community ecology of these detrital systems to a depth of 60 m, natural history, population biology, and systematics of leptostracan crustaceans.  Later I examined the effects of enhanced allochthonous production deep within submarine canyons using deep-sea submersibles and remotely operated vehicles to a depth of 950 m.  My Hawaii based work has involved the effects of elevated carbon dioxide concentrations of deep-sea organisms.  This work was carried out using low-temperature carbon dioxide rich hydrothermal vents on the seamount Loihi using the submersibles Pisces IV and V.  More recently I used those same systems to study the community ecology of submarine canyon systems off the islands of Oahu, Moloka'i, Nihoa, and Maro Reef.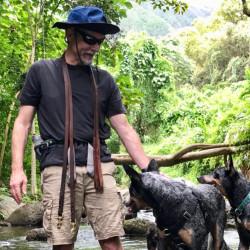 Professor
PH.D.
  Send email
  (808) 236-5832
  Hawaii Loa Campus, AC  250