Christopher  Evans M.A.
College of Natural and Computational Sciences - Department of Natural Science
Instructor of Marine Science
Education:
M.A. Geography, University of Hawaii at Manoa, 1995
Masters thesis: Sewage Diversion and the Coral Reef Community of Kane'ohe Bay, Hawai'i: 1970-1990.
B.A. Biology, University of California Santa Cruz, 1983
Courses Taught:
BIOL 1000 Introductory Biology
BIOL 2051 General Biology Laboratory I
BIOL 2053 General Biology Laboratory II
GEOG 1000 Physical Geography
MARS 1000 Introductory Oceanography
MARS 1010 Field Experiences in Marine Science
MARS 2010 Scientific SCUBA Diving
MARS 3010 Underwater Research Techniques
NSCI 1000 Freshmen Science Seminar
Personal Interests/Biography:
Competitive Yacht Racing: J-24 Class Boats and Performance Handicap Race Fleet (PHRF).
Other Sports Activities: Swimming, snorkeling, surfing, kayaking, hiking, bicycling, and skiing.
Video Production and Photography: Above and underwater video production as well as black & white and color still photography in the field, studio, and darkroom.
Travel: Extended travels in Africa, Alaska, Australia, Canada, Europe, Hawai`i, Indonesia,
Mexico, Micronesia, New Zealand, Alaska, and most of the continental United States.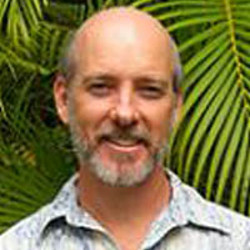 Instructor
M.A.
  Send email
  (808) 236-5899
  Hawaii Loa Campus, AC 110