Christine Morales PH.D.
College of Natural and Computational Sciences - Department of Natural Science
Assistant Professor of Chemistry

Education
Postdoctoral Fellowship, University of Kansas
Postdoctoral Fellowship, University of Hawaii at Mānoa
Ph.D. in Chemistry, University of Wisconsin at Madison
B.A. in Chemistry and Mathematics, Carleton College
Courses Taught:
CHEM 2050 General Chemistry I
CHEM 2051 General Chemistry I Lab
CHEM 3020 Physical Chemistry
CHEM 2051, General Chemistry I Laboratory
CHEM 2052, General Chemistry II
CHEM 2053, General Chemistry II Laboratory
Teaching/Research Interests:
Computational Modeling in Chemical Education; Natural Bond Orbital Analysis; Modeling Vibrational and X-ray Absorption Spectra of Transition Metal Hydride Compounds.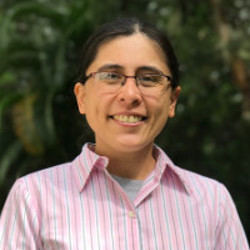 Assistant Professor
PH.D.
  Send email
  (808) 236-7907
  Hawaii Loa Campus, AC 311