Robert Nakata Ph.D.
College of Professional Studies - Department of Computer Science and Engineering
Assistant Professor of Engineering Innovation
Education:
Ph.D., Electrical Engineering, University of Hawaii at Manoa
MBA, Wharton School of Business, University of Pennsylvania
M.S.E.E/C.S., Massachusetts Institute of Technology
B.S.E.E., Massachusetts Institute of Technology
Courses Taught:
Hawaii Pacific University
ENGE 1000 Introduction to Engineering Systems and Professional Practice
ENGE 2001 Linear Circuits Lab
MGMT 7001 Management Strategy I
MGMT 7002 Management Strategy II
University of Hawaii at Manoa Shidler Business College and College of Engineering
Startup 101 Introduction to Startups
BUS 102 and ME 492 Innovation and Entrepreneurship
HON 499 Design Thinking
BUS 345 Strategic Management
BUS 315 Global Management and Organizational Behavior
ME 375 Dynamic Machine Systems
Ritsumeikan University, Japan
Introduction to IOT Innovation
Smart Transportation Innovation
Kettering University Online
Marketing Management MRKT 679
Ethics and Practice of Engineering IME 564
Ethics and Leadership MGMT 649
Digital Signal Processing for Automotive Engineering ECE 630
Modeling of Dynamic Systems ECE 610
ENTREPRENEURIAL VENTURES/PROFESSIONAL EXPERIENCE:
CEO Oahu Group LLC
Co-Founder Nuveia LLC
CEO/CTO Kai Sensors/Kai Medical
Vice President of Engineering at VeriFone
Vice President of Worldwide Engineering at InterWave Communications
Vice President of Operations/Vice President of Engineering at GWCom
US Air Force Officer
---
Research and Professional Interests :
Dr. Robert Nakata is a Silicon Valley serial entrepreneur with 35+ years of experience at startups and public companies in the technology industry. He is a subject matter expert on radar sensors, IoT sensors, autonomous navigation sensing and business strategy for startups. Dr. Nakata developed a patented wearable sensor using a hybrid RF and Inertial Measurement Unit IMU positioning system that uses sensor fusion for mobile body motion capture for VR gaming, virtual collaboration, physical therapy, fitness tracking and sports performance training. He also developed a drone radar platform for military and search and rescue operations to detect victims that are buried alive in collapsed buildings after a natural disaster.
Dr. Nakata is passionate about spreading the entrepreneurial mindset by teaching innovation and entrepreneurship classes based on Design Thinking, Lean Startups (certified to teach the Lean Launchpad) and the Business Model Canvas. His case-based project classes also give students the opportunity to examine startup management strategies.
Personal Interests/Biography :
Mountain biking; adventure travel and photography – safaris in Kenya and Tanzania, "Gorillas in the Mist" hike in Rwanda, remote island hopping in the Philippines; traveled to China 26 times.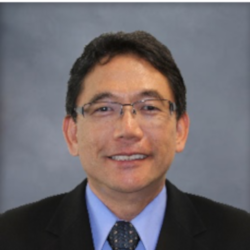 Associate Professor
Ph.D.
  Send email
  808-236-7904
  WP4 200-I