Management Information Systems
This concentration is designed to produce leaders in management information systems, this concentration combines a business administration core with hands-on computer systems experience. The curriculum is based on the ACM standards. Students have opportunities to enroll in internships that may lead to career positions. There is also the opportunity to in career-related student organizations and honor societies. This concentration also provides the foundation for students who wish to continue their education in the Master of Science in Information Systems (MSIS) degree program.
HPU Program Chair and Instructor of Information Systems Ed Souza and the Executive Director of Transform Hawaii Government were interviewed about the challenge in October 2018. HACC is being presented by the State of Hawai'i in partnership with HPU.
Read more.
HPU IS AN APPROVED PROVIDER OF THE ACADEMIC CERTIFICATE IN BUSINESS ANALYSIS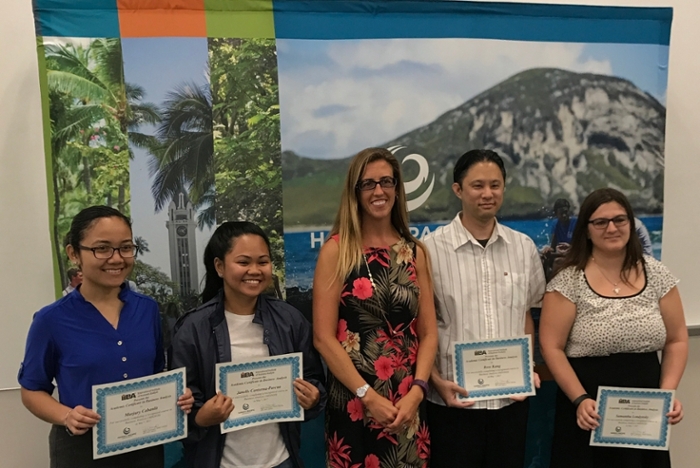 MIS 3020 introduces students to business analysis by doing project-based work using an international industry standard body of knowledge as the guide and structure for learning more about business analysis and the role a business analyst can play in today's world.  They receive a certificate from an internationally recognized body of experts that gives them value to walk into an employer and prove they understand the skill set even if they have yet to obtain greater professional experience.  

MIS instructor Jamie Champagne adds, "the students are connected with the local professional organizations including IIBA Hawaii Chapter where they network with current BA professionals and enjoy presentations by industry experts."  The chapter promotes the practice and profession of business analysis in Hawaii and is excited to have the students join us to not only learn but also be introduced to career tracks and how they may grow in the field of business analysis.  https://hawaii.iiba.org/
Carlo Paez is originally from the Philippines and moved to Hawaii'i when he was three years old. He is currently majoring in Business Administration with a concentration in Management Information Systems.
He intends to pursue a career within the realm of information technologies, and plans to someday become the CIO or CTO of a major corporation. His favorite thing about living in Hawaii'i is the different types of people he gets to meet each day: "Hawaii'i is indeed a unique place, and there really is no other place like it in the world."