Social Work Month Events

Virtual Film Screening of The Invisible War & Panel Discussion
March 25, 2021 | 5:30 - 8:00PM HST
To RSVP for this event, please click here. 
Synopsis: Casualties of war rage beyond the battlefield. As ranks of women in the American military swell, so do incidents of rape. An estimated 30 percent of servicewomen and at least 1 percent of servicemen are sexually assaulted during their enlistment - not by the enemy, but at the hands of fellow soliders. With stark clarity and escalating revelations, THE INVISIBLE WAR exposes a rape epidemic in the armed forces, investigating the institutitions that perpetuate it as well as its profound personal and social consequences. 
In THE INVISIBLE WAR, we meet characters who embraced their service with pride and professionalism, only to have their idealism crushed. Their chilling stories of violence sexual assault become even more rattling as they seek justice in a Kafkaeque military legal system. As a courage few defy victimhood, they face their most challenging fight yet: penetrating a closed circuit where officers collude, cases are routinely swept under the rug, and few perpetrators are ever tried or convicted. 
Trigger warning: This film discusses sexual assault incidents and features interviews of survivors and their families. The images and disclosures within this documentary are disturbing and may trigger strong distressing emotions for viewers. Please feel free to 'time-out' or leave the viewing at any time. We will have Counseling and Behavioral Health counselors, along with Social Workers available for discussion anytime throughout the event and immediately afterwards. Please let us know if you're willing to have us follow-up with you.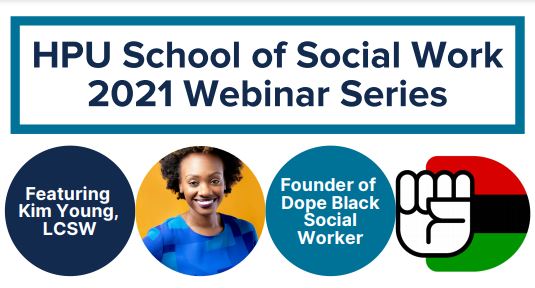 This is a special series of webinars curated for HPU Social Work Students and Field Instructors. 
Kim Young is a Licensed Clinical Social Worker (LCSW) in the Commonwealth of Virginia with over a decade of experience working alongside at promise youth, families, and communities. She is deeply committed to cross sector collaboration that utilizes an asset based approach to develop strategies which promote community driven solutions to system created problems. 
You MUST register prior to attending - there are a limited number of slots per webinar. Please register via the links below. If you have any questions, please email Jessica Garlock at jgarlock@hpu.edu. 
March 27, 2021 | 12:00PM - Unlearning Social Work
Examine myths associated with formal social work education. Explore the racist and oppressive roots of the social work profession. Reimagine the future of social work as well as provide tips for the path forward. 1 Free Continuing Education Credit for Licensed Social Workers in the State of Hawai'i. 
Register for the Unlearning Social Work webinar here: https://us02web.zoom.us/meeting/register/tZIkc-mvqDMpG9EaRn17PL1r9uKLJeQW7d-s
MARCH 31, 2021 | 5:00 PM - MORAL INJURY IN SOCIAL WORK
Differentiate between burnout, compassion fatigues, and moral injury. Draw parallels between burnout, compassion fatigue, moral injury, racial trauma, and organizational trauma. Encourage others to research and share the relationship between moral injury and social work. 1 Free Continuing Education Credit for Social Workers licensed in the State of Hawai'i. 
Register for the Moral Injury in Social Work webinar here: https://us02web.zoom.us/meeting/register/tZUuf-6oqzgtHNCCA-I2Y0d4NHvz3yc6t2M0
APRIL 3, 2021 | 12:00PM - DECOLONIZING SOCIAL WORK AND THERAPY 
Explore the process of truth, reclamation and transformation. Demystify decolonization. Learn practical skills and tips to begin decolonizing their practice.
Register for the Decolonizing Social Work and Therapy webinar here: https://us02web.zoom.us/meeting/register/tZckdeCgqTkiGdTIPxunArLU78pq18rJrpB2