Military and Veteran Affairs Focus
The Military and Veteran Affairs Focus is the first focus for the Master of Social Work degree at Hawai'i Pacific University. This focus concentrates on strategies for helping military personnel and veterans, many of whom face multiple challenges that require special knowledge and skills. Some of these challenges include relocations, family separation, financial difficulties, and wartime trauma (i.e., post-traumatic stress disorders). Other issues facing veterans include homelessness, substance abuse and myriad mental health problems. MSW students specializing in military social work and veterans' affairs will take three specialized courses plus two field plaement courses in a military or veteran services venue.*
*Depending upon the number of students in this focus, we cannot always guarantee a military or veteran's placement. 
Social workers seek to understand how individuals, groups, and communities are affected by social problems such as poverty, mental and physical illness, family difficulties, and social injustice. 
Social workers are

employed in a variety of settings

: hospitals, schools, mental health facilities, family programs, the VA, and agencies that address the needs of children, adults, and elders. With the versatility of social work degrees, graduates are also employed in fields of criminal justice, policy and politics, research and evaluation, business, or as entrepreneurs. 
Social workers use their skills to empower others to help themselves and work toward changing unresponsive social systems. 
Social work is one of the fastest growing professions with demand for social workers projected to grow 15% from 2016 to 2026.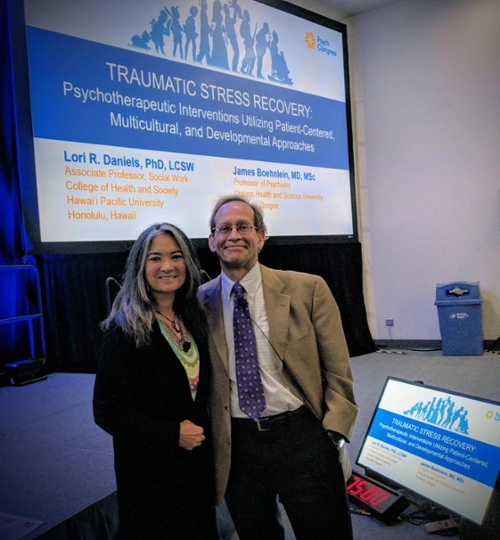 Photo above: Dr. Lori Daniels (MSW Program Director, Associate Professor, and MLVA focus advisor) presents on Traumatic Stress Recovery. 
For years, HPU has specialized in helping military service members, their families, and veterans achieve their educational goals.
In 2015, HPU was recognized by the Military Times rankings as one of the Best for Vets universities; and was the only Hawai'i university on the list.
HPU is located within easy access to most active-duty bases on O'ahu and offers classes taught by professors who can provide real-world expertise from their own social work practices treating veterans.
Students in this focus will receive specialized course instruction on the needs of active military personnel, veterans, and their families. 
The learning environment at HPU is truly multi-cultural, with students from all 50 states and more than 70 countries. 
The School of Social Work offers a variety of internship placements, many with military and veteran populations.
Photo above: The first cohort of Master of Social Work graduates with a focus in Military and Veteran Affairs. 
The Military and Veteran Affairs (MLVA) focus is an option for the MSW program taught at HPU's downtown campus - Waterfront Plaza. It features five "shadow" courses that allow students to focus their studies on military and/or veteran populations. This program only admits for the Fall semester. The MLVA focus does not increase the amount of time it takes to graduate.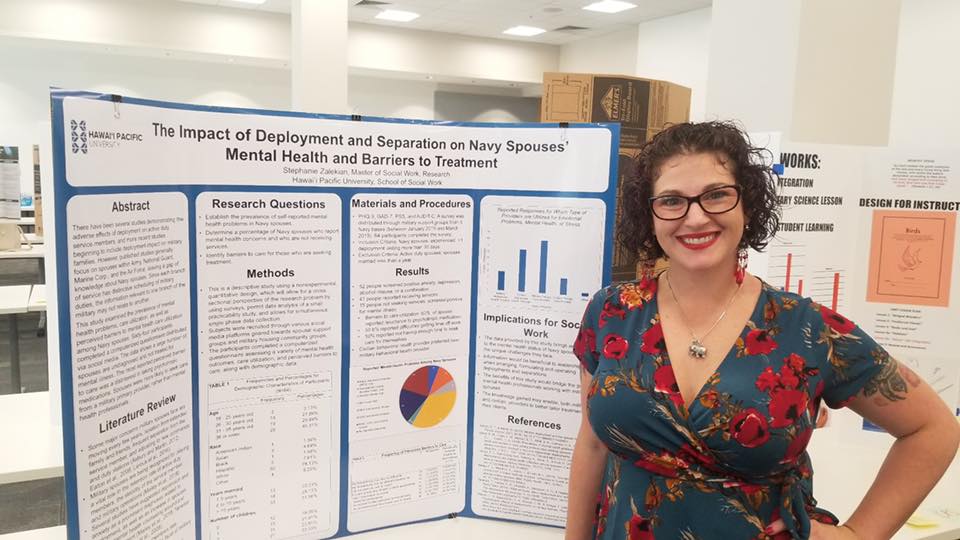 Photo above: MSW Alumni capstone presentation on "The Impact of Deployment and Separation on Navy Spouses' Mental Health and Barriers to Treatment."
REQUIRED COURSES FOR MLVA FOCUS: 
SWRK 6801: Military and Veteran Social Work Practice
SWRK 7301: Research methods in Military Social Work and Veteran Affairs
SWRK 7351: Integrative Seminar in Military Social Work and Veteran Affairs
SWRK 7902: Military and Veteran's Affairs Practicum III
SWRK 7903: Military and Veteran's Affairs Practicum IV