Theatre
Hawai'i Pacific University offers a unique experience for students interested in studying Theater. Small classes allow for greater interaction between students and teachers and allow for individualized attention. Courses are taught by Theater professionals, offering students high-quality instruction and mentoring. Acting and production courses give students the opportunity to apply both technical and performance skills to live performances. Because the major productions involve actors, designers, and technicians from the community, students have the opportunity to work with many theater professionals, both on stage and off stage. As a member of the Hawaii State Theatre Council, HPU Theatre has earned numerous awards for acting, directing, ensemble performance, playwriting, and overall play production. After taking a hiatus from Hawaii State Theatre council membership for the 2015-2016 and 2016-2017 Seasons, we look forward to our renewed participation, starting with the upcoming 2017-2018 Season, meaning that all HPU Theatre productions will receive Po'okela adjudication. 
Paul and Vi Loo Theatre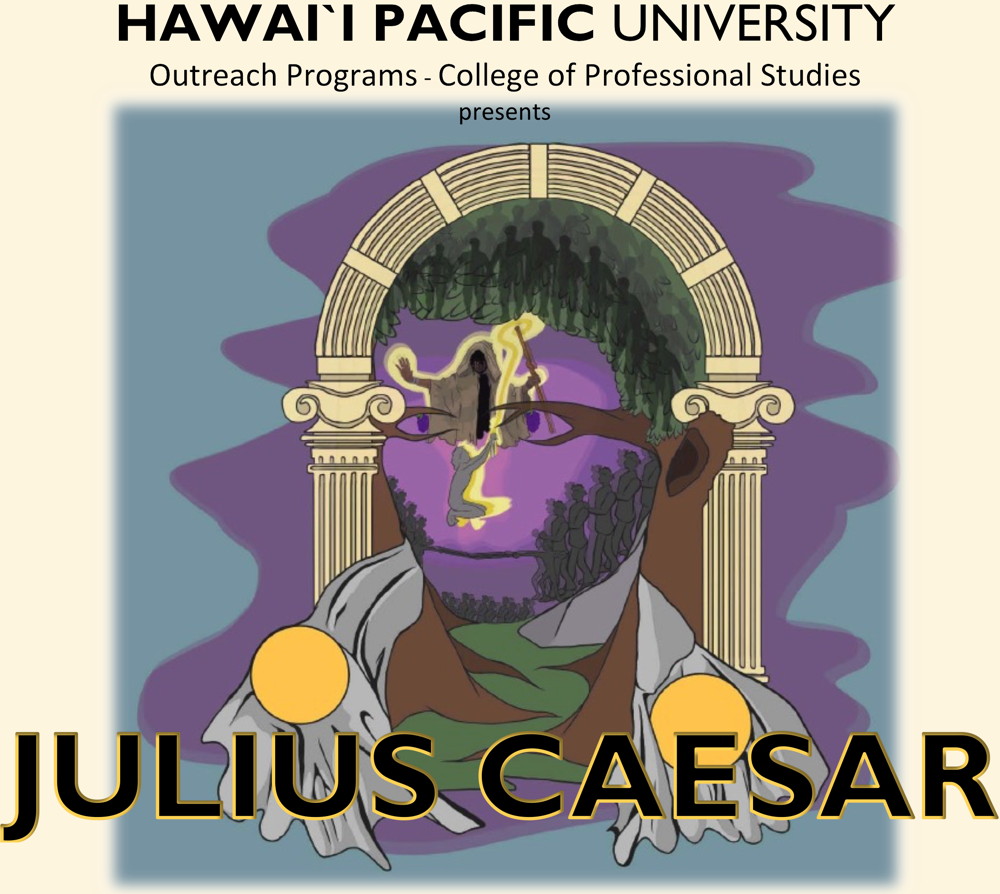 by WILLIAM SHAKESPEARE
directed by Eden Lee Murray

FEATURING
2017-18 HPU Young actors' ensemble
PERFORMANCE DATES
Friday, May 11 - 7:30 p.m.
Saturday, May 12 – 7:30 p.m.
Sunday, May 13 – 4:00 p.m.
Friday, May 18 – 7:30 p.m.
Saturday, May 19 – 7:30 p.m.
Sunday, May 20 – 4:00 p.m.
Purchase Tickets Online
PAUL & VI LOO THEATRE
2017 - 2018 SEASON


Hawai'i Pacific University Theatre strives to include any student with the desire and interest to be involved. We present one full mainstage production each semester, in November and April, and a Student Showcase Performance, near the end of each semester. We also feature the HPU Young Actors Ensemble for a showcase performance in the fall, and a full Shakespeare production in the spring. 
The Mainstage Theatre Productions will have open auditions, to which any interested students are encouraged to attend.

Our Student Theatre Showcase features the talents of the students enrolled in acting, performance, and directing classes.

Our HPU Young Actors Ensemble (HPUYAE) is a select group of high school students who train from September through May in the craft of classical theatre. Auditions are held during the summer prior.



FALL 2017 MAINSTAGE THEATRE PRODUCTION
NOV. 17-26



BAREFOOT IN THE PARK 

by Neil Simon 
directed by Eden Lee Murray  

Early work from one of the most popular playwrights in the history of American theatre, this "bubbling, rib-tickling comedy" (NYT review) ran for 1,530 performances on Broadway, and was nominated for 3 1964 Tony awards. We expect it to sparkle on our stage this fall.

As they settle into their 6th-floor walk-up apartment, young, NYC newlyweds Paul and Corie Bratter discover marriage is more than a rosy honeymoon romp. Laughs abound as we watch them navigate the bumps en route to a balanced relationship. Spoiler alert: one of them actually winds up barefoot in snow covered Central Park to prove a point. Along the way there's a hilarious blind date between Corie's mom and the eccentric aging bohemian neighbor from upstairs. Neil Simon's brilliant comic dialogue skips along throughout as he gives us memorable moments with these delightful characters. Not to be missed!


PERFORMANCE DATES
Friday, Nov. 17 - 7:30 pm
Saturday, Nov. 18 – 7:30 pm 
Sunday, Nov. 19 – 4:00 pm
Friday, Nov. 24 - 7:30 pm
Saturday, Nov. 25 – 2:00 & 7:30 pm
Sunday, Nov. 26 – 4:00 pm




FALL 2017 STUDENT SHOWCASE – FREE ADMISSION
Friday, Dec. 2 
Saturday, Dec. 3 



HPU YOUNG ACTOR'S ENSEMBLE SHOWCASE: EVENING WITH THE BARD   
Friday, Dec. 15
A pastiche of Shakespeare scenes designed to showcase exciting ensemble work and outstanding individual performances from the gifted members of HPU's Young Actors Ensemble.




SPRING 2018 MAINSTAGE THEATRE PRODUCTION
APR. 6-15
TBA  
PERFORMANCES
Friday, Apr. 6 - 7:30 pm
Saturday, Apr. 7 – 7:30 pm 
Sunday, Apr. 8 – 4:00 pm
Friday, Apr. 13 - 7:30 pm
Saturday, Apr. 14 – 2:00 & 7:30 pm
Sunday, Apr. 15 – 4:00 pm
 


SPRING STUDENT SHOWCASE
April 28 – 2:00 & 7:30 pm 



HPU YOUNG ACTORS ENSEMBLE'S SHAKESPEARE PRODUCTION
MAY 11 - 20
JULIUS CAESAR 
By William Shakespeare
Directed by Eden Lee Murray

Was the famous Roman military champion a brilliant leader, or an ego-driven megalomaniac?  G. Bernard Shaw dubbed Shakespeare's exploration of this question "The most splendidly written political melodrama we possess." Particularly timely in this day and age.

Performance Dates
Friday, May 11 – 7:30 pm
Saturday, May 12 – 7:30 pm
Sunday, May 13 – 4:00 pm
Friday, May 18 – 7:30 pm
Saturday, May 19 – 7:30 pm
Sunday, May 20 – 4:00 pm
 

Ticket Prices for all Mainstage Performances
General Admission - $15
Senior/Military/Student/HPU Faculty & Staff - $10
Students - $5
HPU Students – FREE

Presale tickets for the current Mainstage performance are available exclusively online, or may be purchased at the theatre from one hour before show time.
Tickets to our Student Showcases will be available at the door.
AUDITIONS
SPRING 2018 MAINSTAGE PRODUCTION

PRIVATE LIVES
by Noel Coward
directed by Eden Lee Murray

Auditions:
Friday, January 26 – 7:00 – 9:00 pm
Saturday, January 27, 2:00 – 5:00 pm
Sunday, January 28 – 2:00 – 5:00 pm
Friday and Saturday are open auditions. Sunday is callbacks, but if you are only available on Sunday please come then!
Performances:
Thursday, April 5 – 7:30 pm (Preview)
Friday, April 6 - 7:30 pm (Opening Night)
Saturday, April 7 – 7:30 pm
Sunday, April 8 – 4:00 pm
Thursday, April 12 – 7:30 pm
Friday, April 13 – 7:30 pm
Saturday, April 14 – 7:30 pm
Sunday, April 15 – 4:00 pm 

Noel Coward's deliciously witty and fast-paced 1930's drawing room comedy is a stylish farce, deliberately written at the time to divert audiences' attention from a gloomy international scene: financial depression, and impending tragedy as the globe hurtled toward World War II. Oddly enough, a relevant piece for this day and age.
REHEARSAL PERIOD
Rehearsal period is February 12 – April 4, specific days/times to be determined by the availability of those cast, but generally the HPU Mainstage shows rehearse weeknights, 7 – 10pm in the Paul and Vi Loo Theatre. Some weekend rehearsals may be needed towards the start of the run including but not limited to March 31/April 1.
ROLES IN THE PRODUCTION
ELYOT CHASE: Principal, 30-ish, suave, devil-may-care, romantic/passionate, low threshold of boredom, wealthy upper crust Brit, think young Noel Coward. Clips of Coward can be accessed on line. English accent a must. Should move well. A-list fella
AMANDA PRYNNE: Principal, 30-ish, Ex-wife of Elyot, now newly-married to Victor Prynne. Extremely stylish, passionate, impulsive, headstrong, of the same upper crust class as Elyot. English accent a must. Should move beautifully—appearances very important to Amanda. A-list lady.
VICTOR PRYNNE: Supporting lead, 30 – 40-ish, Amanda's new husband—clearly B-list. Victor should be as far from Elyot as possible—conservative, not just a little stuffy, a "good sort." We should know from the first that Amanda has "settled." Physically stodgy. English accent a must. Speaks French terribly.
SIBYL CHASE: Supporting lead, early 20's, Elyot's new wife—clearly B-list. Pretty, girly-girlish, a little pouty, jealous of the memory of Elyot's first wife and insecure that she may not measure up. Which she doesn't. She should try to move beautifully. English accent a must. Speaks French terribly.
LOUISE: Cameo role, but very funny. Can be any age. French maid in the apartment to which Amanda and Elyot escape, and is horrified by the appalling behavior of the English. She speaks only French. We may have her translate a phrase or two in English for the stupid Brits, just for fun, but it should be delivered with a strong French accent.
NOTE: THE AGE RANGES GIVEN INDICATE THE AGES OF THE CHARACTERS IN THE STORY, NOT THE AGES OF THE ACTORS. AUDITIONS ARE OPEN TO THE WIDER THEATRE COMMUNITY, WITH PRIORITY GIVEN TO CURRENT HPU STUDENTS. 
ANYONE WISHING TO BE CONSIDERED FOR A ROLE MUST ATTEND AUDITIONS. 
Auditions will consist of readings from the script. Scripts will be available for perusal on the premises at the windward and downtown campuses: LB basement lounge, and HLC theatre office. It is highly recommended that you be familiar with the script before coming to auditions, although not mandatory. Rehearsals are scheduled for Monday through Friday evenings from 7 pm until 10 pm and some weekend days as needed.
Auditions, rehearsals, and performances are held at HPU's Hawaii Loa Campus' Paul and Vi Loo Theatre, 45-045 Kamehameha Highway, Kaneohe (just off the Pali Highway).
For more information call Eden Lee Murray: 808-384-2157 or Janine Myers: 808-386-4753
The Paul and Vi Loo Theatre is located on HPU's Hawai'i Loa Campus, in Kaneohe.
Reservations are strongly recommended as seating is limited, and can be made either online or by leaving a message at 808-236-7917. 
The Theatre Box Office will open on site one hour prior to each performance. Tickets may be purchased at the door with cash or check. Ticket holders should arrive within 10 minutes of the scheduled performance to insure seating. Late seating will be at the discretion of the house manager and is not guaranteed.  In the event of a sold out performance, an in person waiting list will begin one hour before the performance.
Address: 45-045 Kamehameha Highway, Kaneohe, HI, 96744-5221 (HPU Hawaii Loa Campus)

Directions: From Honolulu, take the Pali Highway towards Kailua/Kaneohe. At the first stop light on the windward side (Castle Junction) turn left towards Kaneohe. Take an immediate right onto the HPU campus. The theatre is located on the top floor of the Academic Center at the top of the hill. The guard at the gate will direct you if needed.

For more information please contact:
Janine Myers
Theatre Manager
jmyers@hpu.edu
The HPU YAE is dedicated to offering intensive classical theatre training in a positive, non-competitive environment. YAE-trained alumni have gone on to study theatre in college, and beyond to become professional actors, stage managers, fight choreographers, and filmmakers.
Membership is by invitation. To be considered, students must perform a prepared audition—a 1 – 2 minute memorized monologue from any published play.
The students meet twice a week after school with Eden Lee Murray, an award-winning actor, director and artist/educator. In addition, they are offered special Master Classes from top professionals from the theatre community. Master Classes for the 2017 – 2018 year will include Voice for Theatre, with top musical artist Shari Lynn; Introduction to Mask and Playing Shakespeare with former UH Theatre Dept. Chair and professional actor/director Paul Mitri; Stage Combat with international fight choreographer, Tony Pisculli; Physical Comedy with Walter Gaines, FUNdamentals of Improvisation with Second City Improv veteran Shannon Winpenny; and Poetry in Performance with national slam poet champion Bridget Gray.
The 9-month long training program culminates in the spring with a full Shakespeare production onstage at HPU's Paul and Vi Loo Theatre. The 2018 selection will be Julius Caesar, the play G. Bernard Shaw described as "the most splendidly written political melodrama we possess," a piece that is particularly timely now.
One more 1st-round audition dates remain for the 2017 – 2018 Ensemble
- Sat. August 19, 10 am, onstage at the Paul & Vi Loo Theatre
Those interested in auditioning should call Eden Lee Murray, 384-2157, or email elmjellinek@gmail.com or edenlee.murray@hpu.edu to register ahead of the date they would like to come in for the audition.
2016-2017 SEASON
FALL: Deathtrap, by Ira Levin
SPRING: The Foreigner, by Larry Shue
2015-2016 SEASON
FALL: Next Fall, by Geoffrey Nauffts
SPRING: Much Ado About Nothing, by William Shakespeare
2014-2015 SEASON
FALL: Fiddler on the Roof, Music by Jerry Bock, Lyrics by Sheldo Harnick
SPRING: You Can't Take It With You, by Kaufman and Hart
2013-2014 SEASON
FALL: Tartuffe, by Molier
SPRING: Heritage, by P.J. Barry
2012-2013 SEASON
FALL: The Good Doctor, by Neil Simon
SPRING: Hedda Gabler, by Henrik Ibsen
2011-2012 SEASON
FALL: The House of Blue Leaves, by John Guare
SPRING: The Importance of Being Earnest, by Oscar Wilde
2010-2011 SEASON
FALL: Is He Dead, by Mark Twain, adapted by David Ives
SPRING: Les Dangereuses Liaisons, by Christopher Hampton
2009-2010 SEASON
FALL: Quiptease, by Yokanaan Kearns
SPRING: Arms and the Man, by G.B.Shaw
2008-2009 SEASON
FALL: Rabbit Hole, by David Lindsay-Abaire
SPRING: The Glass Menagerie, by Tennessee Williams
2007-2008 SEASON
FALL: The Imaginary Invalid, by Moliere
SPRING: The Constant Wife, by Somerset Maugham
2006-2007 SEASON
FALL: The Lion in Winter, by James Goldman
SPRING: The Cherry Orchard, by Anton Chekhov
2005-2006 SEASON
FALL: Aloha Rosie's, a musical by Joyce Maltby and Norman Boroughs
SPRING: The Gin Game, by D.L. Coburn
2004-2005 SEASON
FALL: Broadway Bound, by Neil Simon
SPRING: The Miser, by Moliere
2003-2004 SEASON
FALL: All My Sons, by Arthur Miller
SPRING: Jaques Brel is Alive and Well and Living in Paris, by Brel, Blau, and Shuman
2002-2003 SEASON
FALL: Death of a Salesman, by Arthur Miller
WINTER: Sea Marks, by Gardner McKay
SPRING: Morning's at Seven, by Paul Osborn
2001- 2002 SEASON
FALL: James Joyce's The Dead, by Nelson and Davey
SPRING: You Can't Take It With You, by Kaufman and Hart
2000-2001 SEASON
FALL: Kiss Me Kate, by Cole Porter
WINTER: Wild Wisdom, by Jeanette Paulson Heriniko
SPRING: Dark of the Moon, by Richardson and Berney
1999-2000 SEASON
FALL: The Little Foxes, by Lillian Hellman
WINTER: Tintypes, a musical revue by Kyte, Marvin and Pearle
SPRING: The Importance of Being Earnest, by Oscar Wilde
1998-1999 SEASON
FALL: The Diary of Anne Frank, dramatized by Goodrich and Hackett
SPRING: Light Up The Sky, by Moss Hart
1997-1998 SEASON
FALL: A Night at Rosie's, a musical by Joyce Maltby and Norman Boroughs
WINTER: Ain't I A Woman, compiled and performed by Joyce Maltby
SPRING: Inherit the Wind, by Lawrence and Lee
SUMMER: A Night at Rosie's (Dinner Theatre)
1996-1997 SEASON
FALL: A View from the Bridge, by Arthur Miller
SPRING: A Midsummer Night's Dream, by William Shakespeare
1995-1996 SEASON
FALL: The Threepenny Opera, by Brecht and Weil
SPRING: Our Town, by Thornton Wilder
1994-1995 SEASON
FALL: Brighton Beach Memoirs, by Neil Simon
SPRING: The Crucible, by Arthur Miller
1993-1994 SEASON
FALL: Rosie's Place, a musical by Joyce Maltby and Norman Boroughs
SPRING: Ten Nights In A Barroom, a musical melodrama by William Pratt, adapted by Fred Carmichael
1992-1993 SEASON
FALL: Heritage, by P.J. Barry
SPRING: All The World's A Stage, a collection of songs, scenes, and monologue
Eden Lee Murray
Adjunct Professor of Theatre & Director
Cell: (808) 384-2157
E-mail: edenlee.murray@hpu.edu
Originally from Kansas City, Missouri, Eden Lee is a graduate of Harvard University, and has an MFA in Acting/Directing from UMKC. She has directed or performed in every major venue on O`ahu since arriving in 1992, earning fourteen Po`okela Awards for her work. She has worked extensively as an artist/educator, and served as Education Director at the Hawaii Theatre Center from 2009 – 2016, where she presented and/or produced 121 shows, and directed productions of Twelfth Night, As You Like It, Macbeth, Hamlet, Much Ado About Nothing (from an Oxfordian point of view), Romeo and Juliet, and Othello. Now happily ensconced as Adjunct Professor of Theatre, and Director of the Paul and Vi Loo Theatre, in addition to teaching, she also directs the HPU Young Actors Ensemble—a pre-professional training program in classical theatre for a select cadre of high school students. Eden Lee runs two younger acting programs for middle school students independently: the Junior and Intermediate Ensemble classes. She is also the author of The Cookie Never Crumbles, with Wally "Famous" Amos, St. Martin's Press, 2001.
Janine Myers
Theatre Manager
Cell: (808) 386-4753
E-mail: jmyers@hpu.edu
Janine is the Theatre Manager and Lighting Designer for the Paul and Vi Loo Theatre at HPU, a position she has held since 2011. She also serves as Assistant Technical Manager and Master Electrician at Paliku Theatre, the resident Master Electrician at both MVT and HPU, and a freelance Lighting Designer at venues throughout Oahu. She earned her degree in Lighting Design from Macalester College and has been working professionally in theatre in Hawaii since 2002. Well versed in multiple aspects of theatre, she has been known to lend a hand with set construction, welding, set dressing, painting and even stage management when she's not up a ladder, behind a lighting console or keeping everything running smoothly. Her lighting designs span the theatrical spectrum, including dramas, musicals, modern and traditional dance, and concerts at venues from Mark's Garage to The Hawai'i Theatre. She has garnered eleven Po'okela Awards for her lighting designs. Some of her favorites include The Lion in Winter and The Glass Menagerie for HPU; Macbeth, East of the Sun, West of the Moon, and Honu by the Sea (Hawaii Theatre Center); M. Butterfly, A Christmas Carol (for which she also designed the set), Hair, Peter and the Starcatcher, and Equus. (MVT).