Theatre
Hawai'i Pacific University offers a unique experience for students interested in studying Theater. Small classes allow for greater interaction between students and teachers and allow for individualized attention. Courses are taught by Theater professionals, offering students high-quality instruction and mentoring. Acting and production courses give students the opportunity to apply both technical and performance skills to live performances. Because the major productions involve actors, designers, and technicians from the community, students have the opportunity to work with many theater professionals, both on stage and off stage. As a member of the Hawaii State Theatre Council, HPU Theatre has earned numerous awards for acting, directing, ensemble performance, playwriting, and overall play production. 
Paul and Vi Loo Theatre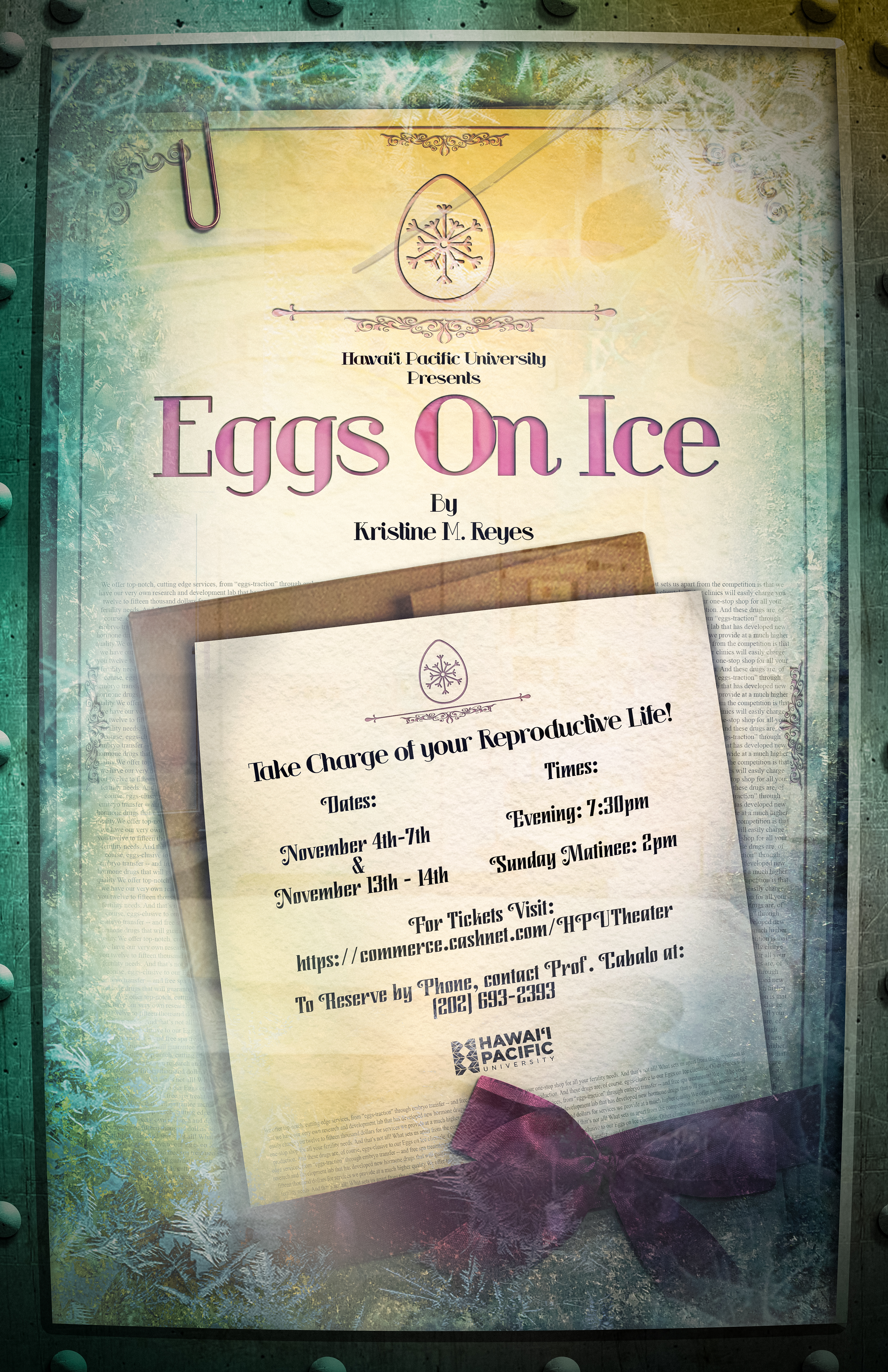 Eggs on Ice
by Kristine M. Reyes
Denise is the top sales/marketing rep at Eggs on Ice, a premier egg freezing facility, who believes in the company's mission to help give women more reproductive choices. Led by the enigmatic and cocksure Dr. Freeze, the company aims to be a full-service facility for all fertility needs, second to none. As Denise takes the audience on a tour of the company and its clientele, she starts noticing strange new policies being put into place and begins to question if something more sinister is at play. Set in the very near future, Eggs on Ice is a satirical play about the egg freezing industry and how it markets to young professional women, preying and capitalizing on their fears and insecurities under the guise of helping them to "have it all."
SHOW DATES ARE:
Nov. 4, 5, 6, 13 at 7:30 pm HST
Nov. 7 and 14 at 2 pm HST
Paul & Vi Loo Theatre, Hawaii Loa Campus
For reservations, please click on:
PAUL & VI LOO THEATRE
2020-2021 SEASON


Hawai'i Pacific University Theatre strives to include any student with the desire and interest to be involved. We present one full mainstage production each semester, in November and April, and a Student Showcase Performance, near the end of each semester. 
The Mainstage Theatre Productions will have open auditions, to which any interested students are encouraged to attend.
Our Student Theatre Showcase features the talents of the students enrolled in acting, performance, and directing classes.



FALL 2019 MAINSTAGE THEATRE PRODUCTION
NOVEMBER 13 THROUGH 22

a shot rang out 
by Michael Hagins
directed by Lanaly Cabalo  

A white police officer is trapped in a warehouse during an increasingly violent protest with a scared Black teen and a disgruntled schoolteacher.



PERFORMANCE DATES
November 13 - 15
November 21 - 22
spring 2021 MAINSTAGE THEATRE PRODUCTION
april 15 - 25



WHERE WoRDS oNCe WERE 

by Finegan Kruckemeyer

directed by Alex Munro

Orhan lives in The City, which has limited language to 1,000 words.  In order to maintain that balance, any new words added to The Language must take place of an old word.  Speak or write any words that are not part of The Language and you're punished:  you can no longer speak or write, and no one can speak or write to you.  Without language, you vanish.  One day, Orhan, accidentally brings home a pen from school and finds himself in the middle of a fight to reclaim those words lost to The City.


AUDITIONS

Weekend of February 7-9

PERFORMANCE DATES

Thursday, April 15 – 7:30 p.m.

Friday, April 16 – 7:30 p.m.

Saturday, April 17 – 7:30 p.m.

Sunday, April 18 – 4:00 p.m.

Saturday, April 24 – 7:30 p.m.

Sunday, April 25 – 4:00 p.m.

Livestreamed.

 

ONLINE RESERVATIONS FOR MAINSTAGE PERFORMANCES

Performances are free of cost. Donations are strongly encouraged.

Please refer to the current production for more information on requesting reservations.

 

For reservations, please click on HPU Theatre Reservations.
The Paul and Vi Loo Theatre is located on HPU's Hawai'i Loa Campus, in Kaneohe.
Reservations are strongly recommended as seating is limited, and can be made either online or by leaving a message at 808-236-7917. 
The Theatre Box Office will open on site one hour prior to each performance. Tickets may be purchased at the door with cash or check. Ticket holders should arrive within 10 minutes of the scheduled performance to insure seating. Late seating will be at the discretion of the house manager and is not guaranteed.  In the event of a sold out performance, an in person waiting list will begin one hour before the performance.
Address: 45-045 Kamehameha Highway, Kaneohe, HI, 96744-5221 (HPU Hawaii Loa Campus)

Directions: From Honolulu, take the Pali Highway towards Kailua/Kaneohe. At the first stop light on the windward side (Castle Junction) turn left towards Kaneohe. Take an immediate right onto the HPU campus. The theatre is located on the top floor of the Academic Center at the top of the hill. The guard at the gate will direct you if needed.

For more information please contact:
cla@hpu.edu
2019-2020 SEASON
FALL:  The Christians by Lucas Hnath
SPRING: 
2018-2019 SEASON
FALL: Time Stands Still by Donald Margulies
SPRING: #MeToo Monologues: Stories for Healing
2017-2018 SEASON
FALL: Barefoot in the Park, by Neil Simon
SPRING: Private Lives, by Noel Coward
2016-2017 SEASON
FALL: Deathtrap, by Ira Levin
SPRING: The Foreigner, by Larry Shue
2015-2016 SEASON
FALL: Next Fall, by Geoffrey Nauffts
SPRING: Much Ado About Nothing, by William Shakespeare
2014-2015 SEASON
FALL: Fiddler on the Roof, Music by Jerry Bock, Lyrics by Sheldo Harnick
SPRING: You Can't Take It With You, by Kaufman and Hart
2013-2014 SEASON
FALL: Tartuffe, by Molier
SPRING: Heritage, by P.J. Barry
2012-2013 SEASON
FALL: The Good Doctor, by Neil Simon
SPRING: Hedda Gabler, by Henrik Ibsen
2011-2012 SEASON
FALL: The House of Blue Leaves, by John Guare
SPRING: The Importance of Being Earnest, by Oscar Wilde
2010-2011 SEASON
FALL: Is He Dead, by Mark Twain, adapted by David Ives
SPRING: Les Dangereuses Liaisons, by Christopher Hampton
2009-2010 SEASON
FALL: Quiptease, by Yokanaan Kearns
SPRING: Arms and the Man, by G.B.Shaw
2008-2009 SEASON
FALL: Rabbit Hole, by David Lindsay-Abaire
SPRING: The Glass Menagerie, by Tennessee Williams
2007-2008 SEASON
FALL: The Imaginary Invalid, by Moliere
SPRING: The Constant Wife, by Somerset Maugham
2006-2007 SEASON
FALL: The Lion in Winter, by James Goldman
SPRING: The Cherry Orchard, by Anton Chekhov
2005-2006 SEASON
FALL: Aloha Rosie's, a musical by Joyce Maltby and Norman Boroughs
SPRING: The Gin Game, by D.L. Coburn
2004-2005 SEASON
FALL: Broadway Bound, by Neil Simon
SPRING: The Miser, by Moliere
2003-2004 SEASON
FALL: All My Sons, by Arthur Miller
SPRING: Jaques Brel is Alive and Well and Living in Paris, by Brel, Blau, and Shuman
2002-2003 SEASON
FALL: Death of a Salesman, by Arthur Miller
WINTER: Sea Marks, by Gardner McKay
SPRING: Morning's at Seven, by Paul Osborn
2001- 2002 SEASON
FALL: James Joyce's The Dead, by Nelson and Davey
SPRING: You Can't Take It With You, by Kaufman and Hart
2000-2001 SEASON
FALL: Kiss Me Kate, by Cole Porter
WINTER: Wild Wisdom, by Jeanette Paulson Heriniko
SPRING: Dark of the Moon, by Richardson and Berney
1999-2000 SEASON
FALL: The Little Foxes, by Lillian Hellman
WINTER: Tintypes, a musical revue by Kyte, Marvin and Pearle
SPRING: The Importance of Being Earnest, by Oscar Wilde
1998-1999 SEASON
FALL: The Diary of Anne Frank, dramatized by Goodrich and Hackett
SPRING: Light Up The Sky, by Moss Hart
1997-1998 SEASON
FALL: A Night at Rosie's, a musical by Joyce Maltby and Norman Boroughs
WINTER: Ain't I A Woman, compiled and performed by Joyce Maltby
SPRING: Inherit the Wind, by Lawrence and Lee
SUMMER: A Night at Rosie's (Dinner Theatre)
1996-1997 SEASON
FALL: A View from the Bridge, by Arthur Miller
SPRING: A Midsummer Night's Dream, by William Shakespeare
1995-1996 SEASON
FALL: The Threepenny Opera, by Brecht and Weil
SPRING: Our Town, by Thornton Wilder
1994-1995 SEASON
FALL: Brighton Beach Memoirs, by Neil Simon
SPRING: The Crucible, by Arthur Miller
1993-1994 SEASON
FALL: Rosie's Place, a musical by Joyce Maltby and Norman Boroughs
SPRING: Ten Nights In A Barroom, a musical melodrama by William Pratt, adapted by Fred Carmichael
1992-1993 SEASON
FALL: Heritage, by P.J. Barry
SPRING: All The World's A Stage, a collection of songs, scenes, and monologue
Sharon doyle
Adjunct Professor of Theatre 
E-mail: srdoyle@hpu.edu
lanaly cabalo
Adjunct Professor of Theatre & Manager
E-mail: lcabalo@hpu.edu
Lanaly Cabalo is the founder of the Hawai'i Women's Voices Theater Festival, a co-founding member of EPOCH — Empowering People of Color Hawai'i Theatre Company, founding member of the Push Comedy Theatre (Norfolk, VA) and a member of the Hawaii State Theater Council. Her most recent directing credits include Disney's Finding Nemo, Jr. (a Pilot Production), The Addams Family The Musical, Zombie Thoughts, The Wiz, Jr. and Connected for St. Andrew's Schools The Priory. She is also the Director of Interns for the summer theatre program StageLeft! She has stage managed the Po'okela Award-winning Disgraced for The Actor's Group (TAG), The Elephant Man, Equus and A Funny Thing Happened on the Way to the Forum with Manoa Valley Theatre (MVT) and Na Manu, The Monkey King and The Metamorphoses at Paliku Theatre (PAL).  Her local projects included In the Heights and Hairspray for Kaimuki High School Performing Arts center (KHSPAC),  In the Next Room/The Vibrator Play and One Flew Over the Cuckoo's Nest (MVT),  Jonathan Dove's Siren Song and Britten's Midsummer Night's Dream and Wagner's The Flying Dutchman with Hawaii Opera Theatre (HOT) and the underneath and My Boy He Play Ball with Kumu Kahua Theatre (KKT). In addition, she is a board member for the Hawaii Chapter of the International Thespian Society as the Auditions and Scholarships Coordinator. She was recently named one of 27 theatre educators to the Educational Theatre Association's Advocacy Leadership Network.
Arts at HPU - Events
There are currently no upcoming events.
[an error occurred while processing this directive]