Art Gallery
Hawai'i Pacific University recognizes that exposure to art in various media enriches the lives of its community of students, faculty, and staff. Also, the University is a longtime supporter of the arts in the public community.
The primary focus of the gallery is the showing of art in a variety of media produced by artists who live and work in Hawaii. The gallery provides 2,000 square feet of open exhibition space allowing for wall-mounted and free-standing displays.
The Hawai'i Pacific University Art Gallery is pleased to announce its 2017-18 EXHIBITION SCHEDULE (PDF). The primary focus of the gallery is to showcase the work of artists who live and work in Hawai'i. HPU Gallery Curator, Sanit Khewhok, noted, "Our gallery program continues to draw the attention of artists and audiences alike.  Annually we review far more portfolios of work than we can possibly accommodate.  For this reason, we are scheduled to have paired artist exhibits this year.  Our selection includes an exciting diversity of media and styles."
---
VARIETY IS THE SPICE OF LIFE by Helen Iaea
May 6 through June 29, 2018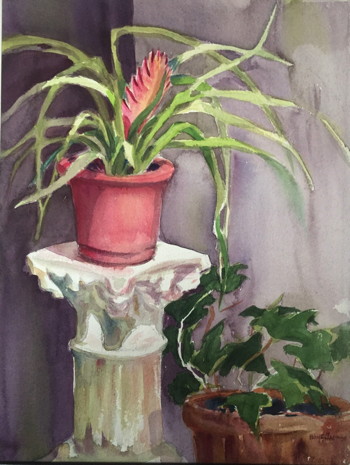 "Through my works in oil, pastel and watercolor, my goal is to impart to the viewer a sense of being there with the individual in a given situation or location. I want the viewer to experience what I did during the time I created the work."
Helen Iaea has been an active and integral part of Hawaii's artistic community for many years. In addition to countless exhibitions of her work both in and outside Hawai'i, she has inspired many artists in the community through her classes at the Honolulu Museum School, Hawaiian Graphics, the Department of Education, and Oahu and Hawaii Correctional Facilities. She is adept in many mediums but is best known for her works in pastels, oils, and watercolors.
Iaea is a signature member of the Hawaii Watercolor Society, a Founder and Signature Member of the Pastel Artists of Hawaii. She is represented by the Lou Pohl Gallery, Sunshine Arts Hawaii Gallery, and the Cedar Street Gallery.
---
HPU students, faculty, and staff are encouraged to take advantage of viewing and enjoying the year round gallery exhibitions. The public is invited at any time during the gallery's hours of operation to view the exhibitions. Visitors to Hawaii and Hawai'i Pacific University's Hawai'i Loa campus may wish to include a gallery visit as a stop on their around-the-island trip. The panoramic view of the Koolau mountains from the front grand lanai of the Cooke Academic Center provides a memorable photo opportunity of your visit to Hawaii and Hawai'i Pacific University.
The Hawai'i Pacific University Art Gallery is located on HPU's Windward Hawai'i Loa campus, 45-045 Kamehameha Highway, in Kaneohe. Gallery hours are Monday through Saturday, 8:00 a.m. – 5:00 p.m. Parking and admission is free and the public is invited. For more information call 544-9340.
Arts at HPU - Events
There are currently no upcoming events.
[an error occurred while processing this directive]