Art Gallery
Hawai'i Pacific University recognizes that exposure to art in various media enriches the lives of its community of students, faculty, and staff. Also, the University is a longtime supporter of the arts in the public community.
The primary focus of the gallery is the showing of art in a variety of media produced by artists who live and work in Hawaii. The gallery provides 2,000 square feet of open exhibition space allowing for wall-mounted and free-standing displays.
The Hawai'i Pacific University Art Gallery is pleased to announce its 2018-19 EXHIBITION SCHEDULE (PDF). The primary focus of the gallery is to showcase the work of artists ho live and work in Hawai'i. HPU Gallery Curator, Sanit Khewhok, noted, "Our gallery program continues to draw the attention of artists and audiences alike.  Annually we review far more portfolios of work than we can possibly accommodate.  For this reason, we are scheduled to have paired artist exhibits this year.  Our selection includes an exciting diversity of media and styles."
---
Merge by Alina Kawai and Kana Ogawa
July 7 through September 6, 2019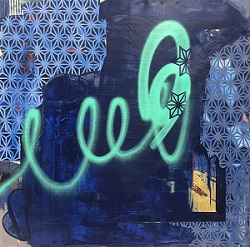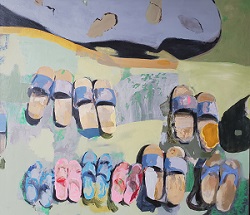 Kawai and Ogawa probe the perception of modern culture through a grounded local perspective of Honolulu and look further, with the anticipation that the paintings will activate a personal connection with the viewers.
Much of Alina Kawai's sensitivity and interest in color and form derives from her Japanese and Euro-American heritages. One becomes aware and fascinated on how each culture applies meanings and usage for colors and marks in relations to the visual arts, literature, social, and anthropological histories. This has become a resource to inquire on the similarities and differences from both cultures. Having lived in both countries there are feelings of an uneasy intensity conjured from being in-between places and ideas. The "in-betweeness" translates as part of the process of paintings, allowing to re-organize and understand a person's identity. For Kawai painting is ultimately a way to relate to the human psyche and our existence within cultures.
Kana Ogawa's new series for Merge identifies the experience of vulnerability and acceptance. Embracing her own waves of cultural changes, Ogawa offers a perspective on cultural blends. Having been raised herself in Japan, the United States, and the United Kingdom, and now living on O'ahu, she continues to experience a shape-shifting lifestyle. Language, personal identity, and multiple perceptions are navigated and overwritten. Ogawa's work speaks to progression by purposefully destroying and rebuilding the surface to create new layers. Just like any divided person that must reject certain parts of their character to fit in, her art shows that expectations and influence are gifts of deep history that cultivate a unique existence.
---
HPU students, faculty, and staff are encouraged to take advantage of viewing and enjoying the year round gallery exhibitions. The public is invited at any time during the gallery's hours of operation to view the exhibitions. Visitors to Hawaii and Hawai'i Pacific University's Hawai'i Loa campus may wish to include a gallery visit as a stop on their around-the-island trip. The panoramic view of the Koolau mountains from the front grand lanai of the Cooke Academic Center provides a memorable photo opportunity of your visit to Hawaii and Hawai'i Pacific University.
The Hawai'i Pacific University Art Gallery is located on HPU's Windward Hawai'i Loa campus, 45-045 Kamehameha Highway, in Kaneohe. Gallery hours are Monday through Saturday, 8:00 a.m. – 5:00 p.m. Parking and admission is free and the public is invited. For more information call 544-9340.
Arts at HPU - Events
There are currently no upcoming events.