Art Gallery
Hawai'i Pacific University recognizes that exposure to art in various media enriches the lives of its community of students, faculty, and staff. Also, the University is a longtime supporter of the arts in the public community.
The primary focus of the gallery is the showing of art in a variety of media produced by artists who live and work in Hawaii. The gallery provides 2,000 square feet of open exhibition space allowing for wall-mounted and free-standing displays.
The Hawai'i Pacific University Art Gallery is pleased to announce its 2018-19 EXHIBITION SCHEDULE (PDF). The primary focus of the gallery is to showcase the work of artists ho live and work in Hawai'i. HPU Gallery Curator, Sanit Khewhok, noted, "Our gallery program continues to draw the attention of artists and audiences alike.  Annually we review far more portfolios of work than we can possibly accommodate.  For this reason, we are scheduled to have paired artist exhibits this year.  Our selection includes an exciting diversity of media and styles."
---
SINGULARITY by Bai Xin Chen and Erika Garcia
November 18, 2018 through January 11, 2019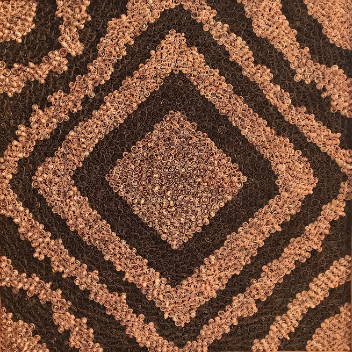 Bai Xin Chen
Somewhere in the heart of Honolulu lies a wood shaver who spends his days making spiral wood shavings from pieces of lumber. Swoosh! The sound of peeling lumber with a razor-sharp blade deeply intrigues Bai Xin. His process of art making is condensed into a single motion repeated hundreds of times a day. Producing wood shavings in the thousands, Bai Xin combines them into large and meticulous wall mounted collages. In this series of wood shaving collages, he seeks to highlight the repetitive and absurdly wasteful aspect of art making.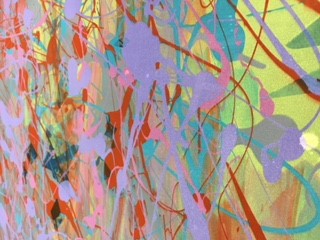 Erika Garcia
My screen prints incorporate many difference symbols of culture including Native American patterns referencing Navajo fabric motifs, Japanese tattoo motifs, and Polynesian cultures such as Maori, Samoan, and Hawaiian, all referencing from their tattoo motifs inspired by their tribal symbols which involve nature, animals, woven and fabric materials. In addition, I am incorporating my ethnic background as well as Chinese and my Filipino. The Filipino motifs are referenced anywhere from fabric, woven baskets, and the Filipino headhunter tribes such as the Kalinga, Bontoc Igorot, and the Ifugao. The Chinese motifs will reference from Lion Dances, my Chinese Zodiac which is the year of the snake, and tattoos inspired by iconic sculptures. I also wanted to incorporate living things that I've seen and have been told about while growing up here on the island of Oʻahu, for example the moʻo and the Pueo symbolizing as a ʻAumakua an ancestor spirit.
I was always intrigued by these cultures and their motifs with their geometric shapes and line work which I find fascinating. They are a set of prints that symbolize "Unity" to come together. Even if different cultures have their differences they still have the same morals within their cultural practices, to worship their ancestors.
---
latency by Megan Bent
January 20 through March 8, 2019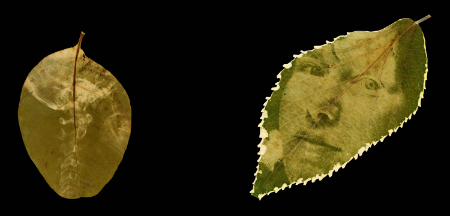 In photography the latent image is the invisible image on light sensitive material that has not yet been developed. In Latency, Bent is interested in using photography to explore the latency of living with an invisible disability. "As I move through space I am perceived as healthy but inside of my body my immune system mistakes my tendons, ligaments, and joints as invaders, actively working to break them down. This experience, while concealed, is one that has greatly shaped who I am as a person.
I am using the photographic processes of chlorophyll printing, which uses UV light to print images directly onto leaves. I am printing medical imagery from my recurring Dr's visits to track the progress of my disease. People from the disability/invisible/chronic illness community are submitting imagery for me to print, sharing what they feel is invisible about their experience.
Printing my medical imagery reclaims my medicalized body and journey as a patient. Printing on leaves highlights the organic nature of disability while also asking the viewer to confront the bodily impermanence we all share."
---
HPU students, faculty, and staff are encouraged to take advantage of viewing and enjoying the year round gallery exhibitions. The public is invited at any time during the gallery's hours of operation to view the exhibitions. Visitors to Hawaii and Hawai'i Pacific University's Hawai'i Loa campus may wish to include a gallery visit as a stop on their around-the-island trip. The panoramic view of the Koolau mountains from the front grand lanai of the Cooke Academic Center provides a memorable photo opportunity of your visit to Hawaii and Hawai'i Pacific University.
The Hawai'i Pacific University Art Gallery is located on HPU's Windward Hawai'i Loa campus, 45-045 Kamehameha Highway, in Kaneohe. Gallery hours are Monday through Saturday, 8:00 a.m. – 5:00 p.m. Parking and admission is free and the public is invited. For more information call 544-9340.