Art Gallery
Hawai'i Pacific University recognizes that exposure to art in various media enriches the lives of its community of students, faculty, and staff. Also, the University is a longtime supporter of the arts in the public community.
The primary focus of the gallery is the showing of art in a variety of media produced by artists who live and work in Hawaii. The gallery provides 2,000 square feet of open exhibition space allowing for wall-mounted and free-standing displays.
The Hawai'i Pacific University Art Gallery is pleased to announce its 2018-19 EXHIBITION SCHEDULE (PDF). The primary focus of the gallery is to showcase the work of artists ho live and work in Hawai'i. HPU Gallery Curator, Sanit Khewhok, noted, "Our gallery program continues to draw the attention of artists and audiences alike.  Annually we review far more portfolios of work than we can possibly accommodate.  For this reason, we are scheduled to have paired artist exhibits this year.  Our selection includes an exciting diversity of media and styles."
---
BETWEEN NATURE AND FREEDOM by Kim Cooper Giegerich
September 16 through November 9, 2018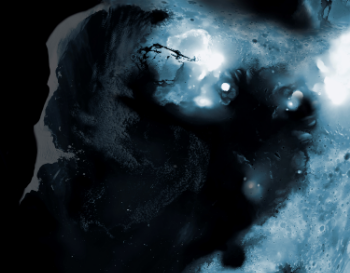 Between Nature and Freedom is about the murky darkness accompanied by uncertainty of the unknown. The artist's work appropriates scientific-based images from the archives of NASA and microbiology laboratories. Giegerich is interested in these scientific-based images because of their role in the formation of knowledge for humanity's curious goal of understanding nature and the universe. Prompted by this curiosity, she digitally manipulates, erases and arranges the appropriated images into improbable landscapes. These landscapes are vaguely familiar but also alien, requiring time for examination and reflection.
Along with curiosity, the theory of sublime is an additional source of inspiration. Giegerich's work also explores notions of sublime magnitude and critical thought when overwhelmed by nature's grandeur. Confronted with velvety darkness and initially obscure forms, viewers are entangled within the exalting mysteries of nature along with the need to decipher and understand. Her work lives within the murky darkness where the mind is freed and theories can become reality. She employs fictionalization of research-based images as a method to empower unrestrained freedom to contemplate, experiment and maneuver through the mysteries in nature and the cosmos.
Through the faculty of the mind, humanity can imagine infinite worlds and environments that may exist in the universe. Curiosity and the theory of the sublime can empower unrestrained freedom to contemplate and explore mysteries within nature and the cosmos. Through spaces that have been synthesized by curiosity, manipulation and erasure of scientific-based images, Giegerich's artwork builds a bridge between nature and freedom.

---
HPU students, faculty, and staff are encouraged to take advantage of viewing and enjoying the year round gallery exhibitions. The public is invited at any time during the gallery's hours of operation to view the exhibitions. Visitors to Hawaii and Hawai'i Pacific University's Hawai'i Loa campus may wish to include a gallery visit as a stop on their around-the-island trip. The panoramic view of the Koolau mountains from the front grand lanai of the Cooke Academic Center provides a memorable photo opportunity of your visit to Hawaii and Hawai'i Pacific University.
The Hawai'i Pacific University Art Gallery is located on HPU's Windward Hawai'i Loa campus, 45-045 Kamehameha Highway, in Kaneohe. Gallery hours are Monday through Saturday, 8:00 a.m. – 5:00 p.m. Parking and admission is free and the public is invited. For more information call 544-9340.