College News
Jayne Smitten, PhD, Director of HPU's College of Health & Society (CHS) Simulation Center, is among 13 individuals -- and the first simulation educator and administrator from Hawai`i -- selected for the Class of 2020 Fellows of the Society for Simulation in Healthcare (SSH) Academy! Additionally, she is one of only 73 honored globally with the SSH Academy Fellow distinction. "It is truly an honor to be recognized in this distinguished company of fellows who have contributed and continue to impact this exciting, growing, and innovative field of healthcare simulation," Smitten said.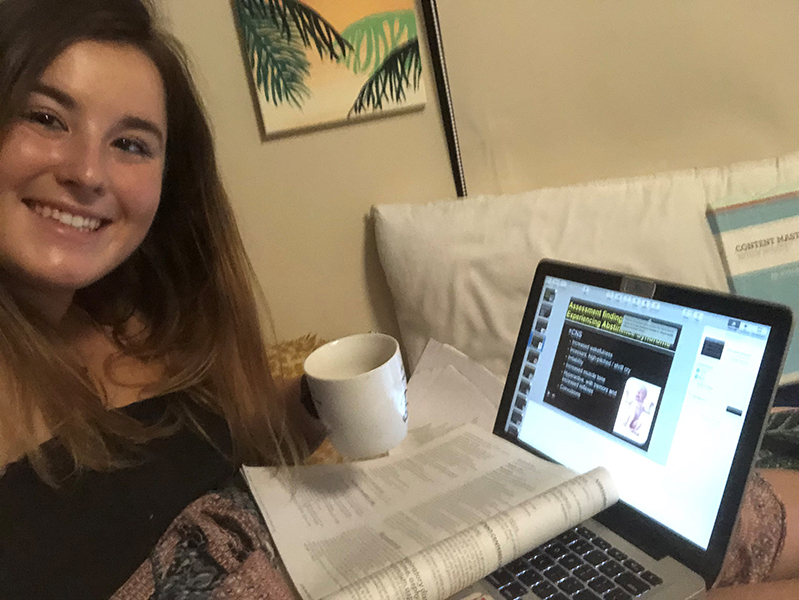 Continuing in Unity and Caring About Our Community: A Q&A with a Nursing Major
In this Q & A with Brielle Hudik, she shares what she is up to with her courses, extracurricular activities, and work. Hudik, who is very involved in campus life, is Student Body Vice President and a Community Advisor at the Waterfront Lofts. This month, through online activities, Hudik and Student  Body President Elana Boise are committed to raising awareness about Sexual Assault Awareness Month.     
Dr. Lori Daniels of the School of Social Work presenting at the 17th Hawai`i International Virtual Summit on Preventing, Assessing & Treating Trauma Across the Lifespan. 
Social Work and Nursing faculty and alumni assist with COVID-19 testing around the island. HPU faculty pictured here include Jessica Garlock, Lori Daniels, Michelle Higgins-Mahe, Becky Yoza, Cate Critz and Jo Wakayama. 
College of Health and Society Student Who Works As a Health Educator
Anthony Pack is finishing up his Master's in Public Health this semester while working full time as a health educator at the Waimanalo Health Center. His duties have been extended with the COVID-19 pandemic, and he shared this photo of his "doorman" station to screen and educate people entering the clinic while completing his homework assignments. "We are very proud of our students who are on the front line of public health during this crisis," said Pack's professor Gillian Dunn, DrPH.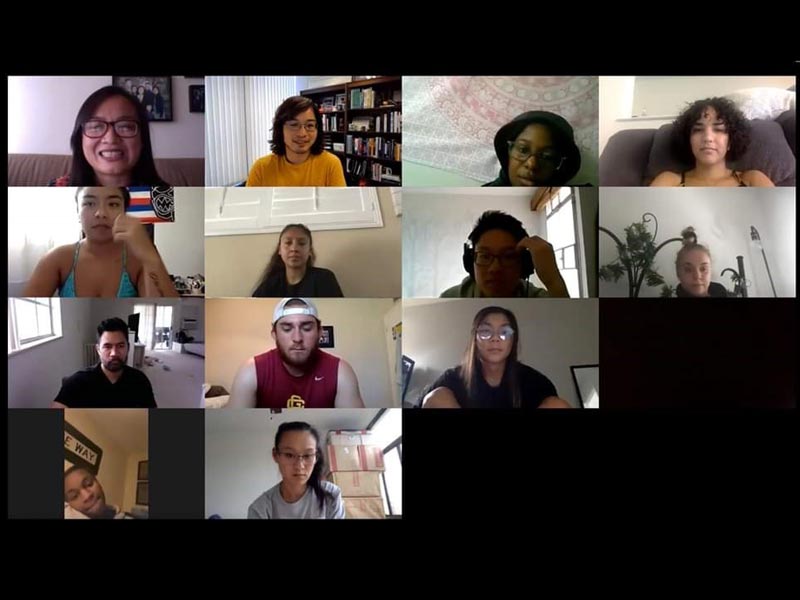 "It is amazing as well as humbling to know that I have students now who will later be all over the world being superheroes and dedicating their own lives to protecting others, preventing diseases, promoting health, and saving others' lives," Christian T. Gloria, Ph.D., Department Chair and Associate Professor of Public Health, says about his students. The photo captures students in one of his online classes. 
Congratulations and welcome to the new class of BSN students! 
Saturday, December 14th was a historical day for both HPU and the College of Health and Society! The first doctoral students graduated with their Doctor of Nursing Practice degrees. The students are Kendra Spaulding and Sandra Kakiuchi (pictured here).  
CHS faculty, staff and students participate in Wear Red Day to raise awareness about heart disease. 
Christine Tamayo, graduating with a BSN, will serve as the Fall 2019 Commencement undergraduate valedictory speaker. During her time at HPU, she was an active member of the Student Nurses' Association and fundraised and volunteered with local organizations, including Hawai'i Pacific Health the Blood Bank of Hawai'i.
BSW student, Micki Kilbury, is pictured above giving a presentation at the Honolulu Office of Climate Change, Sustainability and Resiliency on social work and climate change!
Our very own Dr. Michaela Rinkel, BSW Program Director and Associate Professor, along with Dr. Meredith Powers has recently released the Third Volume in their series of workbooks on Social Work and Environmental Sustainability. It is downloadable for FREE via the IFSW International Federation of Social Workers link here. 
Congratulations to Nicole Nakashima and Bryan Sarte who will be graduating with their Master of Public Health degrees in December 2019. The students are pictured here presenting their capstone presentations titled "Youth E-cigarette Usage and Oral Health" and "The effect of enhanced surveillance in gonorrhea case reporting and case report data reporting." 
Professors of Nursing Cate Critz, PhD, and Hobie Etta Feagai, EdD (pictured left and right, respectively), presented their research findings, entitled "Presenteeism Among Nursing Students in Three Countries," at the Madridge 5th International Nursing Conference. The conference took was held October 23-25, 2019 in Rome, Italy. The orignal research also included HPU faculty April Akeo, PhD, Assistant Professor of Nursing, and Michael Erickson, PhD, Associate Professor of Psychology. 
HPU College of Health and Society, along with The National Association of Social Workers - Hawai`i Chapter and The University of Hawai`i at Manoa - Myron B. Thompson School of Social Work, hosted the first annual Legacy Speaker presentation and reception. The talk was titled "Social Work's Legacy of Advocacy-Clorinda Low Lucas" and was presented by Dr. Iris Carlton-LaNey. 
Congratulations to MSW student Sasha Georgiades for being selected as a Veterans of Foreign Wars VFW/Student Veterans of America Legislative fellow! This is a prestigious fellowship and only 10 students are selected nationwide. Sasha will be traveling to Washington, DC this spring to meet with members of Congress and senior policy makers.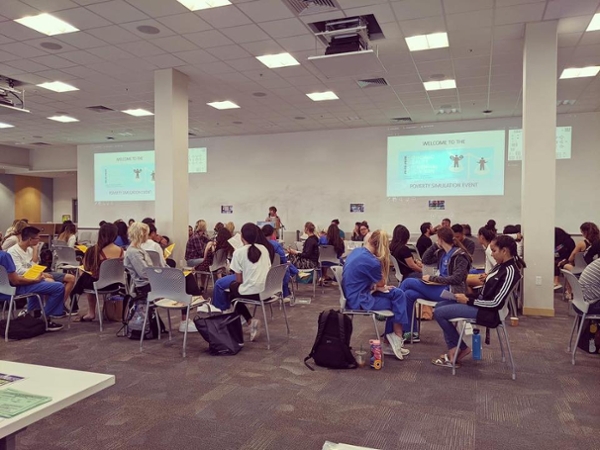 Students of the College of Health and Society participated in the annual Economic InEquality Experiential Education event on October 26. This event engaged approximately 80 students in an educational experience that illustrated some of the structural barriers and repercussions of economic inequality. Its purpose is to enhance poverty awareness, increase understanding, and most importantly to stimulate partcipants to engage in actionable ways to address issues of economic inequality.
Along with the National Association of Social Workers - Hawai`i Chapter, Social Work students, faculty, and alumni participated in the Honolulu Pride Festival on October 19. 
The College of Health and Society participated in HPU's annual Door Decorating Contest and came in first place!
CHS students, faculty, and staff organized a campus "Wear It Pink Day" on Wednesday, Oct. 16, to support and spread awareness of breast cancer, which according to statistics, will impact one in eight women. The HPU 'ohana, wearing pink shirts, shorts, skirts, hats, scarves, etc., took part in a walk, starting in front of Waterfront Plaza, as part of the awareness campaign. 
| | |
| --- | --- |
| | CSWE announced MSW student Destiny Brown a fellow for the 2019-20 academic year. The goal of the program is to increase the number of professionals trained to work with underrepresented and underserved racial/ethnic minority persons with or at risk for mental health and/or substance abuse disorders. Brown is doing her practicum work through Fernhurst, a furlough program run through the YWCA. |
The Bachelors of Science in Public Health and Master of Public Health programs are now accredited by the Council on Education for Public Health! 

 
Facilitated by CHS Administrative Assistant Haley Lytle, CHS students participated in this annual community event held on Sunday, Oct. 6, at the Hawai'i State Capitol. About 20 Nursing students from the Child and Family course and their Professor Catharine Critz, PhD, provided first aid, blood pressure screening, and education about immunizations and vaping. Several Public Health students and facilitator Lytle offered a Teen Zone Booth, featuring a game with various exercises and trivia questions and public health education on healthy living, nutrition, and mindfulness.

Pictured (bottom) from left to right are Public Health (PH) students engaging with youth attendees: Stephanie Misaki, Charlene Agoot, and Amy Lee; PH student volunteers not pictured: Anthony Pack, Atalina Moala, and Queenie Castro
Kendra Spaulding, DNP, APRN, ACNP-BC, who recently graduated with her doctoral degree from HPU, won first place poster presentation at the National Conference for Nurse Practitioners in Acute Care 2019 conference held in Baltimore, Maryland, October 2-6. Spaulding's research focused on smoking cessation interventions in low socioeconomic adult populations. More information on the DNP program here.
Leilani Ann Maxera, MSW alumni, is a death educator and home funeral advocate who lives in Honolulu, HI. During her time in HPU's MSW program she wrote her thesis on home funerals and their effects on grief. An excerpt of her thesis "Home Funerals and Their Effects on the Grief Process" was published in "Natural Transitions" Magazine. 
| | |
| --- | --- |
| | Anaeliz "Mina" Colon, Adjunct Faculty of Public Health, was featured for her work as a Breast Cancer Warrior in the August/September 2019 issue of Generations Magazine. Anaeliz was in high school when her mother, in her early 30s, was diagnosed with breast cancer. Anaeliz's grandma also had breast cancer so she had a higher risk of developing it. The summer after she graduated college, Anaeliz went through genetic testing and was identified as carrying BRCA2, a genetic mutation linked to breast cancer risk. It was also discovered that her risk of getting breast cancer was 87%. Anaeliz decided to undergo a prophylactic double mastectomy. She says "the experience was emotional, but I could not feel luckier now that I had this option." She recently started her own website – www.ThisIsMySelfie.com – due to the desire to interact with and support women in her age group that have gone through the same experience. Anaeliz is involved with the Hawaii chapter of the Susan G. Komen Breast Cancer Foundation. If you would like to get involved, please visit https://komenhawaii.org. |
Drs. Cate Critz and Hobie Etta Feagai led Nursing students from HPU on a medical mission trip to Guatemala. 
Many students from the College of Health and Society participated in the university-wide 2019 Capstone Symposium. Of the 68 presentations, 7 CHS students won awards. 
Undergraduate - Project Category: 
Janice Hata (Public Health), on "Analyzing the Disparities in Maternal Mortality Among African American Women in the United States." 
Destiny Brown (Social Work), on "Identifying Adolescent Expressions of Intergenerational Trauma and How to Build Resilience." 
Jessica-Anne Valdenarro (Social Work), on "Effective Mentorship Programs: Are National Organizations Equipped to Handle Indigenous and Native People?
Graduate - Research Category
Maisa Thayer (Social Work), on "The Relevancy of Rituals in Surivor's Empowerment: Expression Circles" 
Adam Swanson (Public Health), on "Risk History Surveillance Assessment of Campylobacteriosis Cases in Hawaii from August 2018 to November 2018."
Jeff Grace (Social Work), on "Descriptive Factors Affecting Housing Interventions for VA Homeless Program Veterans in Hawai'i." 
CHS Dean's Award
Bryan-Joseph Tamayo (Public Health), on "Addressing the Health Disparities Among Micronesian Populations in Hawaii." 
The Public Health Department graduated 14 students with a Bachelor of Science in Public Health degree and 2 students with a Master of Public Health degree. The BSPH graduates were Sunshine Agcaoili, Marie Aguirre, Annalei Alcaide, Anna Borja, Jaypee Carreon, Alexis Cortes, Daphine Damian, Jenn Flores, Chaney Manarin, Mackenzie Otto, Daria Parkinson, Joleen Paul, Rita Poluchuck, and Byran-Joseph Tamayo. The MPH graduates were Adam Swanson and Javis Faletagaloa. 
Students that participated in community service events throughout the year were awarded service cords by the Public Health Club officers. There were also four departmental awards given to students: 
Chaney Manarin: BSPH Certificate of Meritorious Scholarship
Adam Swanson: MPH Certificate of Meritorious Scholarship
Alexis Cortes: Certificate of Meritorious Service
Jaypee Carreon: The Chair's Award
Dr. Lori Daniels of the School of Social Work was featured on Hawai'i news now discussing the 16th Annual Hawaii International Summit on Preventing, Assessing, and Treating Trauma. 
Desiree Tupas, Master of Public Health alumna ('18), was selected for the prestigious and competitive California Epidemiologic Investigation Service (Cal-EIS) Fellowship Program. This program is designed to prepare epidemiologists for public health leadership positions in California. As a Cal-EIS fellow, Tupas' main objective is to develop projects that entail performing analyses on data collected from California's healthcare infrastructure. 
Dr. Michaela Rinkel (pictured left) was awarded the 2019 Dean's Publication of the Year award, along with her students Kelli Larsen, Chloe Harrington, and Christiana Chun for their article "Effects of Social Work Practice on Practitioner Spirituality." The article was published by Journal of Religion & Spirituality in Social Work: Social Thought.
Jennifer Nafarette (right),  was awarded Registered Student Organization (RSO) Faculty Advisor of the Year for 2019 for her involvement in HPU's Student Nursing Assocation (SNA). The Student Nursing Association also won RSO of the Year and Most Distinguished RSO. Congratulations Jen and SNA! 
CHS students representing Nursing, Public Health, and Social Work traveled to Japan and Viet Nam during winter break, participating in the inaugural HPU Interprofessional Education Cultural Exchange trip. CHS faculty Patricia Burrell and Paul Tran led the trip. The group engaged with faculty and students from Osaka Prefecture University in Japan and Da Nang University and Hue University in Viet Nam, learning through lectures and presentations, social service visits, sightseeing and spending time with host families. Throughout their travels, the students spread aloha and shared the culture of Hawai'i, dancing and teaching hula, playing the ukulele and singing. 
Through the trip, the students had the opportunity to gain a better understanding of different beliefs and viewpoints to solve social issues in the world.